Penang, also known as Pulau Pinang in Malay, is a popular island in Malaysia known for its food culture, beaches, and the old world charm.  The island got its name from the betel nut palms that used to line its beaches. We spent 2 full days in Penang as part of our Malaysian road trip.
Here are 10 things to see and do with kids in Penang that we managed to do in 2 days.
1. Penang Bridge
When driving to Penang from mainland Malaysia, visitors will have to cross one of two bridges.  What's so great about the bridge?  Well, one of it is the longest bridge in Malaysia and South East Asia with a total length of 24km!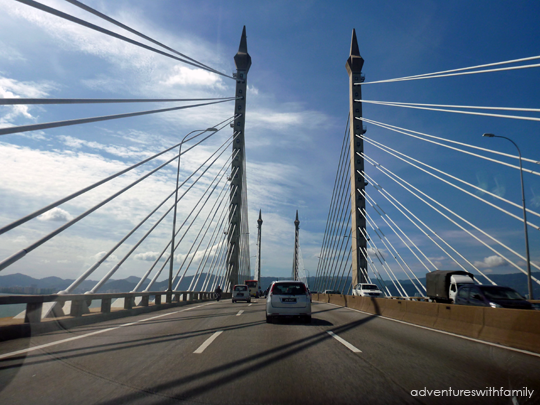 2. Batu Ferringhi Beach
Batu Ferringhi has been a popular beach in Malaysia for years. It was popular when I visited as a kid, and it is still popular when I visited with my kids. It has a long stretch of white sandy beach along a windy road called Jalan Batu Ferringhi.  Most of the resorts in Penang were located along Batu Ferringhi.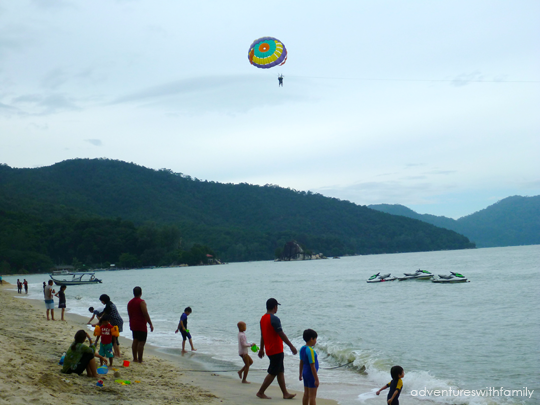 3. Penang Hill
Penang Hill, also known as Bukit Bendera, offers fabulous views of Penang island.  We took a funicular to get up the hill.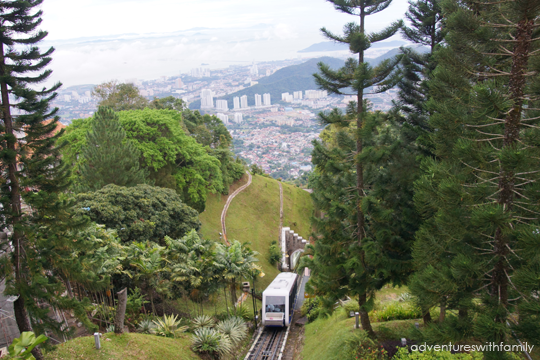 The best time to go up Penang Hill was in the late afternoon where you can enjoy panoramic views of Penang island by day and by night.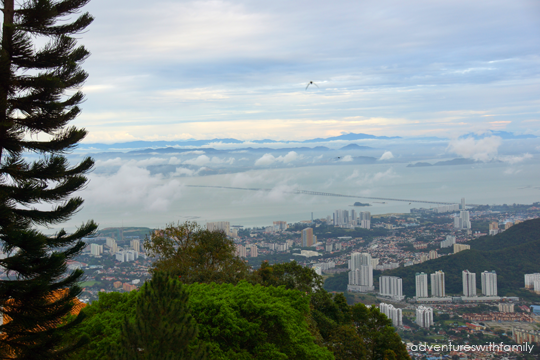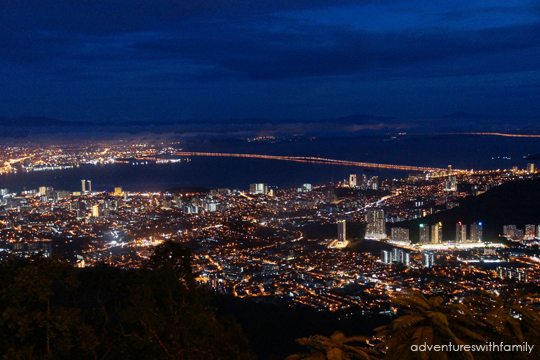 There was a 3-storey food court called Cliff Cafe just outside the train station.  The Penang laksa from the corner stall was the best laksa we have ever tasted.  A must-try when visiting Penang Hill!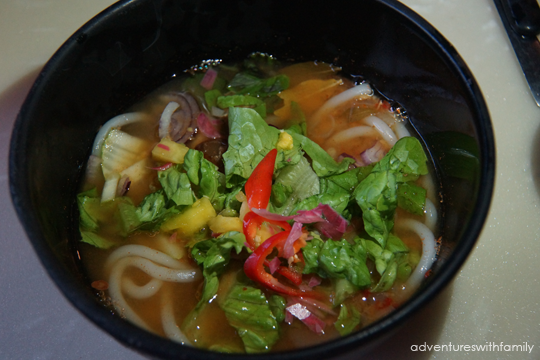 4.  Georgetown
Georgetown is the most popular attraction in Penang known for its well-preserved cultural and historical heritage that has earned it the title of a UNESCO World Heritage site.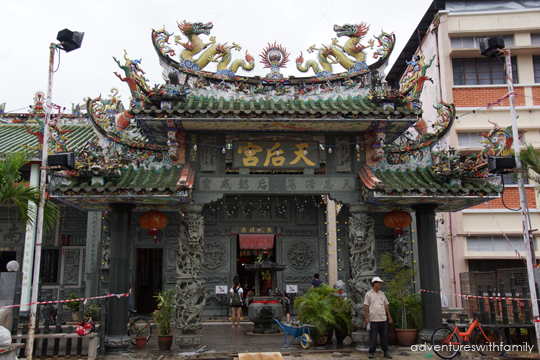 The best way to get around Georgetown is by foot.  Alternatively, explore the area on a trishaw or rent bicycles.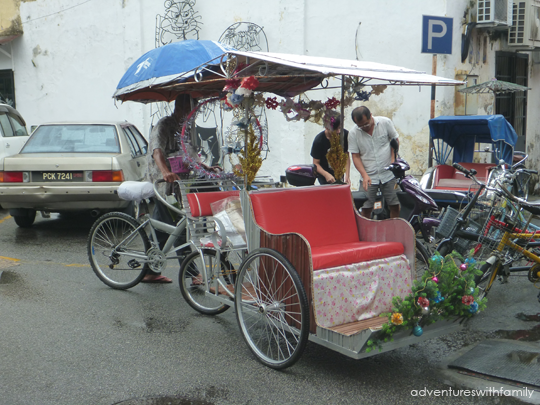 One of the main attraction in Georgetown was its historical buildings. Many had been restored to its original splendour.  The row of colourful shophouses below was one such example.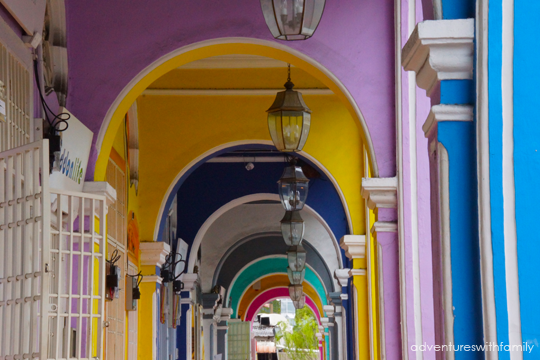 Another colourful sight in Georgetown was the Indian flower shop.  It had flowers in many colours including bright blue and green!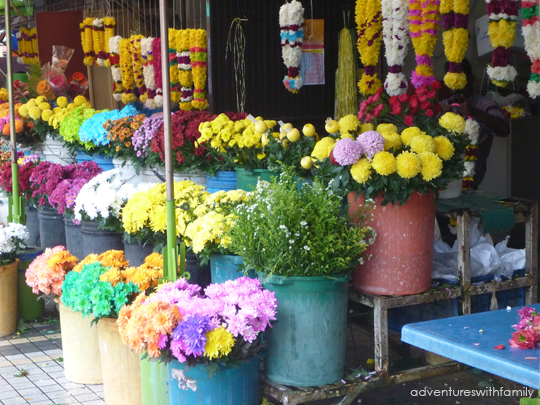 There were lots of quirky things to see in Georgetown that added to the charm of the old town. One of it was the Selfie coffee below. Would you try one?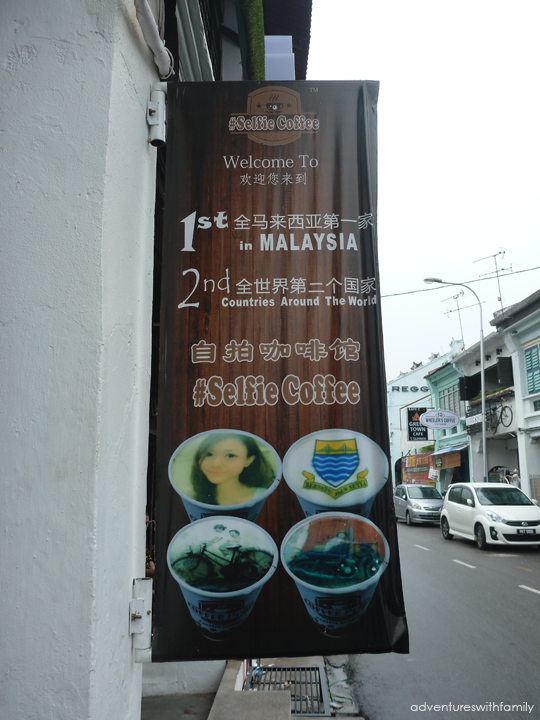 Two other shops had a pink tanker and a bicycle-man.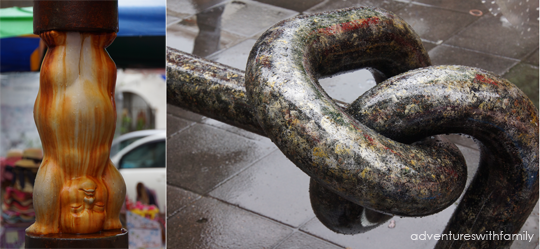 Cat lovers would love the Cat Cafe with lots of cute and cuddly cats.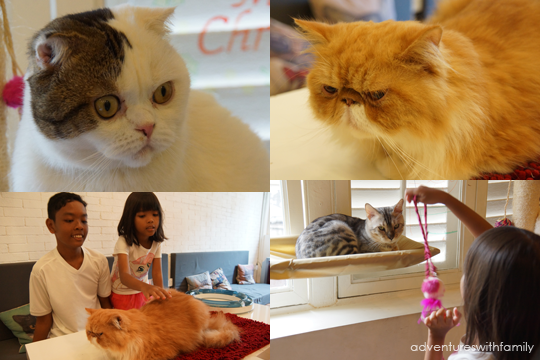 5.  Penang Street Art
Street art has given the old buildings in Penang a new lease of life. Hunting for the artwork is a fun way to explore the historical town with kids.  Find out where to find the artwork here -> Penang Street Art.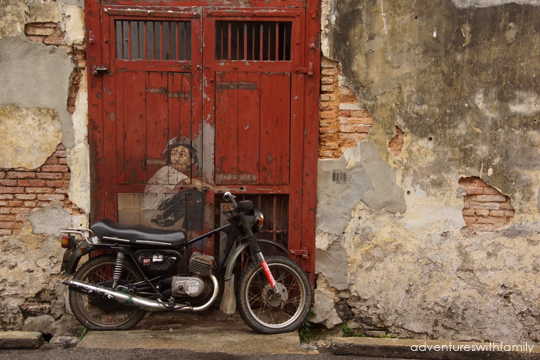 While exploring the street art, try one of the best chendol in front of the street art with the Kids on a Bicycle.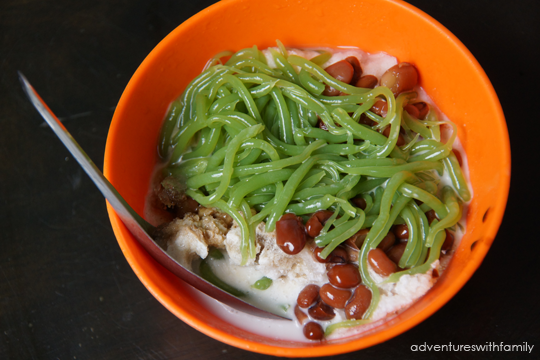 6. Street of Harmony
The street of harmony is where all the different religious worship places can be found on one road.  One of them is Kapitan Keling Mosque, the biggest mosque in Penang.  There are also Kuan Yin temple, St George's church, Sri Mahamariamman temple, Cathedral of assumption and Khoo Kongsi.

7. Cheung Fatt Tze Mansion
The Cheung Fatt Tze blue mansion is one of Malaysia's prominent mansions.  This well-preserved century-old building with its intricate architectural design has won UNESCO Most Excellent Heritage Conservation Award.  We didn't manage to tour the mansion because we arrived after the start of the last tour of the day at 3pm.
8. The Camera Museum
Camera enthusiasts would love the Camera Museum in Georgetown.
9. Gurney Drive
In the evening, we headed to Gurney drive, a popular place to eat in Penang. Located right outside Gurney Plaza, overlooking the water, the huge open-air eatery has one section for non-halal food, and another for halal food.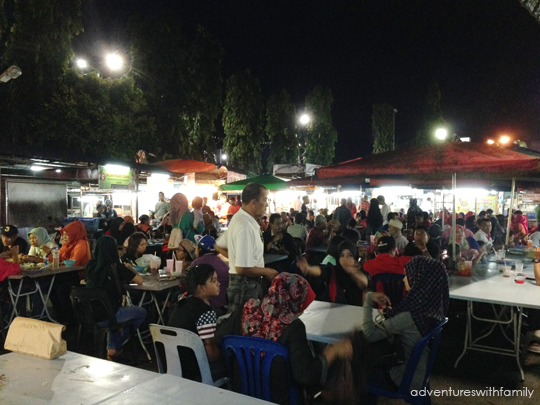 One of the most interesting food to try was "Gearbox" soup, a mutton soup with a huge bone as big as a car's gearbox. Penang kway teow and satay were also popular at the halal section, but not as popular as Pasembur Rojak. Many people were lining up to get a taste of Pasembur rojak.
10. Hard Rock Hotel Penang
Last, but not least, was the hip and trendy Hard Rock Hotel.  It had a huge swimming pool area that all kids would enjoy and direct access to the beach.  It had rooms that could accommodate a family of 4-5.  Read more about our review of the Hard Rock Hotel Penang.