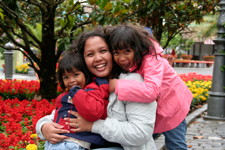 Hi,  I am Rosie. I am a mother to three lovely children who are 9, 12 and 17.  I used to work in the travel industry where I had pretty good flight perks to bring my family for memorable adventures around the world. I got hooked on travelling ever since.
After the travels, I often get requests from friends and family for my itineraries to give them a head start in planning for their trips. I am happy to share my itineraries with others as I know how much time it takes to plan a family vacation and how little time parents really have to plan for such trips.  Hence, came the idea for a blog to share my family travels.
I have spent countless hours before my trips researching where to go, where to stay, how to get around, and what to eat.  With a family of 5, travelling can be quite an expensive affair if I don't take time to find out the best deals.  Also, it is always important for me to take the effort to find places which are generally safe and family-friendly.  I try to find places to go that provide my children unique experiences that are both fun and educational.
Apart from the travel photos and stories, I also share key things you need to know about planning similar trips, especially ones with kids.  Some of these I learnt the hard way. You can follow new posts by clicking "Like" on the facebook page.   I can also be contacted via email at [email protected].
It is great to enjoy new adventures together as a family.  To date, my children have thoroughly enjoyed all their holiday vacations, and they keep asking for more!  Even without the flight perks, I still plan to continue travelling with my family, and probably focus more on adventures in Asia in the next couple of years.
Well, I hope that you enjoy my blog, and get inspired to bring your family to see the world.
Thank you for visiting.