"Who goes to Santorini in winter?" That was the question we got from several people before our trip. "Everything is closed", they would say. Well, we visited in early December and we loved it!
Santorini, also known as Thera, is an island in Greece famed for its quintessential landscape of white-washed buildings amidst a backdrop of clear blue sky and sweeping views of the Aegean Sea. Summer time, particularly late May to August, is the most popular time to visit Santorini. It is also the worst time to visit it if you do not particularly like crowded places. Our guide said that a short path in Oia which takes less than a minute to walk without a crowd, could take 15 minutes in summer!
Fortunately, there is a way to enjoy this gorgeous Greek island without the crowds, and that is to visit Santorini in winter. You will feel like you have the entire island almost to yourself. With only a handful of shops, restaurants and hotels opened, Santorini takes a break from mass tourism in winter. The weather is sunny on most days, yet cool (at around 15C) and refreshing.
There were many things that we were able to do when we visited Santorini in Winter.
1. Stay in a cave villa overlooking the deep blue sea
If you have dreamed of staying in a white-washed cave villa in Santorini but found it t be above your budget, you would be happy to know that you could find amazing villas at a fraction of the price you would have to pay when staying during the peak of summer. We managed to stay in a beautiful villa in Fira. Read more about our stay at Blue Angel Villa. It has 3 double beds that can comfortably fit 6 people, a large living and dining area and a kitchen. It even has two jacuzzis, one indoor and the other, outdoor. The best part of the villa is the top deck with a panoramic view of the Aegean Sea and a fabulous spot to enjoy the famous Santorini sunset without anyone else blocking your view.
2. Oia
Oia is the most photographed place in Greece. This iconic village is known the world over for its white-washed houses perched on a hillside of a caldera over 150m above sea level. These houses are actually caves that were dug into the volcanic rock on the Caldera cliffs.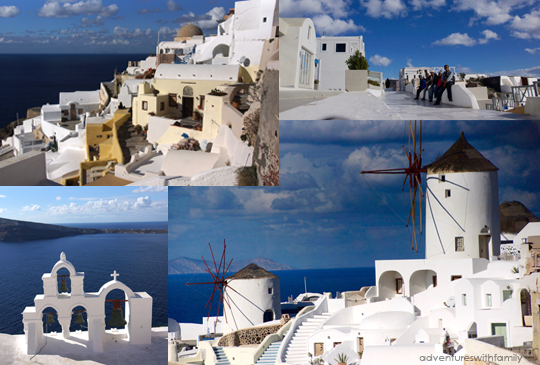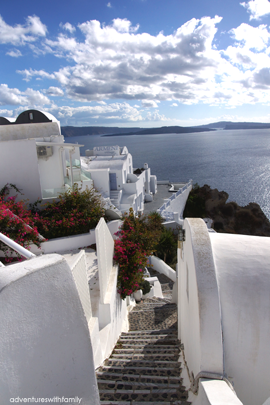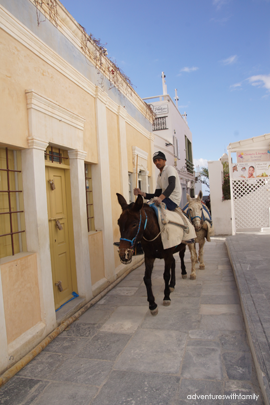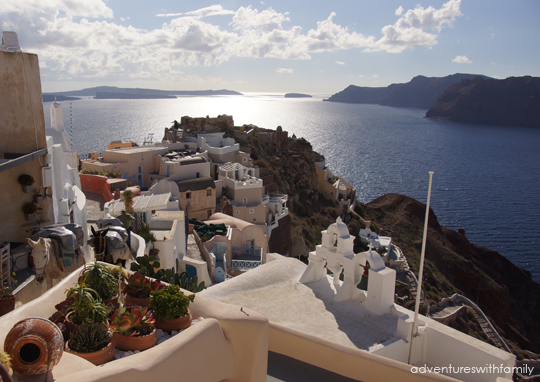 Amidst the new cave houses are remnants of historic homes that were damaged by a massive earthquake in the 50s.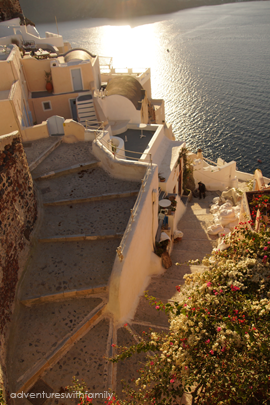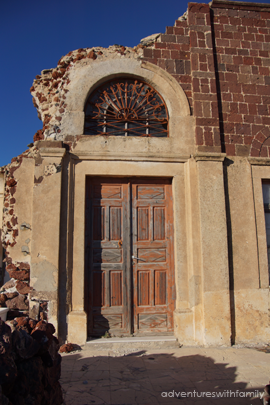 3. Fira
Fira is the main town in Santorini. It is the best place to stay when visiting Santorini in winter as several restaurants, shops, and accommodations stay open. The Museum of Prehistoric Thera is also open throughout the year.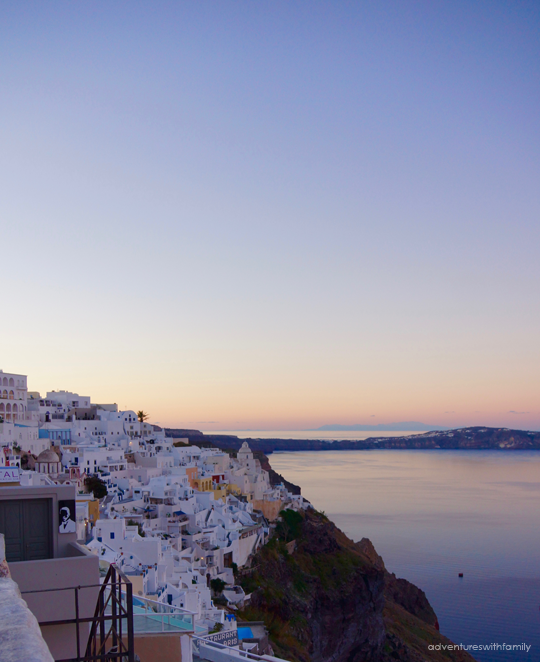 There is a cable car that could bring you to the sea level. There is a harbour for boat tours and passengers from cruise ships. Thankfully, it was quiet and peaceful in winter.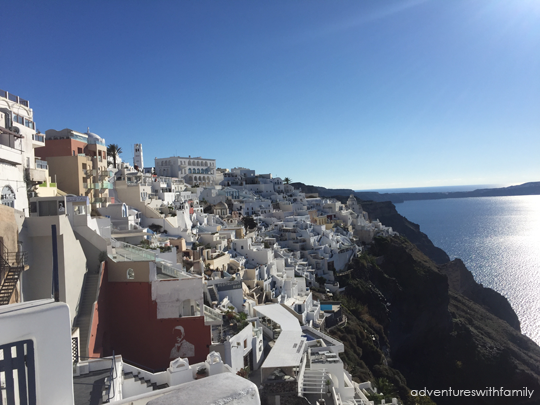 4. Firostefani
Firostefani is a suburb of Fira with a giant blue dome overlooking the big blue sea.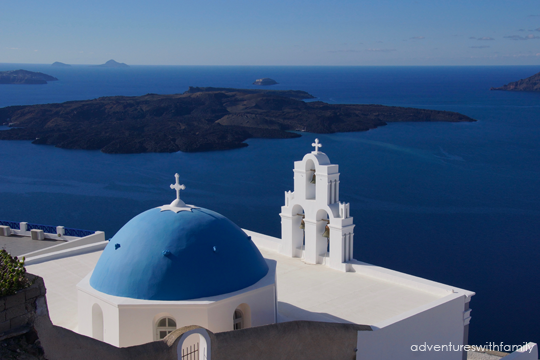 5. Imerovigli
Get a panoramic view of the Aegean Sea and a good view of the centre of the volcano from Imerovigli. This volcano had the biggest eruption over 3,000 years ago, and recently in the 50s, it erupted again causing most residents to flee Santorini.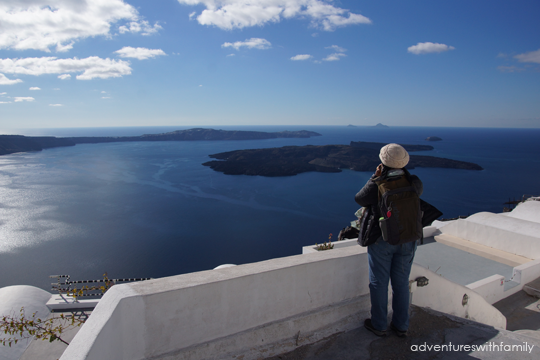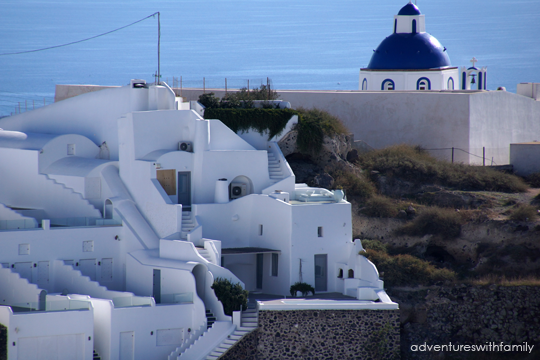 6. Mount Profiti Ilias
Stand atop the highest point of Santorini to get a panoramic view of the island. This mountain has a monastery built on its top in the 1700s in memory of Prophet Elias. However, it was not clear whether Prophet Elias was actually ever in Santorini.

7. Pyrgos
Explore a medieval village that has kept its old charm with white-washed homes, churches, hotels, restaurants, taverns, and traditional cafes. Walk along cobbled pathways, amidst Cycladic and neoclassical buildings and explore the ruins of Kasteli castle. In winter, the village is quiet as most residents head to the mainland.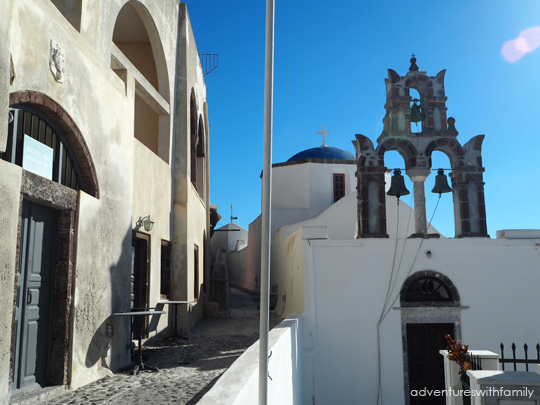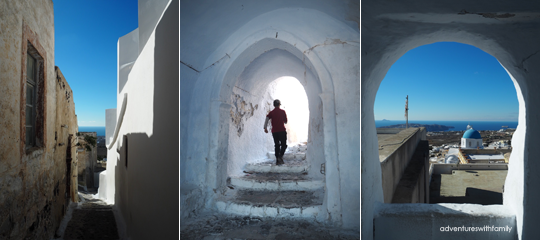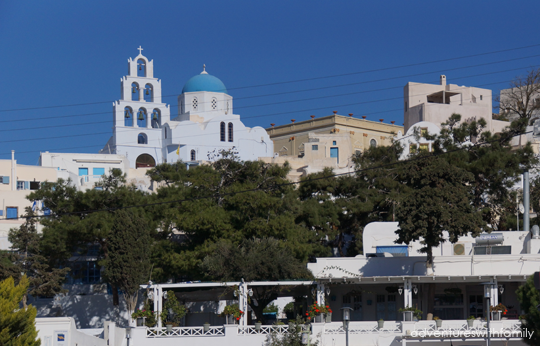 8. Megalo Chori
Visit a historic village dating back to the 17th century. You will see historical mansions, and old traditional houses.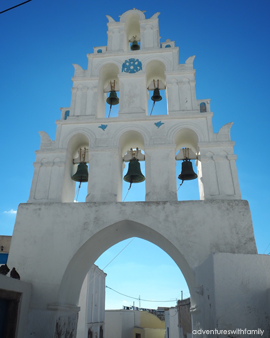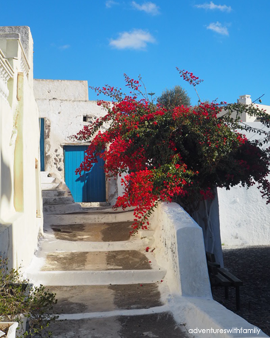 9. Red and Black Sand Beach
Visit Santorini's popular beaches. The island has two popular types of beaches – one with red sand and the other with black sand. We did not visit the red sand beach as it requires a bit of hiking up and down the hill, something that the young ones might not be able to manage. We visited the black sand beaches of Perissa and Viichada.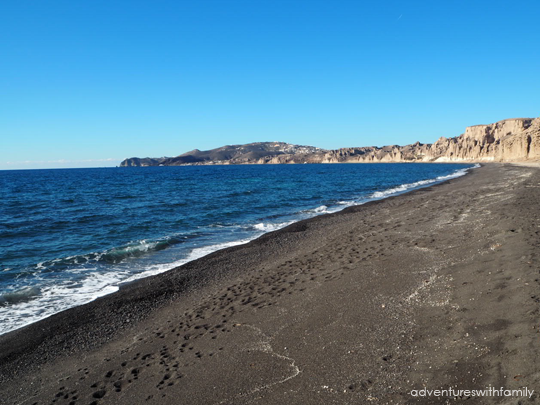 10. Sunset in Santorini in Winter
We have seen many sunsets by the beach in our travels, but none were more stunning than the sunset we witnessed in Santorini. We were able to enjoy sunsets in Oia and Fira.
Sunset in Oia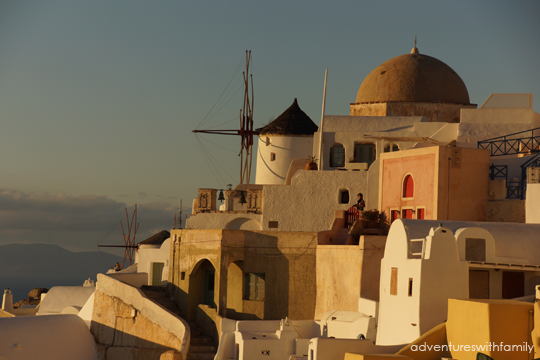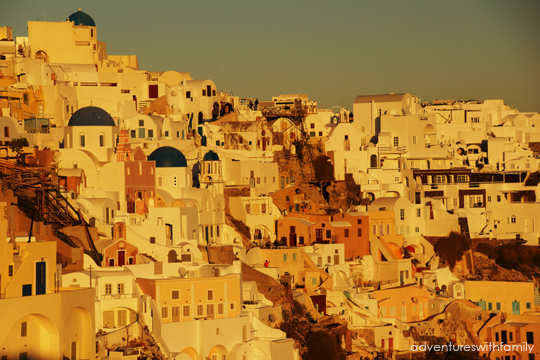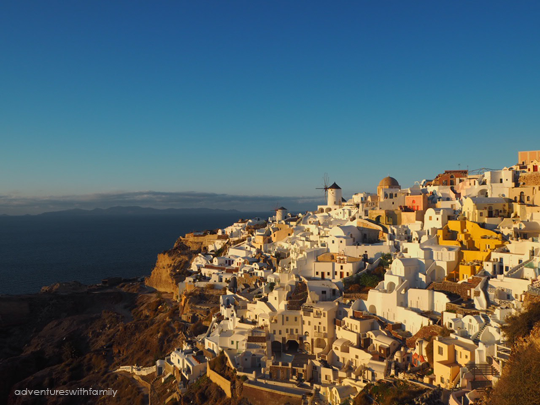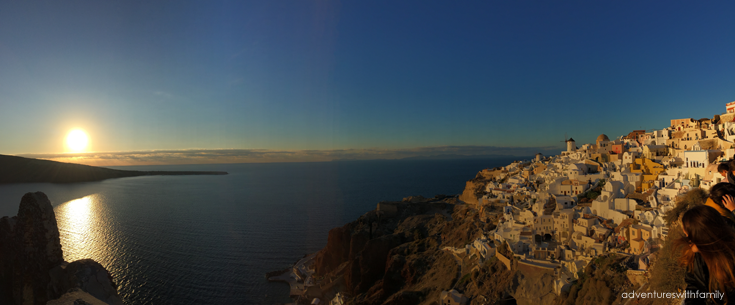 Sunset in Fira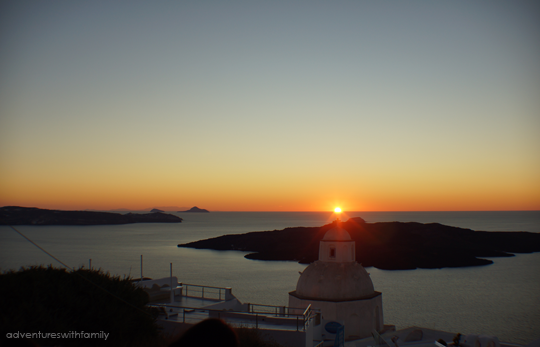 We have never seen the sky darkened so quickly while the sun was still setting, leaving a bright orange hue just above the sea. It was a surreal moment that we would not forget.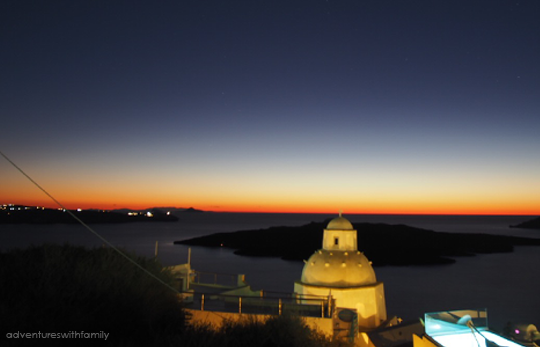 Other Things to Do
11. Hike from Fira to Oia
If you and your family have the stamina, then take a 10km hike along the caldera from Fira to Oia. This popular hike will pass by several villages. The cool weather will make the hike more pleasant in winter.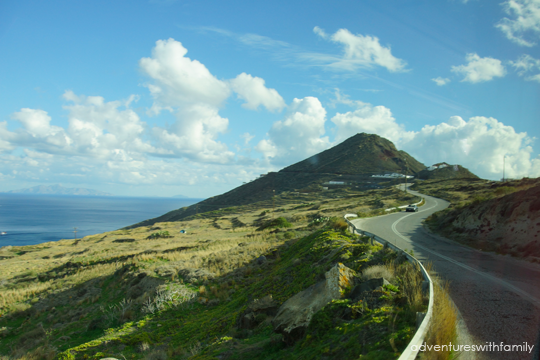 12. Ammoudi Bay
While in Oia, some people would head down to sea-level for great seafood at Ammoudi Bay. However, the restaurants were not open in winter. Ammoudi Bay can be reached by car, mules or walking down 235 steps.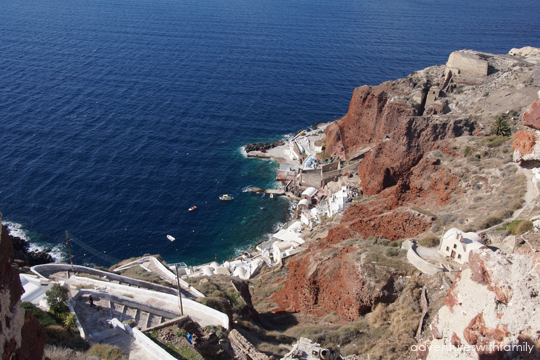 13. Volcano Cruise and other activities in the warmer months
If you travel during the warmer months, there are other things that you can do, like swimming in the Aegean Sea, cliff diving, or spending a full day shopping.
One activity that caught our eye was the cruise that brings you close to the centre of the volcano. According to our guide, you will get a chance to walk on the warm and solid black lava on the sides of the steaming volcano.
Getting Around Santorini in Winter
Bus – The cheapest way to get around is by bus, but there is a catch. All buses travel only to and from Fira. That means to get from A to B, you have to get a bus from A to Fira, and another bus from Fira to B. If you stay in Fira, then travelling by bus will be the most convenient.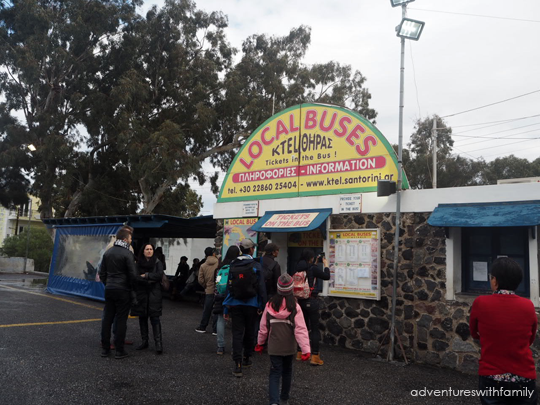 ATV or Car – an ATV allows you to travel off-road, however you do need a valid drivers' license and the vehicle has a limited capacity. Our family of 5 would not be able to fit in one ATV. Alternatively, you can rent a car. However, do note that most roads have only one lane on each side and in some parts, it winds round the side of the caldera. With many big tour buses, you need to be extra careful. Also, parking in certain places are limited. If you travel in the peak season, you may need to wait a while for a parking lot. More importantly, we noticed that Santorini does not have big road signs to tell visitors that they have arrived at a certain village or beach. It is advisable to use maps, preferably digital ones with GPS, to tell you where you are.
Walk – Within the villages, you have to walk and climb up and down the stairs. There are no roads that face the inner side of the caldera, so wear a good pair of walking shoes. Also, similar to the roads, there are no big touristy signs to tell you where you are, how to get to certain places or distance to a certain attraction. Sometimes, we walked down one path, only to realise that it was a dead end. You will just have to explore and get "lost".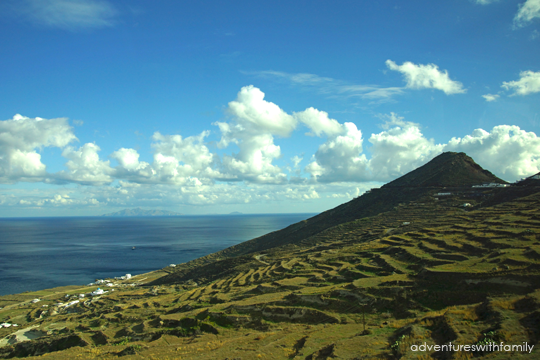 Guided Tour – If you are not one who enjoy getting lost, join a local day tour. As a person who can easily navigate around cities like New York, Paris, and even Tokyo without a guide, Santorini, though small, was not that easy to navigate. The pathways and roads did not have a lot of signs or maps to make it easier for travellers. You might not necessarily want to explore on your own with the possibility of getting lost, especially with tired kids. Thus, it might be better to have a guide that can bring you around. We were glad that we did because our guide brought us to his favourite beach not known to many tourists. He also brought us to his favourite cafe where the coffee and sandwiches were so good that we came back the next day for more.
We booked our 6-hour private tour from here. They charge per group rather than per person.
We booked our private 6-hour tour from here:
What to eat in Santorini in Winter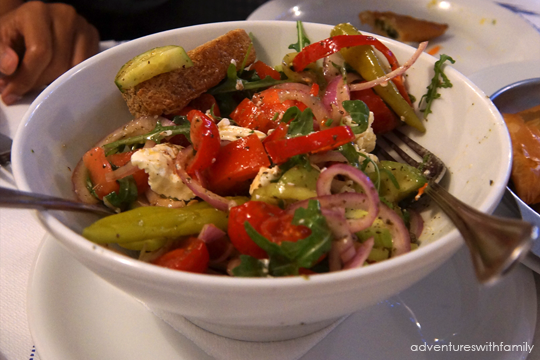 Being surrounded by the Aegean Sea, fresh seafood is abundant in Santorini. Santorini's fertile volcanic soil also produces some of the nicest local produce. Read more about What to Eat in Santorini.
Tips for Visiting Santorini in Winter
Restaurants that face the sea charge a premium for the sea view, so if you are on a budget, choose from restaurants not facing the sea. There are many in the main town of Fira.
If you are planning to go in the other seasons, try to go to Oia early and explore the area before 10am. After 10am, you will have to compete with hoardes of tourists from the cruise ships rushing to explore the island during their short shore excursion.
Return to Oia in the evening to witness the sunset, but come 2 hours earlier to reserve the best spot at the Oia castle.