There are plenty of travel resources for planning your travels.
For Travel Ideas
The first thing you need to do is to get ideas on places to visit.
Pinterest – Pinterest has become my latest favourite tool to get inspirations on where to go. By entering the destination in the Pinterest search tool, you can find great photos of the destination with links to the article.
Travel Blogs – Travel Blogs are also a good travel resource to find inspirations for travel. You get candid traveller photos from real people sharing their travel stories. My list of travel blogs is at the end of this page.
Travel agents and hotels websites – Travel agents' itineraries are a good place to get a list of popular places to visit for the selected destination. The list is just a start, You still need to read up about each place on your own. Some hotel websites also share you top attractions in the city where the hotel is located.
Google – Everyone's favourite search engine to find anything and everything. Just google your destination and out comes a list of websites about the destination. Go to Google Images too to look at pictures of a destination.
Accommodations
I personally use four websites to book travel accommodations.
I like the user interface for Booking.com especially for booking family accommodations as it allows me to search for accommodations for multiple adults and children. (Not all booking sites do that). It has photos of different room types. This is useful because sometimes the hotel might say that the accommodation is for two but the beds are big enough to fit 2 adults and 2 kids. It also clearly specifies whether kids stay for free when using existing beddings. Details of parking fees and Wifi are also clearly specified.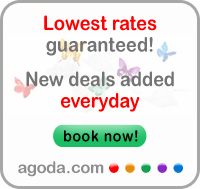 I use Agoda more for destinations in Asia as they often have great deals for these destinations. I also found that Agoda had some accommodations in Asia that were not available on other sites. I only wish they have a means to filter the list by rooms that can accommodate multiple adults and children.

If you want to compare prices from various booking sites, try Hotels Combined. You can easily find out which booking site gives you the best deal, including the hotel site itself. For example, when I was booking a family suite at the Hard Rock, I found it listed in Hotels Combined, but not on other sites.
Hotels.com offers a free night stay for every 10 nights.
Easy Book

Booking of buses, ferries, car rental, local tours covering Singapore, Malaysia, Thailand and Brunei.

Flights
We've been booking several of our flights via Expedia. It's been offering quite great rates.
Packing for Travel
One of our favourite website to purchase stuff for travel is Lazada.sg. It has a variety of budget-friendly travel items like travel adaptors, travel pouches, sunglasses, bags, etc.
Getting around
I find Google Maps very useful when planning for a trip. It helps you determine what you can do within one day. I love the street view function on Google Maps. Checking out the maps and street view may help you familiarise with the area and locate your hotel or attractions faster. With kids, you want to find the shortest way to get to your hotel. For example, if I didn't check out the street view on Google Maps, I would probably have gone out of the wrong exit at the train station and walk 20 minutes to get to a hotel in Florence, instead of just 3 minutes through the correct exit. This makes a lot of difference when travelling with kids. Also, checking out the street view of your hotel may help you decide whether or not to stay at a particular accommodation. There was one time when I wanted to book a hotel in Italy, but decided against it after looking at the street view and saw how unsafe it looked.
Blogroll
Here are some that I read:
Here are some of the Singapore/Malaysia-related blogs that I read: