Hakone is a mountain resort area near Tokyo famous for its hot springs and fabulous views of Mt Fuji. We made a trip to Hakone in winter as part of our Japan winter holiday.
Here are the 10 things you can do in Hakone in winter 2 days.
HAKONE IN WINTER – DAY 1
1. Take the RomanceCar to Hakone
There are various ways to get to Hakone in winter and, for that matter, any other seasons. The nicest way is via the Hakone Romancecar. We took it from Shinjuku in Tokyo and arrived in Hakone in 85 minutes for 2080 Yen per ticket.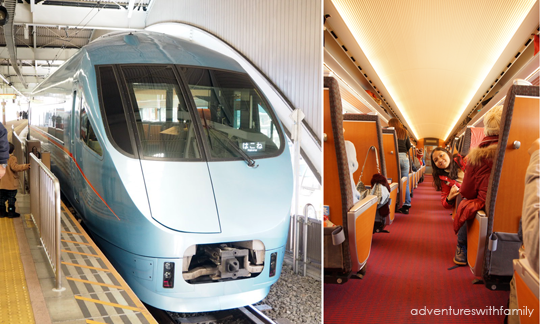 Getting around Hakone
The attractions in Hakone are easily located in a loop with different modes of transportations along the way.
We started in Hakone Yumoto on the Hakone Tozan train, followed by the Hakone cable car, and then the ropeway. We did the pirate ship cruise on the second day, followed by bus to Hakone Yumoto, and then by the Tozan train to Odawara station to connect to other cities in Japan.
2. Have an authentic Japanese Irori cuisine for lunch at Hakone Yumoto
Upon arrival in Hakone Yumoto, we headed for lunch at Irorisaryo Hachiri, a restaurant located within a hot springs resort called Hakone Yuryo. We did not use the hot springs facilities as we were planning to use the ones at our accommodation.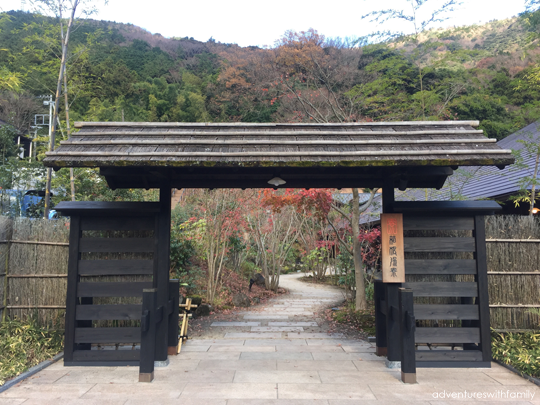 Irorisaryo Hachiri serves authentic irori (hearth-cooked) cuisine where the food is carefully cooked over a charcoal fire on a grill or on skewers. While traditional Japanese houses built a sunken hearth on the floor, this restaurant recreated the hearth on a tabletop.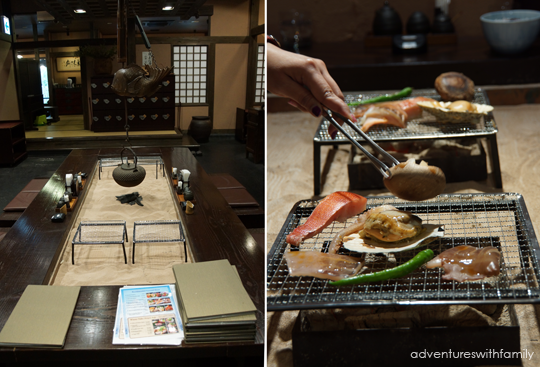 We chose this restaurant for lunch because it had menu items that were muslim-friendly, comprising the fish of the day that were skewered and grilled for 40 minutes, dried alfonsino (fish), and aburi, a seafood assorted set for us to grill.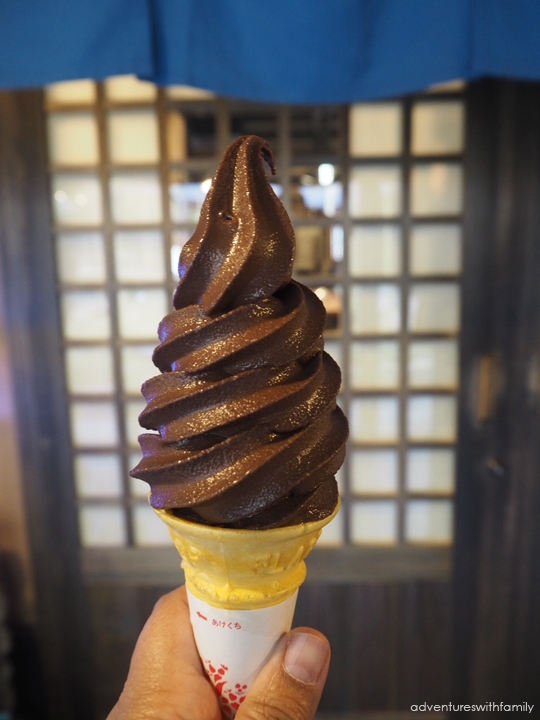 For a sweet ending to the authentic Japanese dining experience, we had fresh Japanese soft cream just outside the restaurant.
Hakone Yuryo provides a free 15-minute shuttle bus service to/from Hakone Yumoto station.
If you see this bridge, then you are on the other side of the road where the shuttle bus service is located.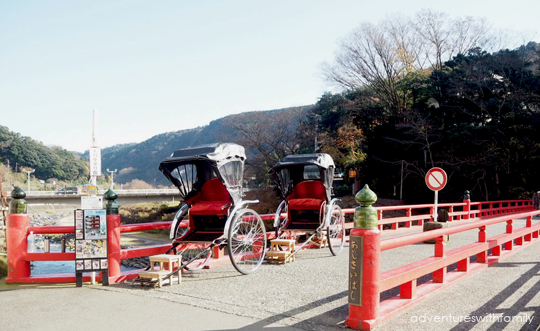 3. Take a scenic ride on the Hakone Tozan Train (40 min)
After lunch, we returned to Hakone Yumoto station and began our exploration of Hakone on the Tozan train to Gora.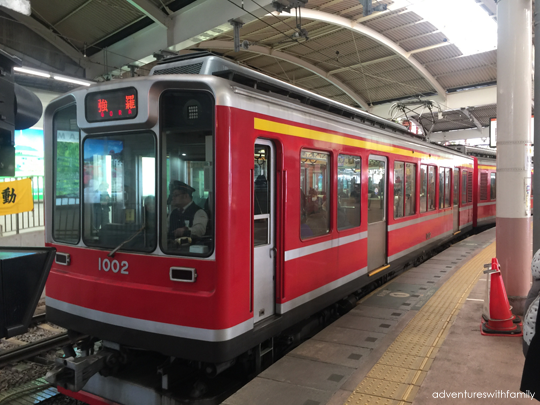 While the Tozan train gradually ascended the mountain, we were able to enjoy 40 minutes of scenic mountain landscapes, crossing bridges and tunnels. Even though we did not get to enjoy the cherry blossoms in Spring or the Autumn foliage when we visited Hakone in winter, the view from the train ride was scenic nonetheless.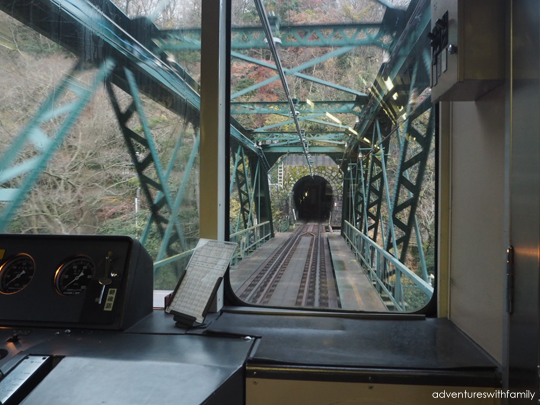 4. Ride up the mountain in the Hakone Cable Car (9 min)
At Gora station, we changed to the Hakone Cable Car, a funicular train powered by cables that goes up the mountain at a steep angle. It took just 9 minutes to rise over 200m from Gora station to the sixth and last stop at Sounzan station. There were many hot spring accommodations along the way.
5. Take the Hakone Ropeway (30 min)
After disembarking the Hakone Cable car at Sounzan station, we took the Hakone Ropeway which passed by steaming hot volcanic clouds of Owakudani before descending to Lake Ashi.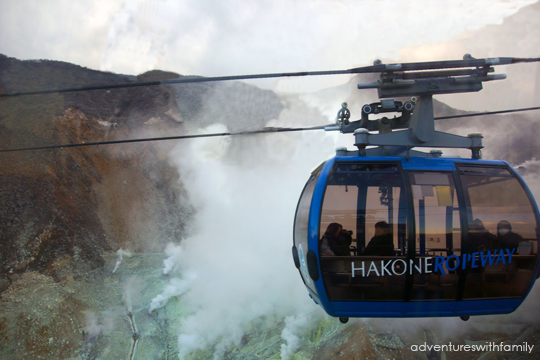 The 30-minute ride passed by the surrounding mountain with volcanic steam coming out of the top of it.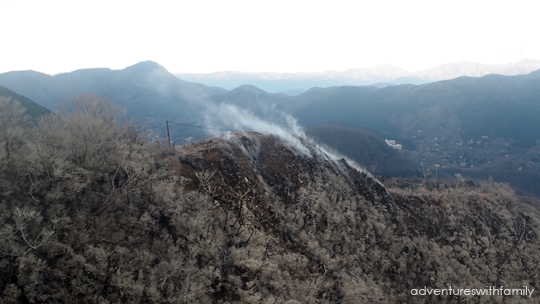 Unfortunately for us, the weather was cloudy and Mt Fuji was hidden behind the clouds.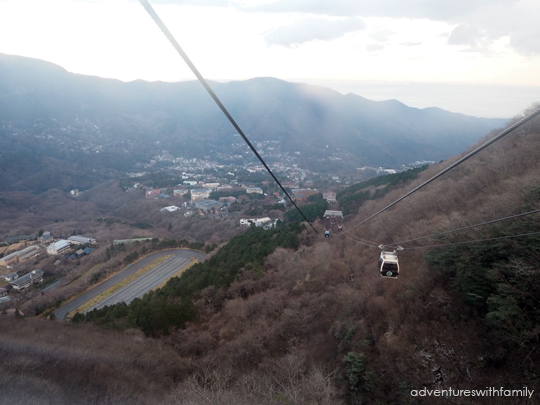 We did, however, get a lovely view of the sunset overlooking Lake Ashi. As it was winter, the sunset was quite early and we did not have time to take the cruise on Lake Ashi.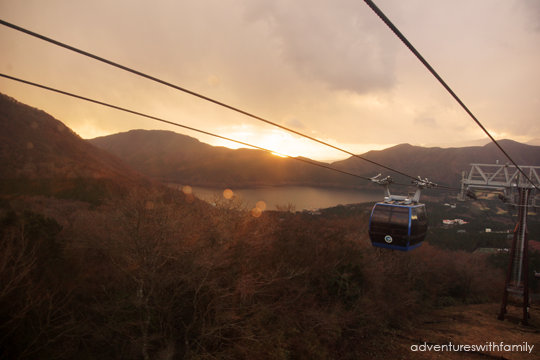 We returned by bus from Lake Ashi to Gora and took the cable car to our accommodation at Hakone Gora Kanon, a cosy family hot spring ryokan located near Naka-Gora station.
6. Stay at a traditional Japanese Ryokan with hot springs facility
We stayed at one of the traditional Japanese Ryokan with hot spring bath called Hakone Gora Kanon. The room at this ryokan was a traditional Japanese room with tatami mats.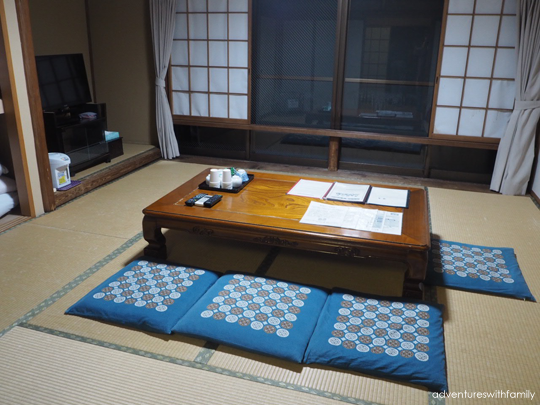 The ryokan helped us order tempura prawn udon and rice from nearby Japanese restaurants to enjoy in our room.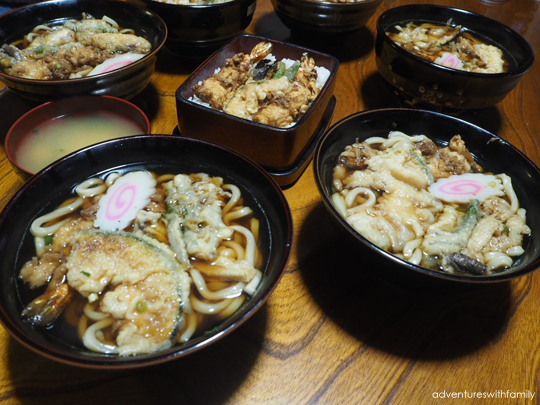 The highlight for the kids was the all-you-can-eat fruity popsicles in many different flavours.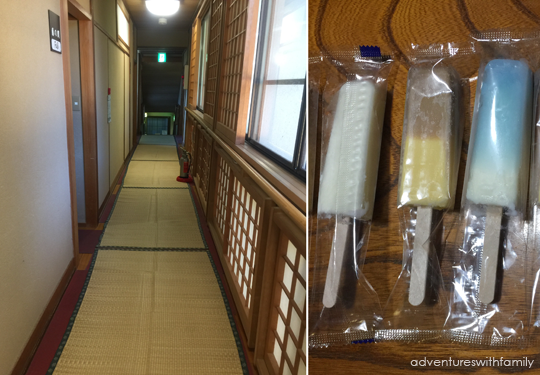 One of the must-do in Hakone is to try the Hakone's hot springs. In Hakone Gora Kanon, the hot spring baths were available to all the guests on a first-come-first-serve basis. We liked that we did not have to share the bath with other people when it was our turn.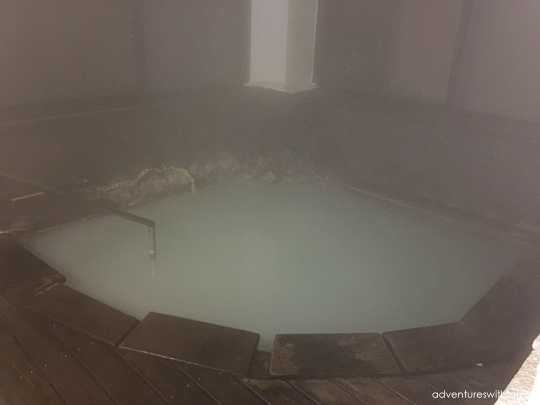 HAKONE IN WINTER DAY 2
Our initial plan for the second day was to visit the Hakone Open Air Museum, but since we did not manage to explore Owakudani and see Mt Fuji the previous day, we decided to take the ropeway again and stop at Owakudani.
7. Be stunned by the fuming volcanic clouds at Owakudani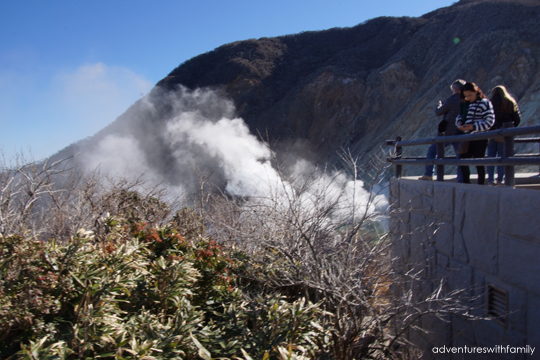 Owakudani means great boiling valley. It really lived up to its name when we visited. We were able to get up close to the fuming clouds of the volcano.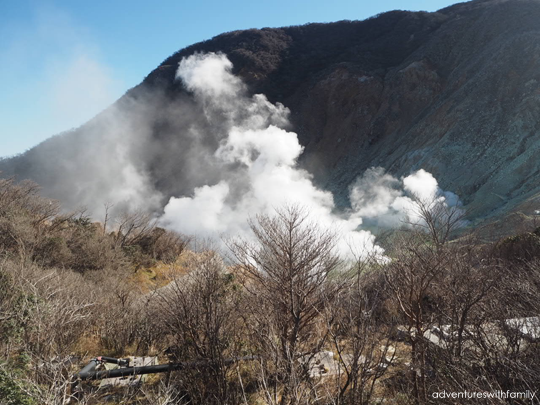 8. Try Owakudani's famous Black Eggs
One of the things to try in Owakudani is the black eggs called kuro-tamago. These chicken eggs are boiled in the hot sulphur spring until the shells turn black. To us, the eggs tasted the same as ordinary chicken eggs. However, the Japanese believe that for each black egg eaten, seven years would be added to one's life. If you think that you can eat all 5 eggs in a pack and add 35 years to your life, then you will be sadly disappointed. Each person was advised not to consume more than two eggs each.
9. Enjoy a fabulous view of Mt Fuji
Despite the first day being cloudy, winter is one of the best times to view Mt Fuji. You may have seen so many stunning shots of Mt Fuji in travel fairs or at travel agents. You will be surprised to know that half the time, you don't get to enjoy such view. Mt Fuji is usually hidden behind clouds after Spring and before Winter. Thus, if you are in Hakone in winter or spring, you will have a higher chance of enjoying Mt Fuji with clear skies. That's not all. You will also get to see Mt Fuji with its iconic snow cap, something you do not get to see during hotter seasons.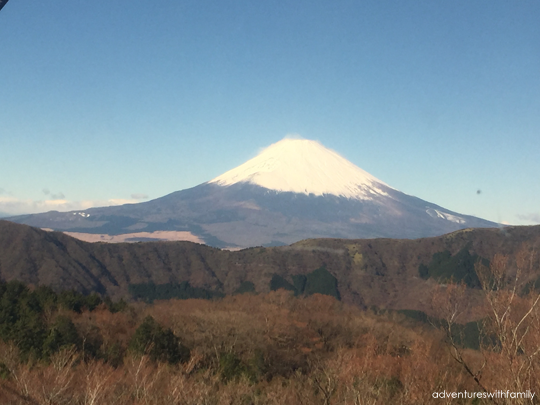 Hakone Ropeway Round 2
Our second time on the Hakone Ropeway was much better, with skies all cleared up. We were able to see Mt Fuji in all its glory on our right and a picturesque view of Lake Ashi on our left as we descended to Togendai station.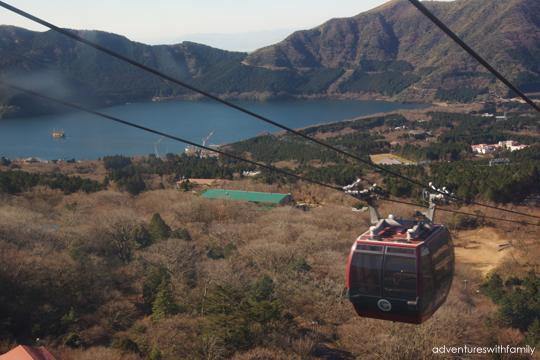 10. Cruise on Lake Ashi in a pirate ship (40 min)
Upon reaching Togendai station, we took the sightseeing cruise on Lake Ashi. The pirate ship took us on a 30-min cruise from Togendai to Hakone-Machi, and then another 10 min to Motohakone.
We disembarked at Motohakone with its famous red tori gate, and then took the Tozan bus to Hakone Yumoto,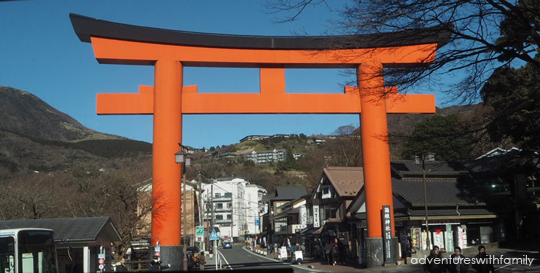 After collecting our bags from the baggage delivery service, we took the train to Odawara station for our transfer to the bullet train (Shinkansen) to Osaka.
All in all, I would say that 2 days 1 night was not really enough to see all the sights in Hakone, but it was enough to take all the different types of rides available.
Tips for visiting Hakone
Other than the RomanceCar, you can also take the normal express train from Tokyo to Hakone at almost half the price but it takes 2 hours. If you have a JR pass, you can use it for a ride on the bullet train (Shinkansen) to Odawara station, and then change to the Tozan train to Hakone Yumoto.
If one of your key purpose of visiting Hakone is to see Mt Fuji, and you have flexibility on which day to go, then check the live view cam at www.fujigoko.tv before planning your trip.
Get the Hakone Freepass to explore Hakone economically. You can get this at the Odakyu Sighseeting Service Center in Shinjuku or at Odawara station or online via sites like Voyagin. You can buy a 2-day or 3-day pass, and enjoy unlimited rides on any of the transportation described above. Even if you were to make a single day trip, it is still cheaper than paying for the rides separately. The Hakone Freepass also offers discounts at various attractions around Hakone.
If free and easy is not your style, you can also do a guided day tour to Hakone from Tokyo and experience the hot spring bath. Here is one of the day trips from Voyagin.
Use the Hakone baggage delivery service to have your bags delivered to your accommodation and from your accommodation to Hakone Yumoto. The price ranges from 800 yen to 1100 yen depending on the size.
After Hakone, instead of heading east to Tokyo, you could also head west from Odawara station to other Japanese cities like Nagoya, Osaka or Kyoto.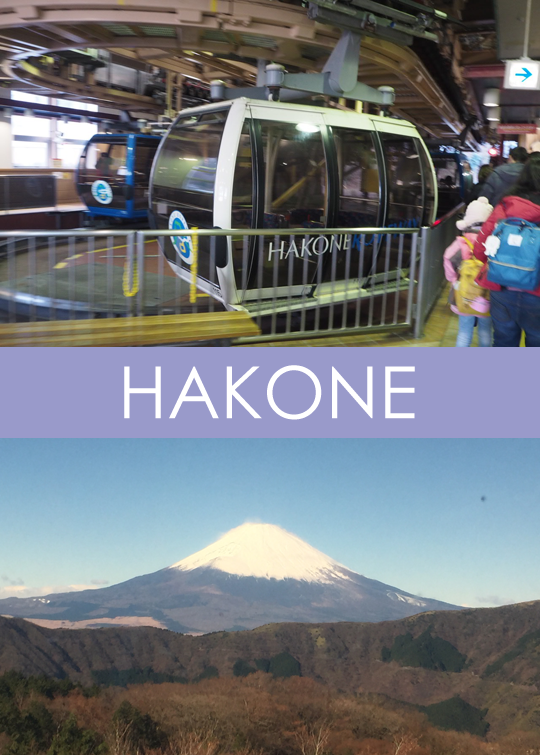 Places to stay in Hakone
Other than Hakone Gora Kanon where we stayed, there are many great places to stay in the resort town of Hakone. The types of accommodation range from small traditional ryokans to big modern hotels.
One of the hotels that caught our attention was Hotel Green Plaza Hakone. It has one of the most stunning views of Mt Fuji from its hot spring bath. It is located just 3 minutes away from the Ubako Ropeway station. We considered staying here but the largest room could only accommodate a maximum of 4 persons.
If you want to stay near Lake Ashi, then try Odakyu Hotel de Yama.
If you want to splurge, one of the highest-rated hotels to consider with a room for up to 5 persons is Hakone Ashinoko Hanaori. It has a stunning view of the lake.

Below are current deals for accommodations in Hakone.




Other Fabulous Places to see Mt Fuji
Hakone is not the only place to view Mt Fuji. Here are other great places to see Mt Fuji.
If you want to view Mt Fuji with the lake in front of it, then you should head to Lake Kawaguchi instead. Read our post on this trip from Tokyo.
If you want to have a view of Mt Fuji with a traditional village with thatched roof in the foreground, much like those in Shirakawago, then head to Saiko Iyashi no Sato near Lake Saiko. This village also provides rental of kimonos for the ladies and samurai outfit for the gents that will definitely make awesome instagram photos. The rentals are much cheaper than those in other parts of Japan. The only catch is that it takes 40 min by bus to reach Lake Saiko from the Kawaguchi train station. Bus timings are available on Fujikyoko Bus website.
There is also another village called Oshino Ninja Village which is a Ninja village with a view of Mt Fuji. There are day tours from Tokyo that covers Mt Fuji 5th station, Lake Kawaguchi as well as the Oshino Ninja Village. One example is from Voyagin.
For the famous view of Mt Fuji with the pagoda in the foreground, head to Chureito Pagoda. You will need to take a 10-minute train ride from Kawaguchiko station to Shimoyoshida, follow the signs to Arakura Sengen, then climb 400 steps to the pagoda.
The other place to see Mt Fuji is from Gotemba Premium Outlet, somewhere in between Lake Kawaguchi and Hakone. This location is great for people who plan to go bargain hunting at the premium outlet.