Bandung is one of the best places in Indonesia for a getaway with kids. Located around 2.5 hours from Jakarta, Bandung, boasts so many family attractions, factory outlets, and unique dining options that it would take us over a week to explore them all!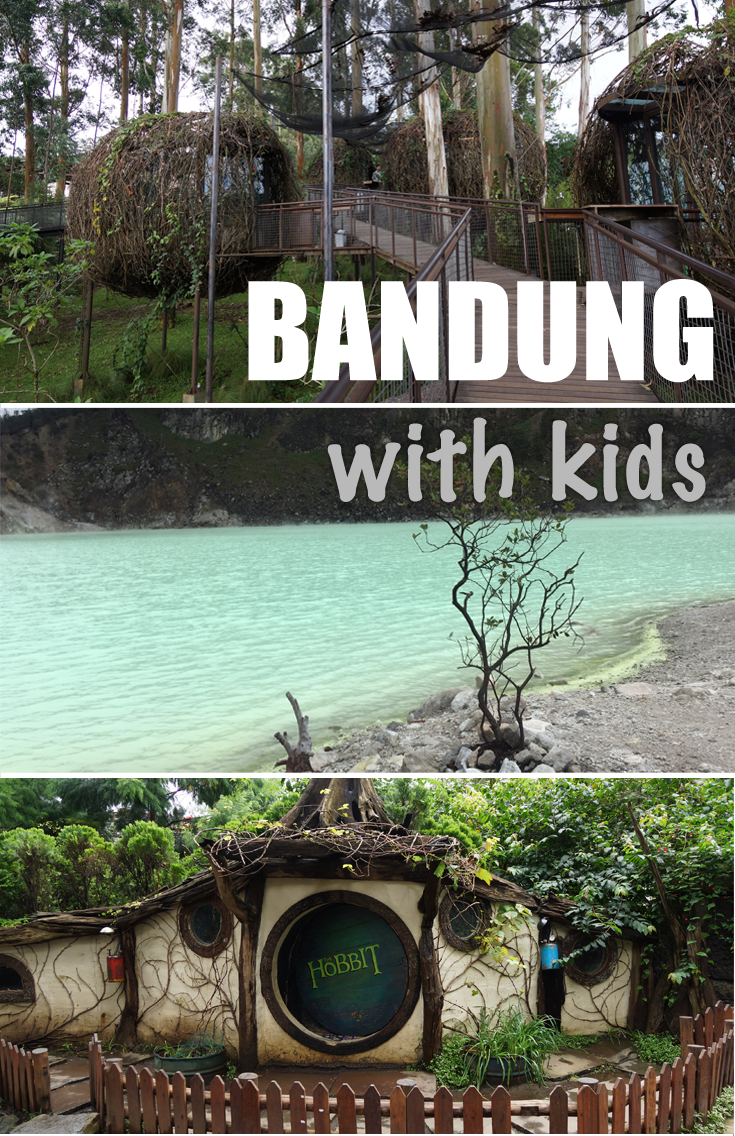 Although our trip was 4 days 3 nights, we only had 2 full days to explore Bandung. After much research, we chose family-friendly things to do in Bandung that can be completed in 2 days. Here are our top 10 picks:
Day 1: Arrival and dinner
On the day that we arrived, we chilled out at our hotel, Villa Damar, before heading out for dinner. Villa Damar is a family-friendly hotel with reasonably-priced lofts that have up to 3 king-sized beds! It is located in the city centre and within walking distance to several factory outlets and restaurants.
1. Have dinner with a view
Despite our hotel being close to many restaurants, we decided to have our first meal in Bandung up on Dago Hill where we could enjoy a panoramic view of the city.
There were several restaurants with great views to choose from. We tried Stone Cafe where we enjoyed good steak over a candlelight dinner in a cosy private hut. Stone Cafe is about 30 minutes from the town centre. We reached there early so that we could enjoy the sunset and witness the city gradually transforming into a sea of lights. Other popular places to eat in Bandung with a view are The Valley Cafe, Padma Hotel and The Peak.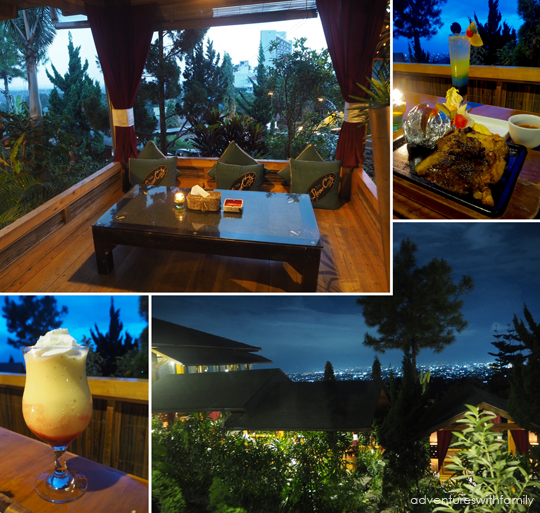 Day 2: Lembang, north of Bandung
One of the most popular areas to visit in Bandung is Lembang. We spent our first full day in the Lembang area, which was about a 30-minute drive north of the city centre.
2. Get up close to an active volcanic crater at Tangkuban Perahu

It is not often that we get to come up close to an active volcano. At Tangkuban Perahu, you could literally walk along the edge of an active volcanic crater. There were more than one crater spewing out steam and luckily, the biggest one did not require much walking or hiking. You could also get a panoramic view of the pine forest from Tangkuban Perahu.

3. Enjoy local delicacies at Lembang Floating Market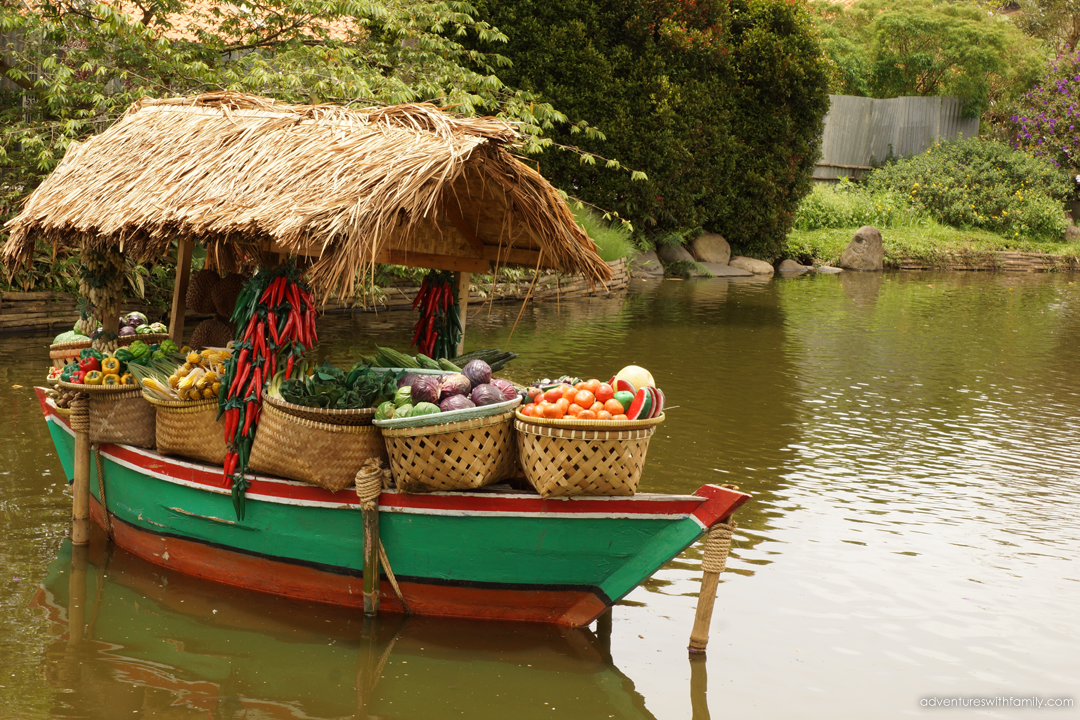 Our next stop was at the Lembang Floating Market where meals were served from small boats, much like the famous floating market in Thailand. The difference is that everything at the Lembang Floating Market was halal.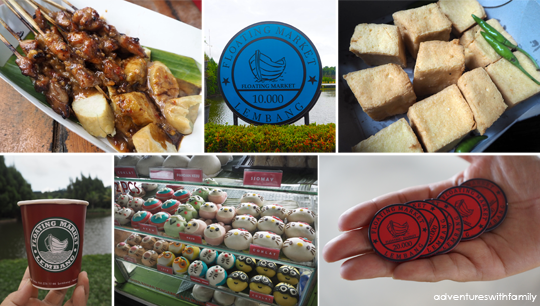 Food could only be purchased using tokens, so you have to buy tokens first before buying your food.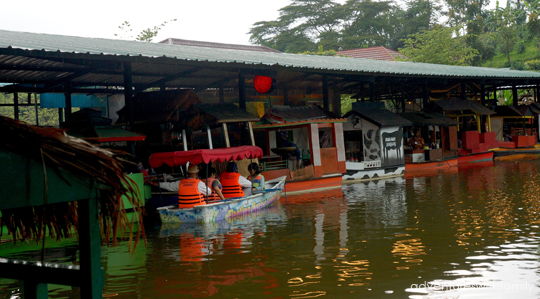 You could either take a small boat to get to the different food boats, or just stay on land where there are tables and chairs.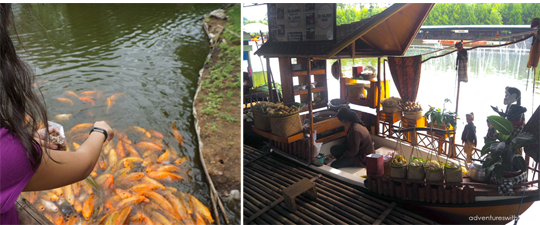 There were so many local delicacies to try like the Tahu Lembang (toufu that was crispy on the outside and milky soft on the inside), and batagor (a form of dumpling with satay sauce).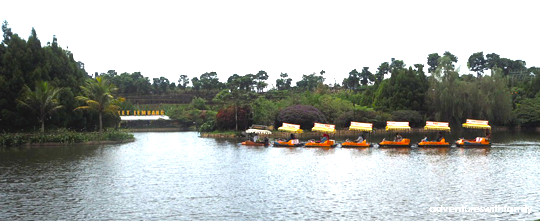 There was also a train of little boats that you could take for a scenic tour of the lake.
4. Visit a Hobbit house at Farmhouse Lembang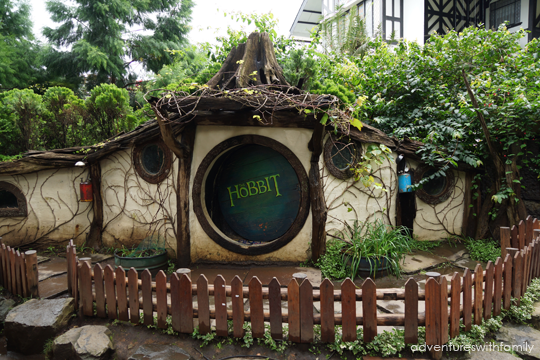 Farmhouse Lembang is the new kid on the block featuring numerous farmhouses from around the world, including a hobbit house inspired by the Lord of the Rings movie trilogy.
Many female visitors were seen donning traditional European farmhouse costumes and taking photos in front of the pretty farmhouses. My gal loved the animal farm at Farmhouse Lembang where she got to feed rabbits, sheep and other farm animals.
5. Chill out in a birdcage at Dusun Bambu
After exploring the farmhouse, we headed to Dusun Bambu family leisure park. We wanted to experience dining in a bird cage up on a tree at Lutung Kasarung but it was closed for a few hours due to strong winds.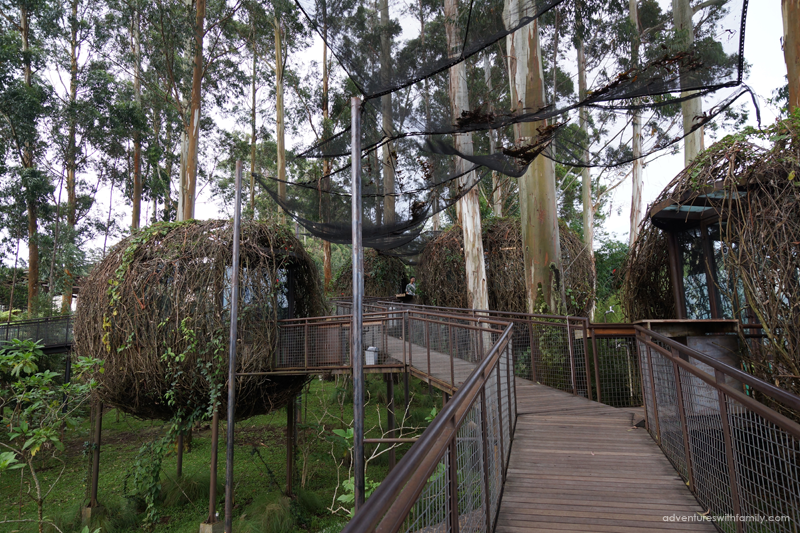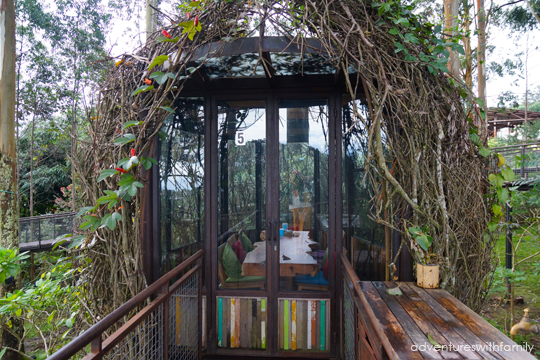 Instead, we had a pre-dinner satay snack and drinks at Purbasari overlooking Dusun Bambu's incredible view of the lake.
6. Savour Sundanese cuisine at Kampung Daun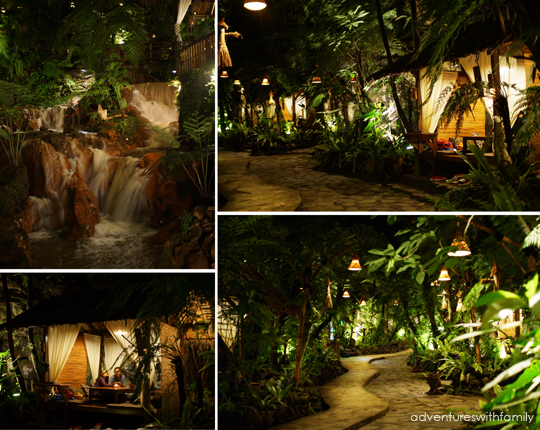 Dining at Kampung Daun is a must when visiting Bandung. From the moment you step in, you will feel a relaxed atmosphere with cosy dining huts set amidst lush rain forest. The soothing sounds of water streaming down from the waterfall and the cool evening weather set the perfect ambience for dinner.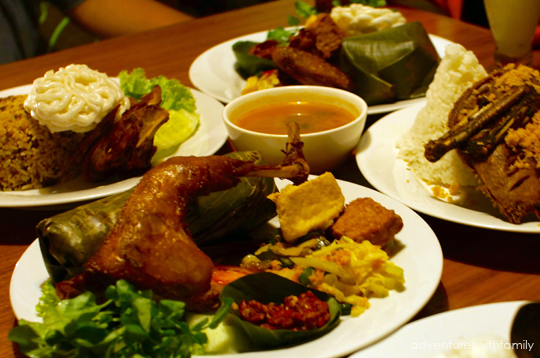 Kampung Daun serves a variety of local Sundanese favourites like Bambu rice (rice steamed on bamboo), Nasi timbel (rice wrapped in banana leaf) and their signature Nasi kukus (coconut flavoured steamed rice).
Day 3: South of Bandung
We spent our second full day in Ciwidey, an area south of Bandung's city centre, to enjoy the beautiful Indonesian landscapes.
7. Visit a mystical white lake above the clouds at Kawah Putih

Kawah Putih (white crater) is a crater with stunning bluish white lake that changes hue depending on weather conditions.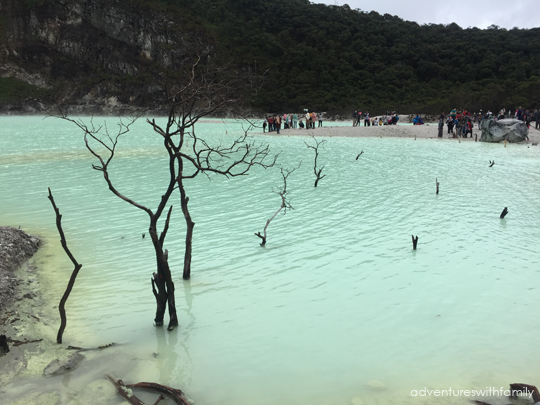 The lake is highly acidic, and the smell of sulphur was so strong that we were only allowed to stay there for a short while. The amount of steam coming out of this lake made us feel like we were standing at the edge of a giant pot of boiling water!
8. Get onboard a wooden ship on a hilltop at Lake Patengan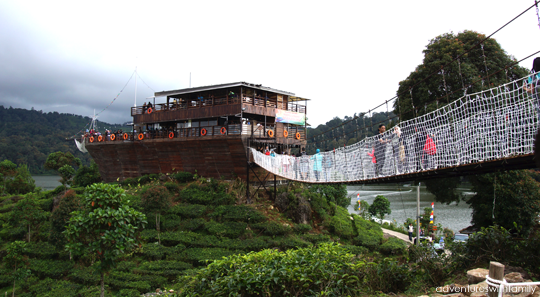 We visited a different kind of lake in the highlands where the air was fresh and cool. If you see a big wooden ship on top of a hill, you know that you are at Lake Patengan (or Patenggang as some call it). Get onboard the ship via a suspended bridge to enjoy a view of the surrounding tea plantations. There was also a restaurant onboard the ship.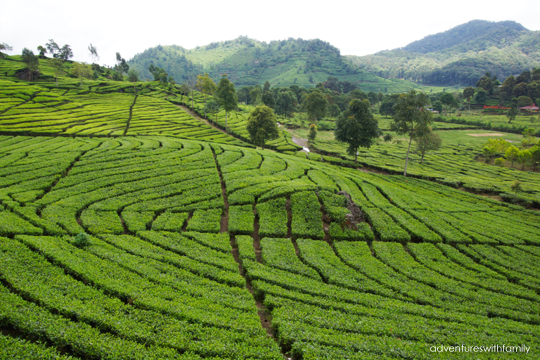 There were even large tents for families who wish to experience glamping surrounded by the tea plantation.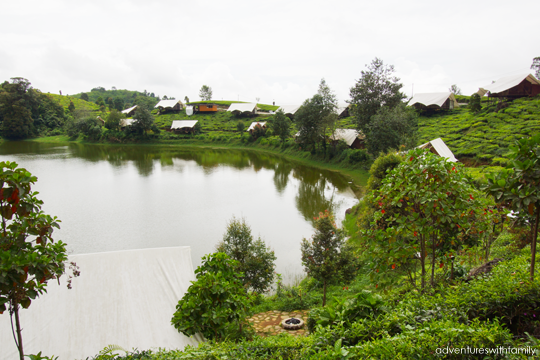 9. Have lunch at a strawberry plantation at Saung Gawir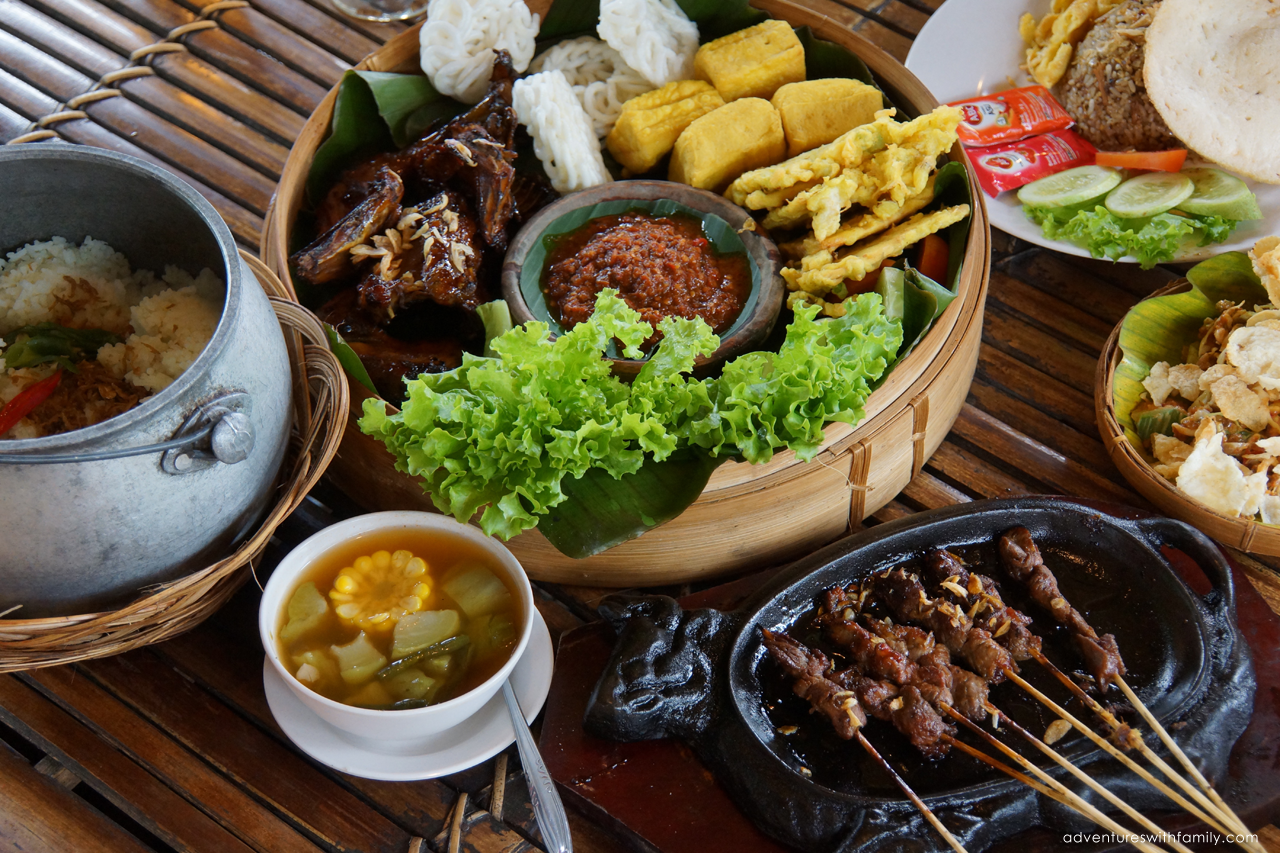 Famished after exploring the 2 lakes, we descended the mountain and headed to Saung Gawir, a restaurant located near its base. This restaurant is one of the most popular in the area serving Bandung's favourite local delights. We chose to dine in traditional Sundanese wooden huts overlooking the strawberry plantation. I highly recommend the Nasi Bakar Komplit and the fresh strawberry juice.
10. Go bargain hunting at Bandung's factory outlets
After lunch, we headed back to the city to do one other thing Bandung has gotten more famous for – SHOPPING!
There were so many factory outlets in Bandung that it would take a few days just to cover them all. Fortunately, most of the factory outlets were concentrated along three stretches of road within the city area.
Jalan Setiabudhi – Rumah Mode, Fashion World, Grande Fashion Gallery, Mode Plus
Jalan Dago – Level, Polo, Nike, Grande, Marc & Stuart, Uptown, Carla, Glow, Donatello
Jalan Riau – Summit, Heritage, Cascade, Secret
Clothing from fashion brands like Guess, Zara and Mango selling at a fraction of the price in regular malls will tempt even the most discerning shoppers. Of course, you have to check the quality of the items as there were varying grades of quality coming from factory outlets. Those with proper labels and generally feel good to the touch are the ones to buy.
If you have time for just one factory outlet, I would recommend Rumah Mode, one of the most popular factory outlets in Bandung. They have a good selection of quality and fashionable clothing for the entire family. They also have a food court, a small bakery serving pretty cakes and pastries, and a souvenir shop.
Another factory outlet worth visiting is the one at Cibadayut. It is popular for its leather goods. You can get high grade leather products from brands ranging from Timberland to Montblanc.
If you are looking for traditional textiles and clothing, head to Pasar Baru Trade Centre. If you are looking for cheap jeans, head to Cihampelas walk – also known as Jeans St.
Souvenirs from Bandung
The most popular things to bring back as souvenirs are:
Kartika Sari Pisang Bolen (a banana-filled pastry dessert); and
Amanda steamed brownies

Where to Stay in Bandung
Bandung has a variety of accommodations depending on your Budget and preference. Do you prefer the hotels or glamping? Do you prefer the convenience of staying in the city area with lots of shopping outlets and cafes, or the tranquility of nature?
City area
Stay at hotels along Setiabudi or Riau if you want to be close to shopping and dining. We stayed at Villa Damar as it was close to factory outlets like Rumah Mode and local restaurants. It has lofts with 3 king sized beds, enough for a big family.

Other nice hotels in the city area include:
Outside the city area
If you prefer to get away from the city or are travelling with a bigger group, look for accommodations outside of the city, like on Dago Hill where there are a number of /modern bungalows/villas with private pools for the family. Apart from the great views, Dago Hill boasts many cafes and restaurants to chill out.
Pinus Villa – It can accommodate up to 10 people and it has a private pool.
Cempaka Villa – It can accommodate up to 12 people and it also has a private pool.
Padma Hotel Bandung – It has a great mountain view and is not too far from the city.
Lembang
To be closer to nature whilst enjoying cool and fresh air, head further north and stay in Lembang. You will be close to many of the attractions and family parks in Lembang. Options include:
More Attractions in Bandung
My key take away from the short trip is that the 2 full-day trip was simply not enough to explore Bandung. I wished we had at least one extra day to explore more attractions and restaurants.
Witness a stunning sunrise from a cliff overlooking a pine tree forest at Tebing Keraton.
Visit one or more of the many waterfalls in Bandung. Some of these waterfalls (or curug in Bahasa Indonesia) are easier to access than others. The Rainbow Waterfall (Curug Cimahi) is located right off the highway, while the popular Maribaya Waterfall is located in a forest surrounded by dense vegetation.
Soothe aches and pains by taking a dip at one of many hot springs around Bandung. The popular ones are Ciater / Sari Ater Hot springs.
Ride a horse at D'Ranch.
Pick strawberries in the strawberry plantations in Lembang or Ciwidey
Feed a deer at Ranca Upas Ciwidey
Pet farm animals at a miniature zoo on the rooftop of Paris Van Java mall.
Watch a lively performance by local kids using the traditional angklung at Saung Angklung Udjo
Enjoy a thrilling roller coaster ride at the indoor Trans Studio Bandung theme park
Observe the stars at the Bosscha observatory
Getting Around
The best way to get around Bandung is by going on a tour. We chose a private tour with Bandung Jack Tour.
You could also get a customised guided tour from the link below.