Krabi is our family's favourite destination in Thailand.  With more than 100 islands around the Andaman Sea boasting pristine beaches and clear emerald green water, Krabi is a perfect destination for those who love beaches and fun outdoor activities,  It is not too busy like in Bangkok, and not too touristy like in Phuket.   It is also family-friendly with hardly any rowdy and raunchy bars on the mainland.
We visited Krabi twice in the past two years.  Our first trip was in June when the weather was not too good, while our second trip was in December when the whether was simply perfect – sunny, yet not too hot or humid.
Here are 10 things to do when visiting Krabi.
Krabi Day 1 
1. Ao Nang Dining and Shopping
Ao Nang has a long stretch of road lined with hotels, restaurants, and shops.  The road turns towards Ao Nang Beach with many more hotels, restaurants, and shops.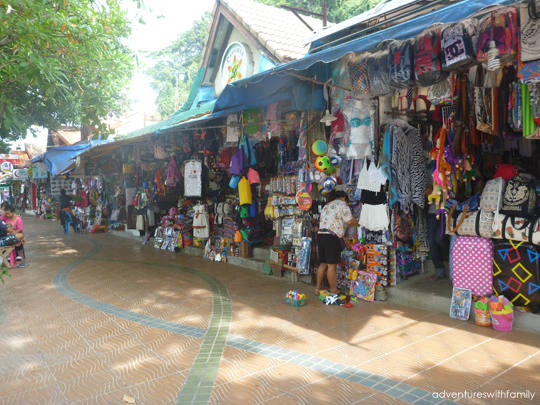 Since Aonang village is a predominantly Muslim village, most of the restaurants along the stretch of road are halal.   There were also many clean-cut and cheap massage parlours offering not only Thai massage, but also other types of massages like aromatherapy massage.  The rest of the shops were mostly selling souvenirs and beachwear.
Krabi Day 2 
On our first full day in Krabi, we rented a private transport to bring us to the Emerald pool, Hot springs waterfall and the Krabi Town night market.
2. Ao Nang Beach
As the tour did not start until 11am, we had time to walk along Aonang Beach.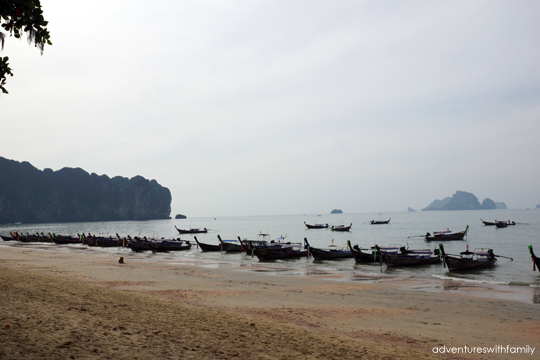 In the morning, the beach were lined with many traditional long tail boats that were probably waiting for customers.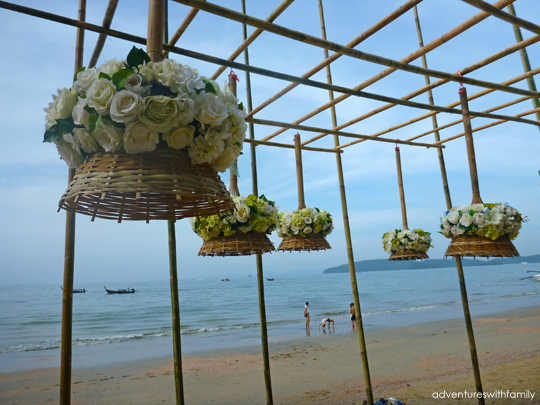 As we did not see anyone swimming and as there were no lifeguards, we decided to swim at our hotel pool instead.
3. Krabi Emerald Pool
The Emerald Pool (also known as the Crystal Pool) is a large natural pool filled with ambient temperature spring water in the middle of the forest.  The pool can be reached by an 800 m natural trail through tropical trees and plants.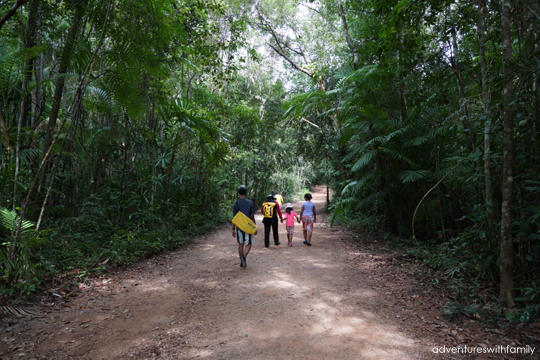 As we were there on a weekend and in the early afternoon, the pool was extremely crowded.  The natural pool is fresh and cool with water about 1 – 1.2m deep.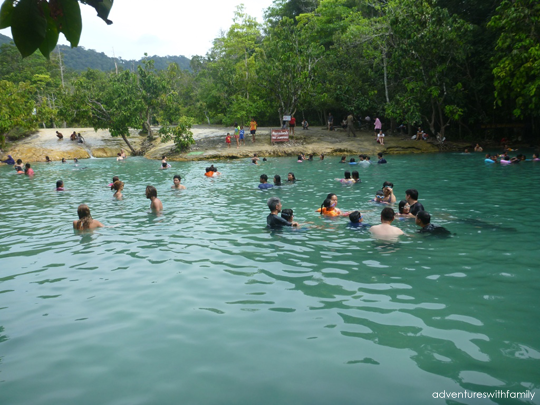 Some parts of the ground were quite slippery, so it was a good thing that we had water booties that we purchased in Aonang.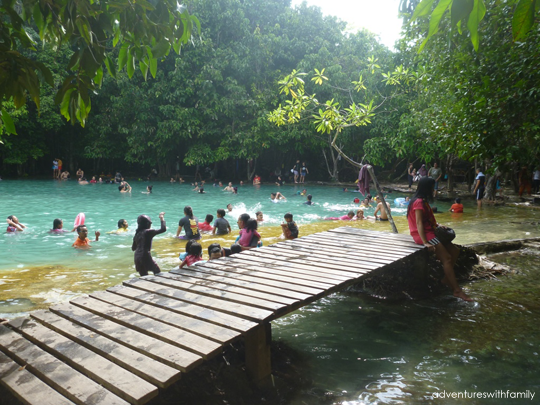 4. Blue Lagoon
A short walk away from the Emerald Pool is an amazing natural pool.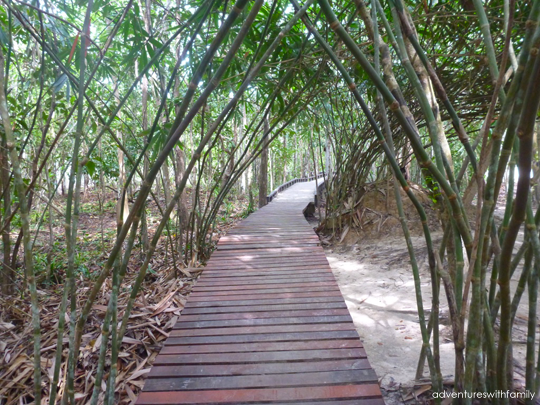 It takes about 400m on foot  to reach the Blue Lagoon from the Emerald Pool.  Unlike the natural trail leading to Emerald Pool, there is a raised platform trail leading to the Blue Lagoon.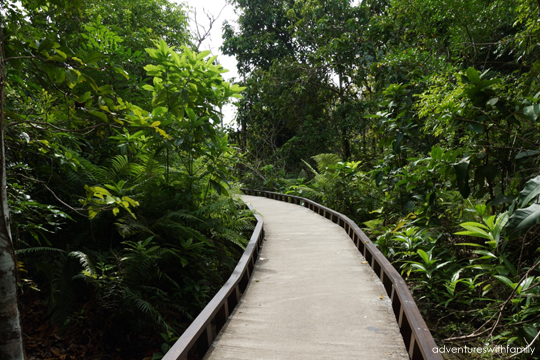 In a jungle of greens and browns,  the Blue Lagoon with its amazingly natural bright blue colour is like an oasis in the middle of the jungle.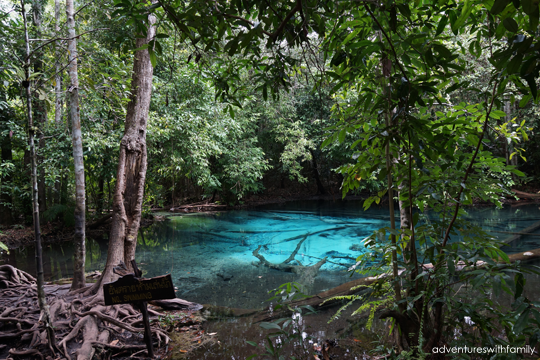 The water is so clear that you can see details of the the white sand below. The Blue lagoon is not for swimming though as the water is too hot and the lagoon is surrounded by quicksand.  It is nature's way of keeping itself unspoilt so that many can come to witness its splendour.
5. Hot Springs Waterfall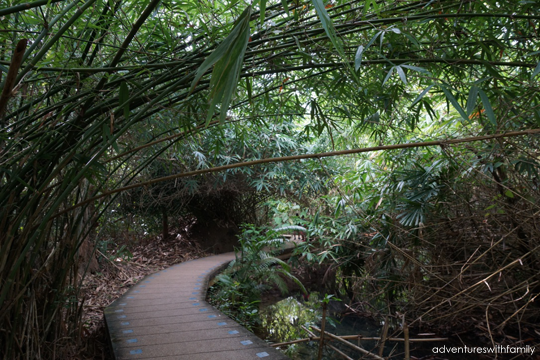 After the Emerald pool, we headed to the Hot Springs waterfall.  It is a short walk through the jungle on cemented platform to reach the Hot Springs.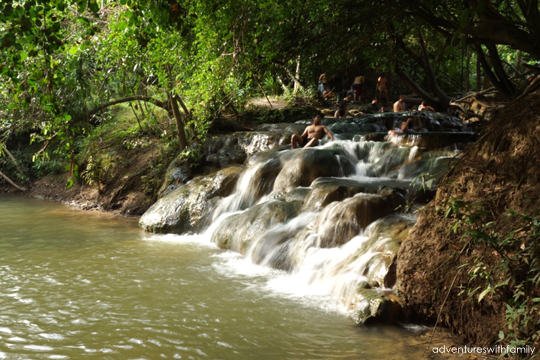 The water in the hot springs comes from thermal springs originating from the underground volcanic chambers.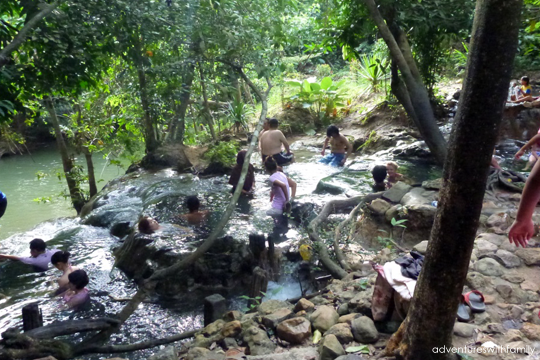 The unique thing about this particular hot springs was that it had "bathtubs" that were naturally hollowed-out. The hot springs water had the perfect temperature to soak and relieve body pain.   Apparently, it is even good for rheumatism and other ailments.
6. Krabi Town Night Market and Walking Street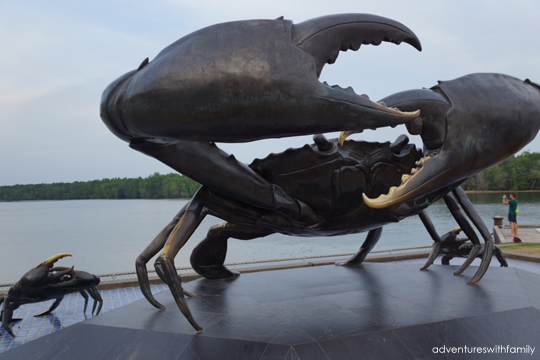 After the relaxing soak in the hot springs, we headed to the Krabi Town night market and walking street.   Read more about our visit to the Krabi Town Night Market.
Krabi Day 3 
7. Hong Island and the 4 Island Boat Trip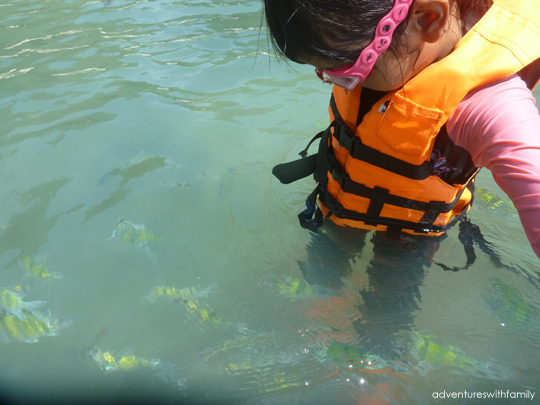 One of the popular island-hopping trip is the one that covers Hong Island, and the 4 islands.  We took a big long-tail boat and added the option to have a BBQ dinner on the boat while watching the sunset.
Krabi Day 4  
8. Railay and Phranang Beach
Railay is another area in Krabi that is great for a day-trip, or an overnight trip.
It is not an island, but it felt like it as visitors can only get there from Ao Nang by boat.  This is because of huge limestone cliffs dividing the rest of Krabi mainland from Railay.  Railay had one of the most interesting restaurants that we have had the privilege to experience. It is called The Grotto.  Located on Railay beach, this restaurant offered a unique dining experience in a limestone cave.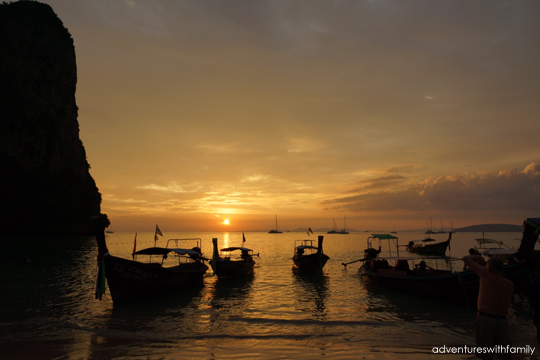 The sunset on Railay beach is something not to be missed.  Read more about our adventures in Railay.
Krabi Day 5   
9. Ao Nang Walking Street 
After returning from Railay, we returned to Ao Nang for another night.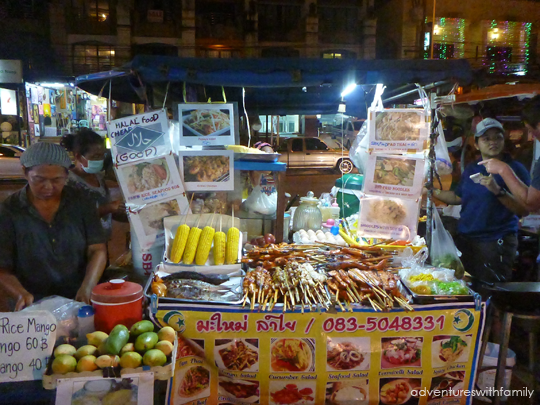 We spent the evening exploring Ao Nang Night Market / Walking Street.
Krabi Day 6 
10. Koh Phi Phi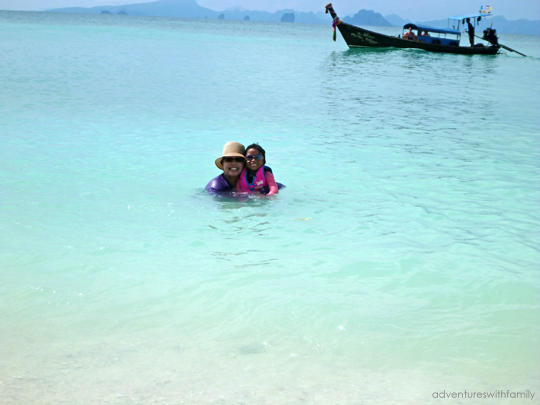 Koh Phi Phi is a great island to visit in Krabi. You can take the ferry from Krabi mainland to Koh Phi Phi.  If you have two days, you can enjoy Koh Phi Phi on the first day, and go the island hopping around Phi Phi the next day. If you can only spare one day in Koh Phi Phi, then take the ferry, and join the afternoon island-hopping boat trip from Koh Phi Phi.  We went island-hopping to Bamboo island (above), Maya Bay, Phi Ley lagoon and more.  Read more about our island-hopping trip to
Phi Phi Island
.
From Koh Phi Phi, you could take a ferry either to Krabi mainland, or continue on to Phuket.
Where to Eat
Ao Nang had lots of eateries ranging from street food to hotel restaurants. Apart from Thai food, there were quite a number of eateries serving pizzas and pastas.  Most of the restaurants are halal because Ao Nang is a predominantly muslim village.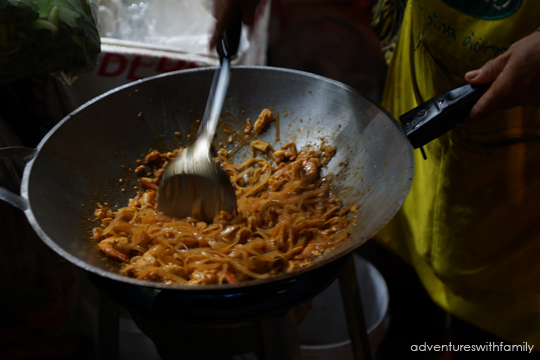 Krabi Town night market / walking street is also a great place to eat local Thai street food.
Praknam Krabi Seafood
One of the nicest Thai seafood we tried in Krabi was at Praknam Krabi Seafood.  It is not in Ao Nang or Krabi Town though.  We ate there while waiting for our boat ride to Railay.  The food was not only delicious, it was extremely fresh too.  How could it not be when we get to pick our own live fish and crabs? And just when we thought that all steamed fish are non-spicy and suitable for the kids, look at what they served us –  Super spicy steamed fish!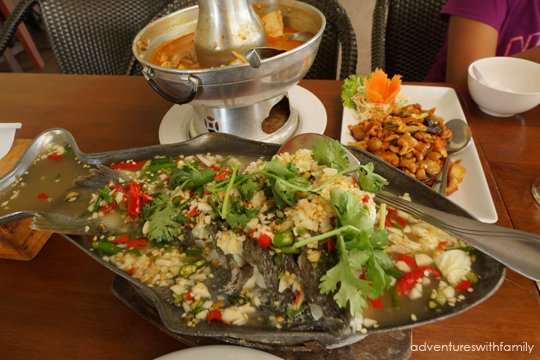 Where we stayed in Krabi
Aonang Princeville Resort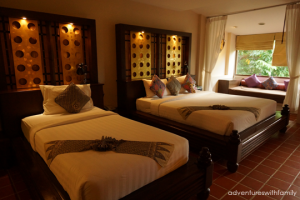 Ao Nang is a popular place to stay on Krabi's mainland.  While there are many accommodation options ranging from budget rooms to luxury hotels, not many offer family rooms. At most places, we would need to get two rooms. One hotel that offered family rooms was Aonang Princeville Resort.  The hotel is in a great location, near a number of restaurants and shops. Furthermore, the beach was just across the road!  There was a restaurant within the hotel that served continental and Asian halal breakfast and great Thai food for lunch and dinner.
Tip: As the location is great, you have to book this place early.  I got good rates for Aonang Princeville Resort on Booking.com.  You can also check out other hotels around Ao Nang.
Pimann Buri Pool Villa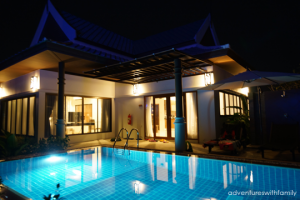 Apart from hotel rooms, multi bedroom units are typically big enough to accommodate the whole family. After returning from Railay, we stayed one night in a villa with a private pool.   Unlike the first hotel, this villa is not within walking distance of restaurants and shops, however, the villa provided a free shuttle to and from Ao Nang. It also provided a one-way free shuttle to or from Krabi Airport.  We booked 
Pimann Buri Resort on Booking.com
.
As Krabi has so many beautiful islands, staying on at least one of them should be one of the things you should do.
Rayavadee on Railay Beach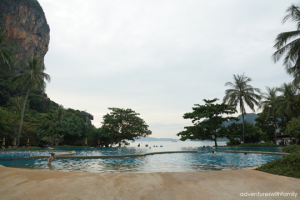 Rayavadee is a beautiful resort on Railay that has access to three beaches and a cave for dining.  We typically do not stay in 5-star accommodations when we travel as a family, but Rayavadee was the only decent one on Railay Beach that could accommodate our family in one unit.
Cost saving tip:
  Stay midweek.  When we booked our stay, the midweek rate was half that of the weekend rates!  Check rates and availability of 
Rayavadee on Booking.com
.
Mama Beach Resort on Phi Phi Island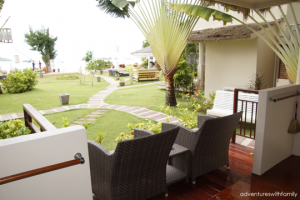 Mama Beach Residence was one of the most memorable places that we stayed in Krabi, Phi Phi, because of its proximity to the beach.  We can literally walk from our room to the beach in under 1 minute! The only downside was that we had to take two rooms.  Although the rooms were side-by-side, there was no interconnecting door. Nonetheless, the awesome beach view made up for the lack of family rooms.  Read more about our stay at Mama Beach Residence, Phi Phi.
Tips
Krabi's weather is at its best between November and April during the dry season.
Upon arrival at the airport, it is better to pay for a private minivan or taxi to get to your hotel.  Don't get on the shuttle bus because you would have to wait for it to be full before it moves.
You can get a local telephone SIM pre-paid card at the airport near the exit. The price is quite reasonable.  Just get one and use the phone's hotspot to share the data line.
It is better to visit the Emerald pool and hot springs on a weekday.  If you have to do it on a weekend, try going early in the morning.
Getting a private long tail boat is cheaper than paying individually for a day trip on a speedboat.  Furthermore, the ride on the speedboat is quite bumpy and they kids may not find it comfortable.
If you are worried that you or your kid will get seasick, try using a sea band on your wrists.  It really works.
If you are worried about getting bitten by a Jelly fish, wear long-sleeved swimming top and long swimming pants.
If you are worried about stepping on sharp objects in the water or at the beach, get water booties.  You can get water booties in Ao Nang.
You can book the ferry ride to Phi Phi or Phuket online at www.phuketferry.com.