Railay is a peninsula in Krabi that has three beaches – Railway Beach, Phra Nang Beach and Nammao Beach. It feels almost like a secluded island away from the mainland because it is fully cut off from all road access by limestone cliffs.  Visitors have to travel by boat to get to Railay.
Phra Nang Beach
The most popular beach on Railay is Phra Nang Beach.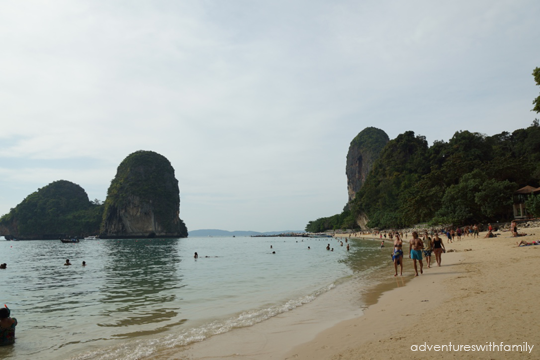 Located on the southernmost tip of Railay, it has a dramatic limestone cliff on one end (pictured above), sand as soft as powder, gentle waves, and warm and clear water.
It is no surprise that many day-trippers from other parts of Krabi come to Railay to visit this beach.
Cave Dining at The Grotto
One of the most unique things to do in Krabi is dining in a cave. The Grotto is part of Rayavadee resort and is nestled under an ancient limestone cave on the edge of Phra Nang beach.   With soft sand underneath our feet, we took our time sipping refreshing fruity mocktails while marvelling at the grandeur of the cave.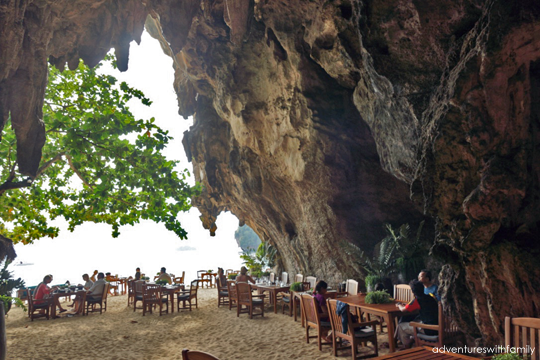 The Grotto also had a great setting for a BBQ dinner.  You do need to make reservations for dinner at least 24 hours in advance.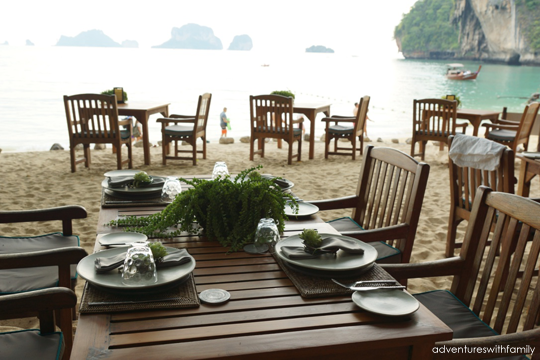 Railay Beach
Railay Beach is located on the western part of Railay.  It is an easy 10-minute walk from Phra Nang beach.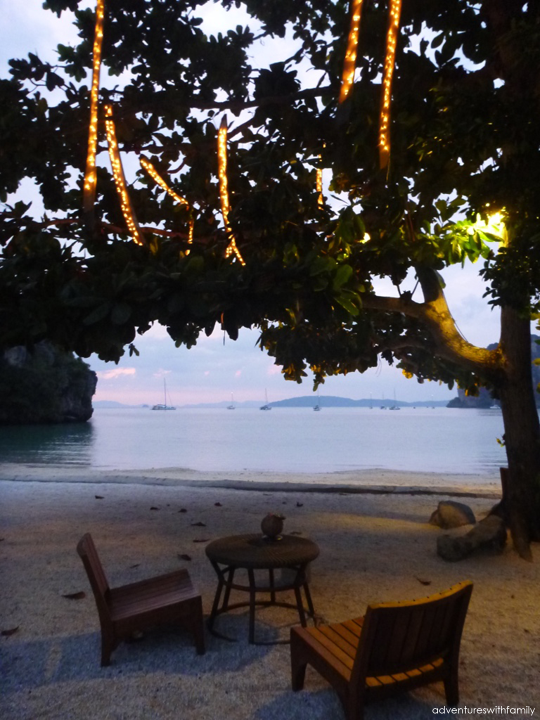 The sunset on Railay Beach was definitely worth watching.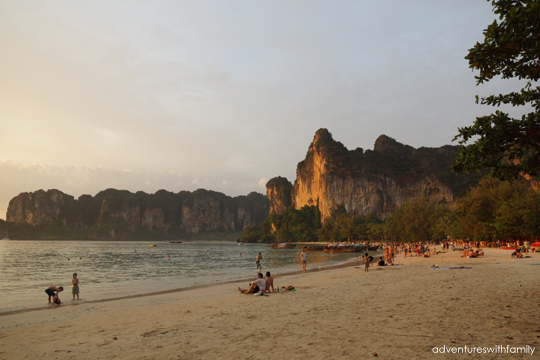 Some people had dinner at the restaurants overlooking the beach while some others sat on the beach on picnic mats with candle lights and drinks.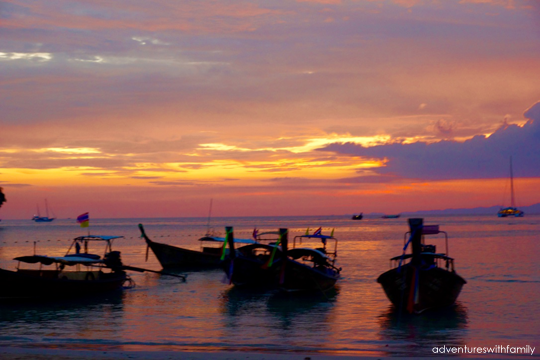 Regardless of what each was doing,  everyone was mesmerised by the sheer beauty of the setting sun.  It is no wonder that the beach is also known as the Sunset beach.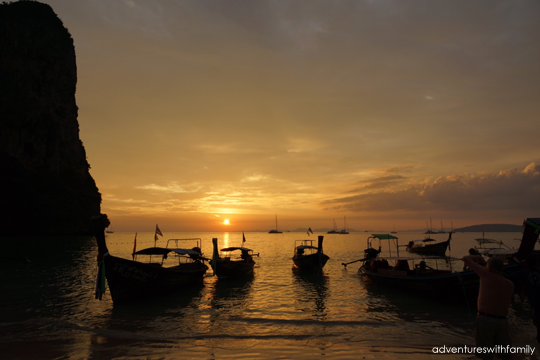 Railay Walking Street
Railay also had a walking street accessible from west Railay Beach.  For those not keen on spending big Bahts on dinner at the hotel restaurants, the walking street offered cheaper alternatives that was easy on the pockets.  There were Thai seafood, pancakes, pita kebabs, burgers and juices.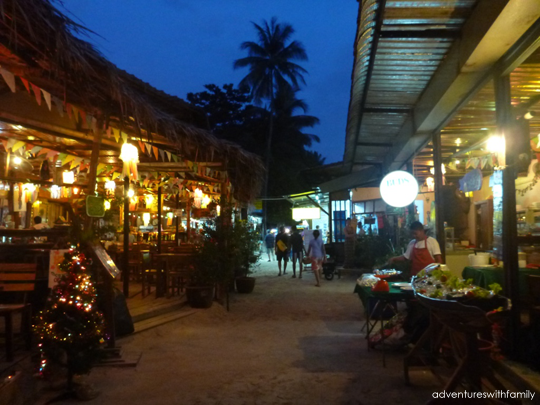 Nammao Beach
The third beach on East Railay was mostly used for goods delivery and not really suitable for swimming.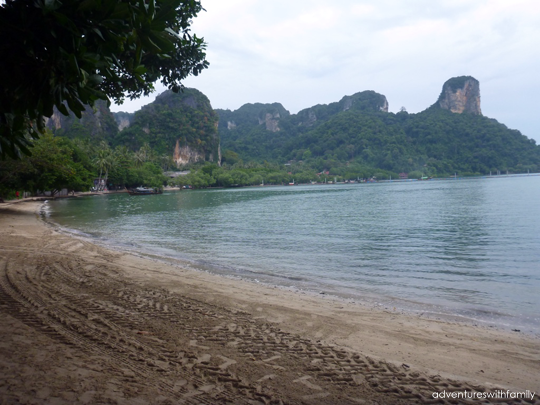 Tips on finding hotels on Railay
There are several great resorts on Railay. Some are located on West Railay Beach like Sand Sea Resort, Railay Bay Resort and Spa, and Railay Village Resort and Spa, while some others are located on East Railay.
While most of the hotels on West Railay mentioned above were very nice, a family of 4 or 5 would require two units. You could request for adjoining rooms, but it is usually not guaranteed.  Some do not even have adjoining rooms.  There are some hotels facing East Railay that could accommodate a family of 4 or 5, but the beach on East Railay is not suitable for swimming.
Rayavadee Resort on Railay
There is one hotel with access to both West Railay beach and Phra Nang beach that can accommodate a family of 4 or 5 in one single unit and that is Rayavadee.  It is a 5-star resort with the highest customer rating on most hotel booking sites amongst hotels in Railay.
Its twin room has two double beds on the upper floor and can accommodate an extra bed on the ground floor.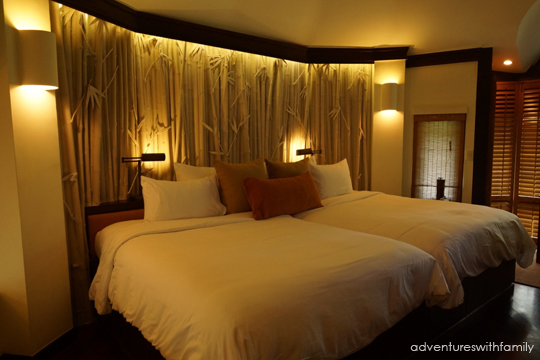 Its swimming pool overlooks dramatic limestone cliffs, coconut trees and the west Railay beach.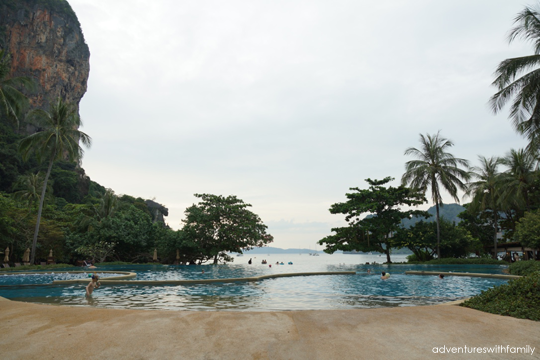 There were many deck chairs in front of Phra Nang Beach for Rayavadee's hotel guests.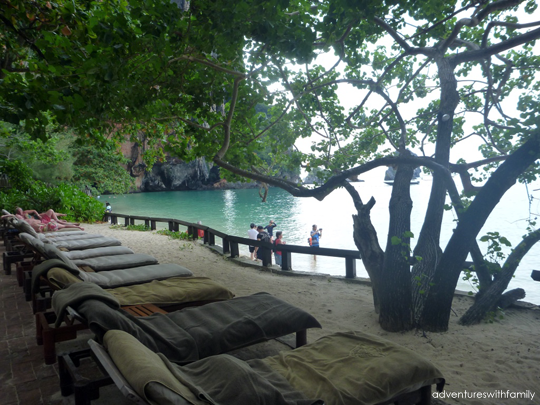 Cost saving tip:  Rayavadee is a luxurious 5-star hotel, and one of the top 20 resorts in Asia.  It can be quite expensive on weekends and peak periods, but the prices are noticeably lower on weekdays.  At one time, the midweek rates were about half that of the weekend rates. Click here to check rates for Rayavadee on Booking.com.
Getting there
If you are just making a day trip to Railay, you can easily arrange for a long tail boat or speedboat through your hotel or at one of the many tour operators in Ao Nang.
If you are staying overnight in Railay, ask the hotel for transport arrangements.