Krabi is one of the most beautiful places in Thailand with many islands, clear emerald green water, soft sandy beaches and fascinating coral reefs.  An island-hopping snorkelling trip in Krabi is a must for all its visitors.
Our family went on a day trip at sea exploring Hong Island and the 4 islands,  and witnessing an unforgettable sunset over the Andaman Sea.  We took a private long tail boat around the islands.
The Hong Islands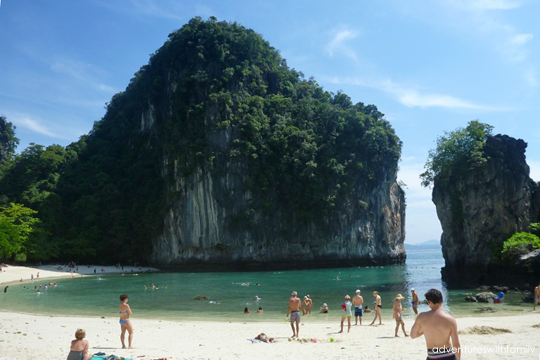 Our first stop was supposed to be the Hong lagoon, but the tide was so low that none of the boats could enter.  In fact, we saw some boats getting stuck at the entrance of the lagoon because of the low tide.
We skipped Hong lagoon and headed to Hong Island.  It took us about 20 minutes to get there from Ao Nang.  Hong Island had a bay that was protected by limestone cliffs.  Although the water was generally calm, there were lots of rocks below, and since it was low tide, it was difficult to swim and avoid the rocks.  The water at Hong island was also not clear enough for us to snorkel and see the interesting fishes like the clown fish.  I think it would have been better if the tide was higher.  Nevertheless, the soft sandy beach made Hong Island a great beach to relax and have a picnic.
Lunch on the Boat
After the swim at Hong Island,  we returned to the boat and headed to a shady spot near a limestone cliff where the water was calm.  We were served delicious local Thai dishes with rice.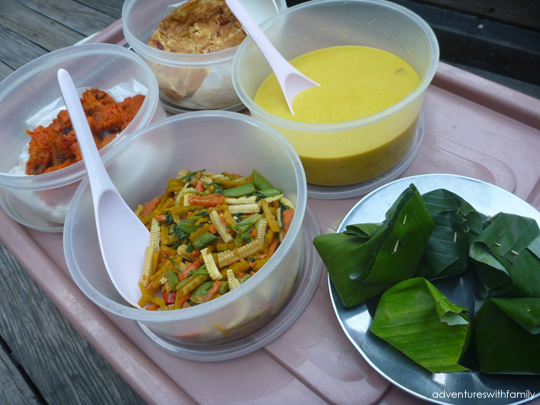 Snorkelling
After lunch, we were off snorkelling near two of the islands in the Andaman sea.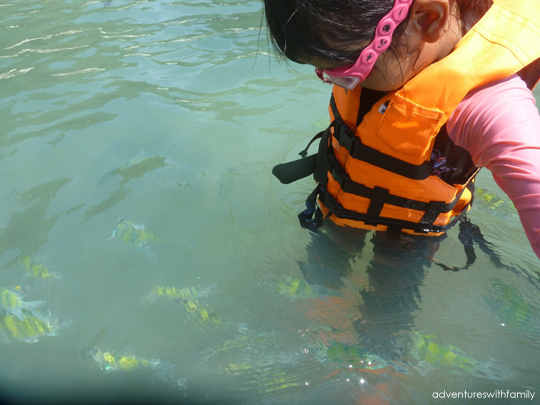 There were lots of fish swimming at the surface that we did not even have to go underwater to see them!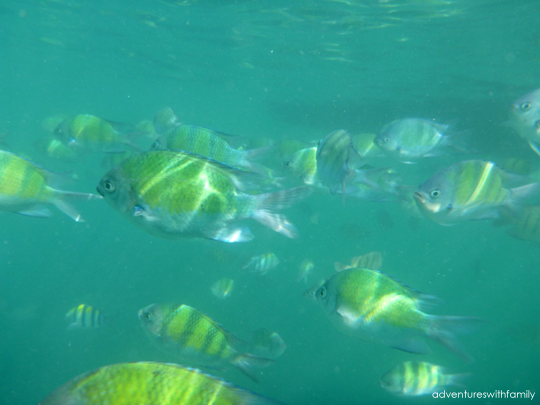 Of course, the view was much better underwater.
Chicken Island
We passed by Chicken Island, or Koh Kai, for a photo opportunity.  From the picture below, it is easy to tell how the island (on the left) got its name.  Did you also notice the turtle-looking island on the right of picture below?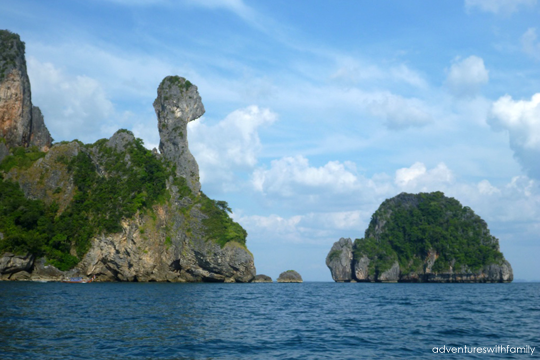 Tub Island
Our next stop was Tub island, or Koh Tub.   There is a three-pronged sandbar connecting Tub island, Chicken island and another small island called Koh Mor.  However, when we arrived, the tide was already high and the sandbar connecting to Chicken island was fully submerged.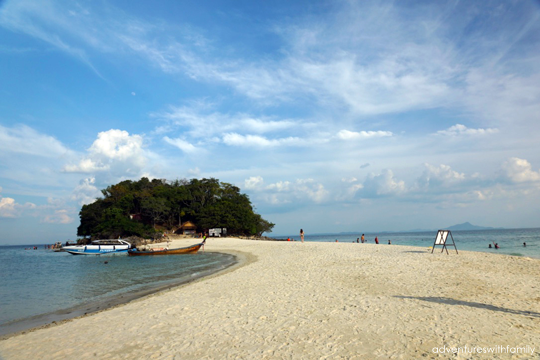 Nevertheless, Tub island was a great place to swim because of its calm waters, powder-soft sand, and lots of area to swim (the water remained at waist level even when we moved further away from the beach).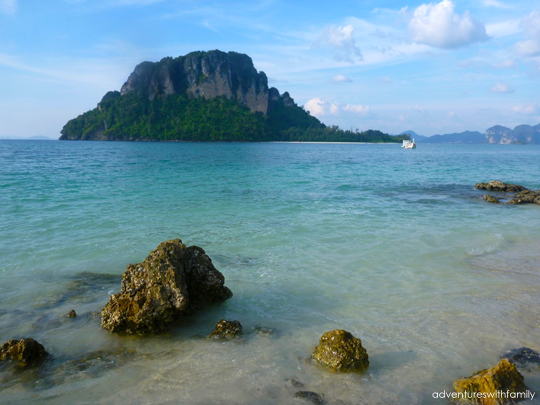 Our last stop before dinner was a quiet beach between limestone cliffs.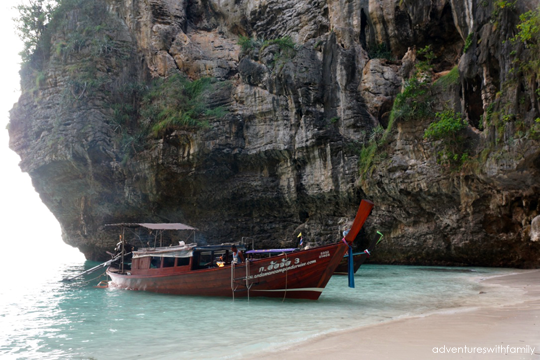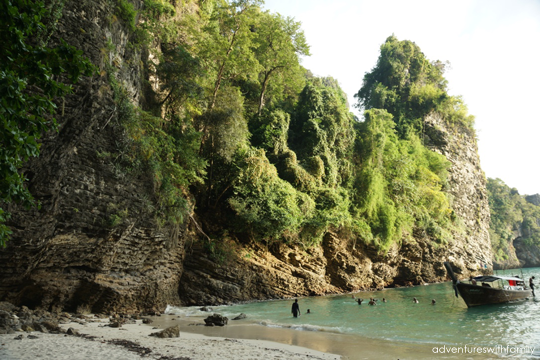 There were caves within the limestone cliff to explore.
The great place about going to a small beach was that we practically had the beach to ourselves!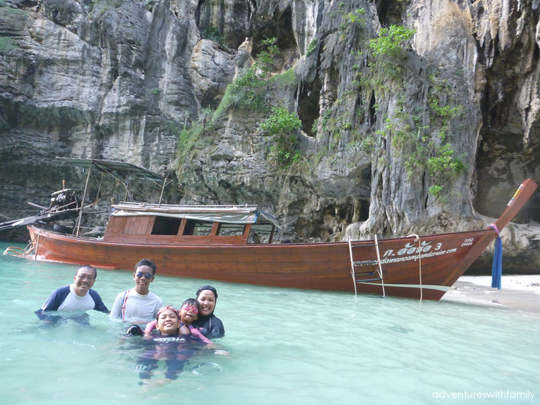 We could also watch daredevils doing cliff jumping nearby.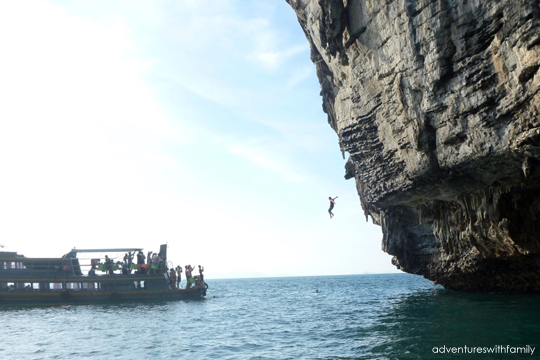 BBQ Dinner
While we were swimming,  the boat crew was busy barbecuing our food for dinner.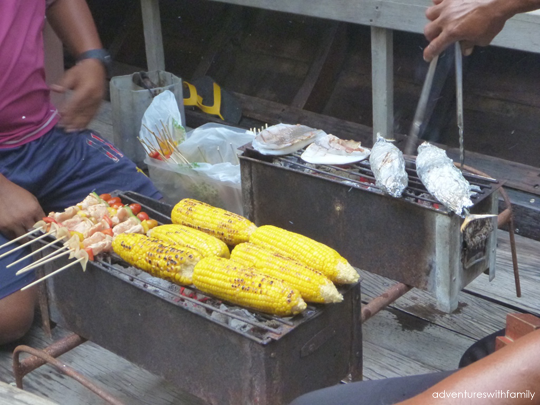 When dinner was ready, we got back on to our boat and anchored just slightly off the beach so that we could watch the sunset.  We had fried rice, and an assortment of grilled food.  We even had fresh grilled cuttlefish that the crew caught while we were out at sea.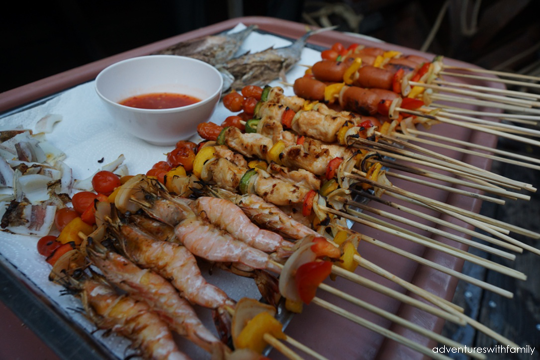 Sunset
While having dinner, we get to enjoy a stunning view of the sunset over the Andaman Sea.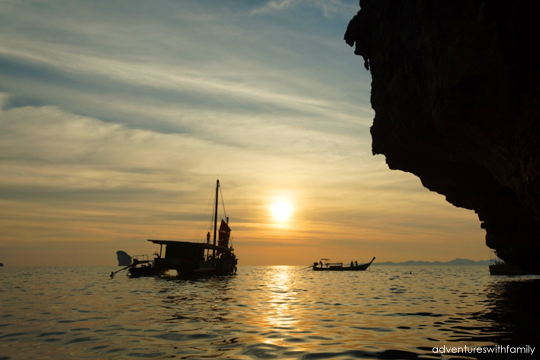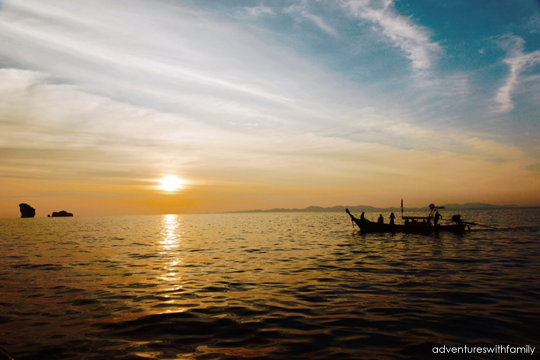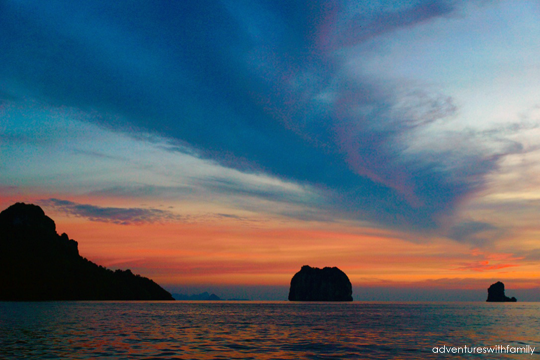 Shortly after sunset,  we witnessed a colony of bats flying out from Chicken Island.  The bats do this every day at sunset and return back to Chicken Island before dawn. Unfortunately, we could not get a great picture of the bats to show you.
We had fun on the island-hopping snorkelling trip in Krabi, and we highly recommend this trip to anyone visiting.  Alternatively, try the another island-hopping trip covering Phi Phi island, Maya Bay and Bamboo beach.
Tips for a Snorkelling Trip in Krabi
It is easy to book an island-hopping snorkelling trip in Krabi.  You can book it through your hotel, or through the many tour operators along the stretch of shops in Ao Nang.  You could also book it online in advance like us.
Our tour operator was Andaman Camp and Cruise. The operator was highly recommended on TripAdvisor. We got a big and private long tail boat. We had a guide called Kai who was able to converse well in English, and was great with kids.  She took great photos too!
Other alternative to long tail boat is speed boat.  They are fast but can be bad for the back as they tend to be very bumpy, and they usually charge per person, instead of per boat.  This could be more costly for families and bigger groups.
We highly recommend starting later in the morning or in the afternoon to avoid the crowds.  For our trip, we were picked up at our hotel at 10.30am and dropped off after sunset.