Batam, the closest Indonesian island to Singapore, has been a favourite destination amongst Singaporeans for the past 2 decades.  During the recent long weekend, when we headed to Batam for our second getaway, we saw thousands of people standing in line at the Harbourfront waiting to get on the ferry to Batam.  In this sequel to our maiden Batam getaway at Holiday Inn Batam, we decided to try a new hotel called Batam Radisson Golf and Convention Centre.
Batam Radisson Golf and Convention Centre
Opened just a few months ago, Batam Radisson Golf and Convention Centre is a great choice for a short and relaxing family getaway from Singapore.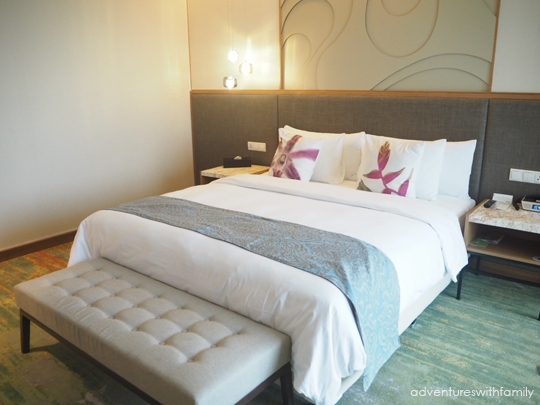 Comparing to other hotels on hotel booking websites, this hotel has one of the nicest rooms near the town area of Batam.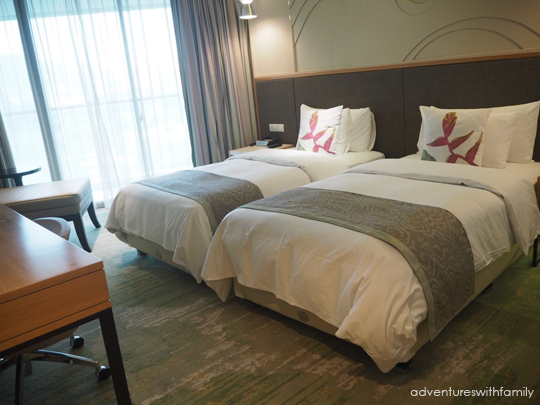 The only flip side was that each room could only accommodate up to 2 adults and 1 child.  Adjoining rooms with interconnecting doors were only available between the suite (below) and a double/twin room.  As we wanted to hang out together as a family and did not want to be separated by a common corridor, we upgraded one of our double/twin rooms to the suite.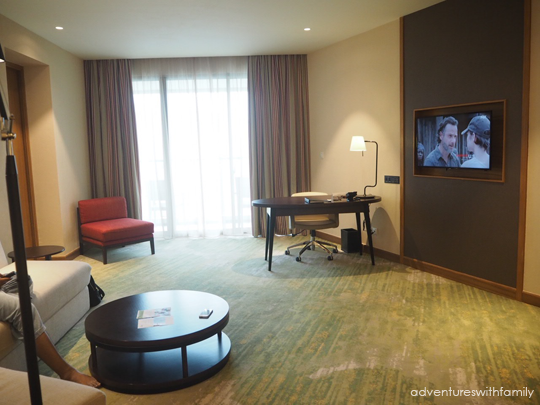 Needless to say, my kiddos loved the Batam Radisson suite.  It came with a kitchenette, a spacious dining and living area, and a bedroom with a large bathroom with separate shower room and bath tub.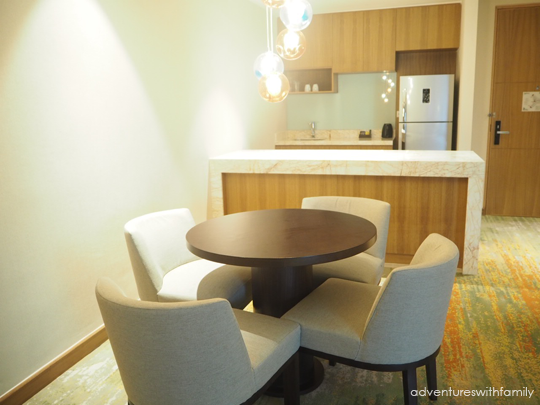 Everything looked new and modern.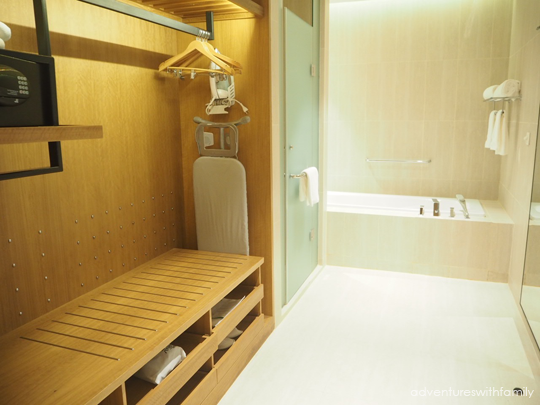 The room we stayed had a good view of the infinity pool and golf course.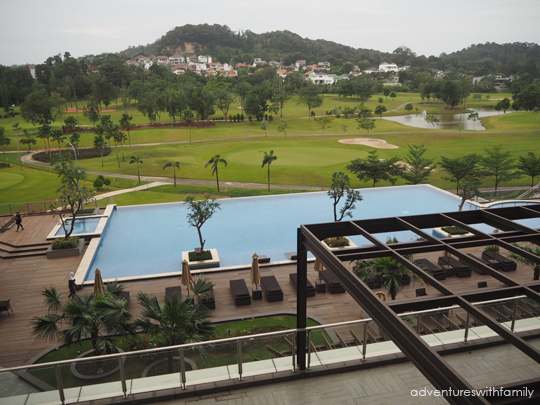 The Batam Radisson also had another covered swimming pool on the tenth floor (see the floor with floor-to-ceiling glass panels), a fitness centre, a spa, and a sauna but unfortunately they were closed for maintenance.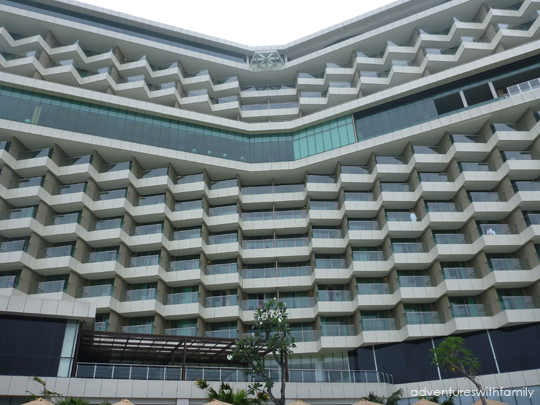 This family-oriented hotel had a kids club, and fun activities such as segway, hoverboard, smart skate board and archery.   In the evening, the lounge chairs by the pool offered a great spot to relax and enjoy the sunset overlooking the golf green.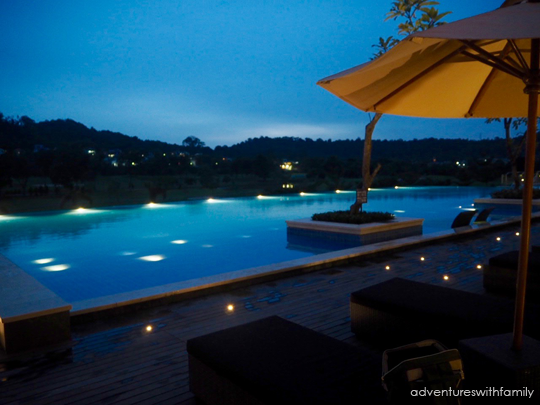 The hotel also had a good breakfast spread with freshly-made pancakes, waffles, crepes, and eggs; western pastries, western sausages, hash browns, cornflakes and local Indonesian cuisine.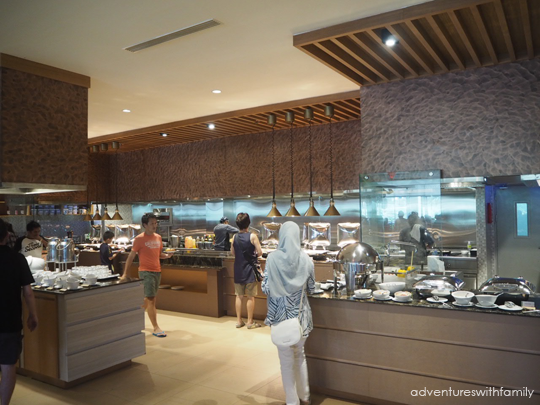 Location of Batam Radisson Hotel
Batam Radisson Hotel felt like it was far away from the city with its lush putting greens, and unblocked views, but it was only about 15-20 minutes by car/taxi to Nagoya, the busy part of town.  It is within walking distance to Kepri Mall, restaurants, a popular and reasonably-priced spa called Spa Central, and a fabulous halal Italian restaurant which we discovered during the trip called Piccola Stella d'Almanna.
You can check out the rates and availability on Booking.com – Radisson Golf & Convention Center Batam.
Places to Eat
Piccola Stella d'Almanna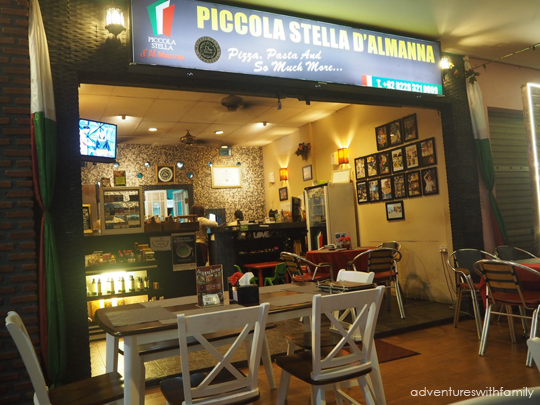 Piccola Stella d'Almanna is Batam's best kept secret.  This cosy Italian restaurant serves one of the best wood oven pizzas we have tasted.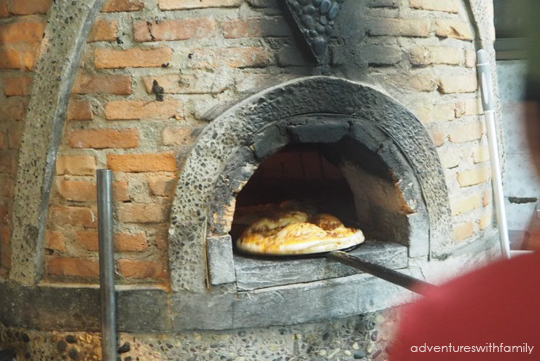 We finished every single slice of their popular double-decker pizza as well as the four cheese pizzas.  They also served wood oven baked lasagne and cannelloni; fresh homemade gnocchi, ravioli, and tortellini and many more.  We loved their food so much that we ordered from them again the next evening, and had it delivered to our hotel.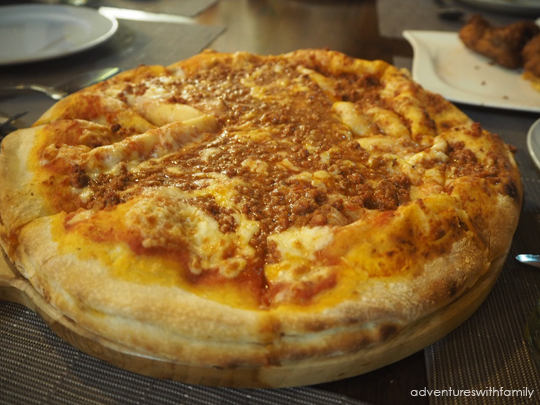 We highly recommend this Italian restaurant when visiting Batam, especially when staying at Batam Radisson Golf and Convention Centre.
Address: Dermaga Kuliner Sukajadi blok RK-1 no. 9, Batam Center, Riau Islands Province 29432 Indonesia.
Barelang Seafood Centre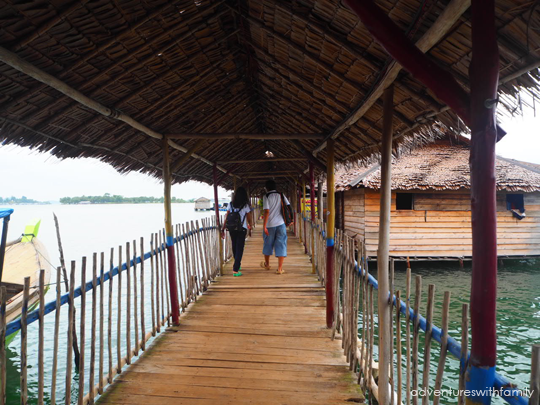 Other than Piccola Stella d'Almanna, we also ate at the Barelang Seafood Centre. It had a great selection of seafood picked fresh from the water.  We were able to pick our fish, crabs and lobster to feast on, and choose the sauce and style of cooking.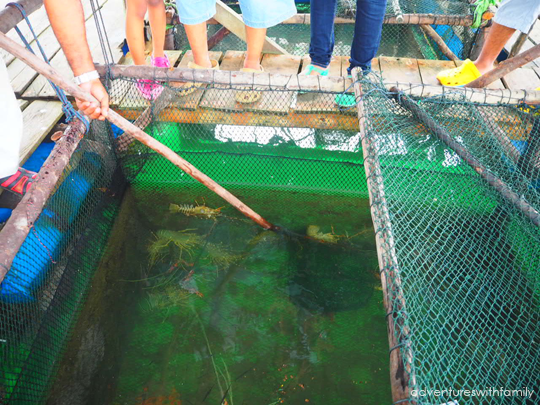 Barelang Seafood Centre had "VIP rooms" with private tables overlooking the water.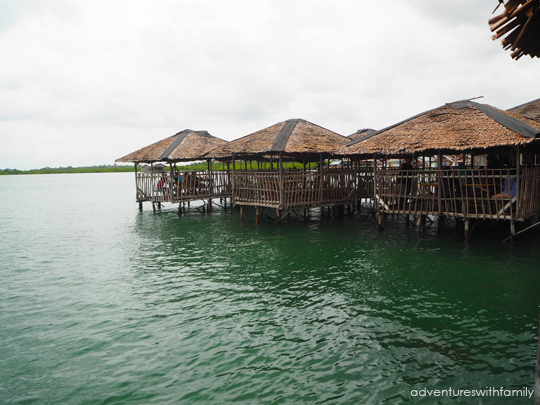 The lobster's meat was thick and succulent, the chilli crab was loaded with flavour and the fish was tender and fresh.    This is definitely a great seafood place to try when visiting Batam.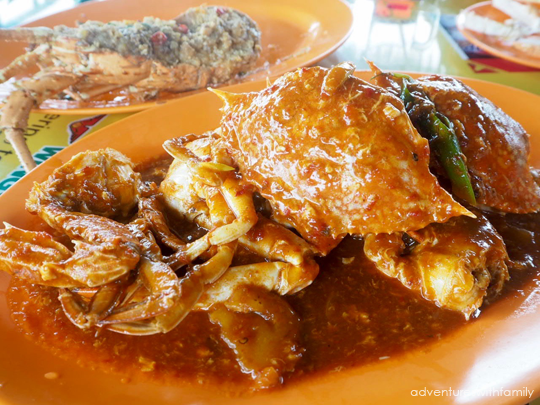 Other popular seafood restaurants in Batam include:
Golden Prawn 933 and 555 located adjacent to each other near the town area of Nagoya. This place is usually crowded with bus loads of tourists.
Rezeki Seafood – we have yet to try this place but there have been plenty of rave reviews.  It is located near Nongsa, which would be convenient for tourists staying in nearby resorts, but quite a distance for those staying in the town area.
Things to Do in Batam
Take a scenic drive along the Barelang Bridge

After lunch at Barelang Seafood Centre, we passed by Batam's popular Barelang Bridge.  This bridge is made up of a chain of 6 bridges that connects several islands under the municipality of Batam.  There is also a viewpoint with a fantastic view of the bridge.  See top picture.
Be spoilt for choice at Nagoya Hill Shopping Mall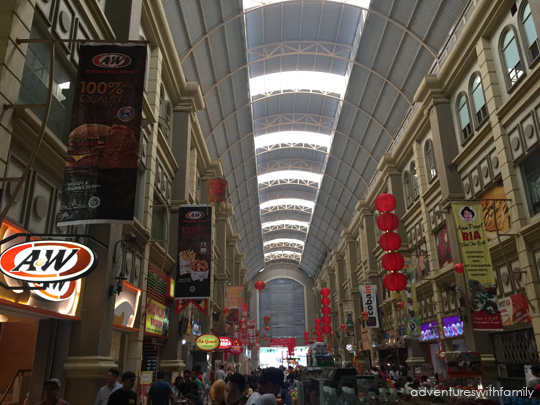 One of the best places in Batam to go for shopping and dining is at Nagoya Hill Shopping Mall.  This mall is massive and has a wide variety of eateries including Japanese, Chinese, Western and, of course, Indonesian.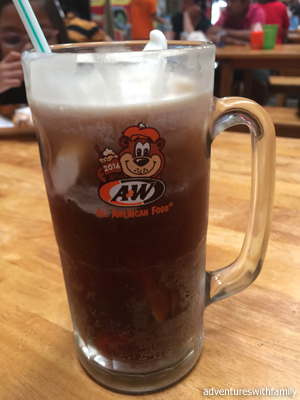 Those 80's kids who missed A&W can reminisce the past with an A&W root beer float in a chilled glass mug.
The girls were also so happy to be able to enjoy Wendy's juicy burgers and chocolate milk shake again. It is too bad that Wendy's and A&W restaurants have ceased to operate in Singapore.
Panties Pizza anyone?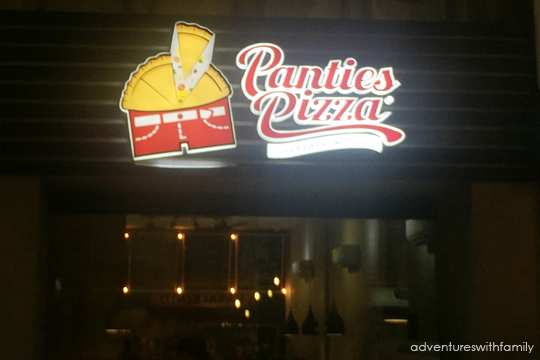 As if the hundreds of shops in Nagoya Hill Shopping Mall were not enough, there were even more shops surrounding the mall.  One interesting shop we saw was a hip and trendy barber shop that could almost be mistaken as a cafe.  The nearby mosque also had a very unique clear glass minaret tower that glowed in the evening.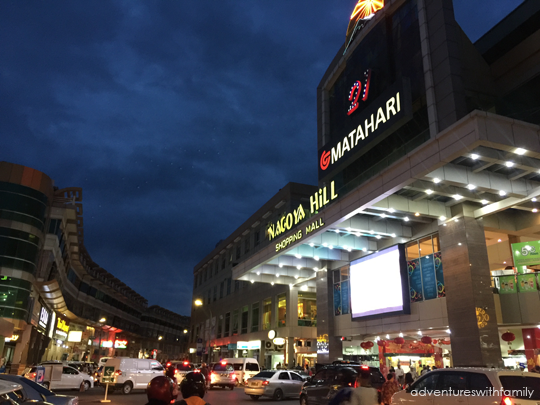 Ease your aches with a pampering spa and massage
There were many spas and massage centres outside of Nagoya Hill mall.  One of the most popular spa was Majesty Spa and Massage Batam because it offered free transportation to and from the hotel or ferry terminal and even included transportation to any nearby restaurants before sending you back to your final destination.  They recommended Wey Wey Seafood restaurant at the harbour where we could enjoy the sunset, but we had our hearts set on ordering pizzas and pastas from Piccolo Stella d'Almanna.

As the spa was close to the mall, those who did not want to go for a massage could easily hang out at the mall.
Last minute shopping at Batam Centre Mega Mall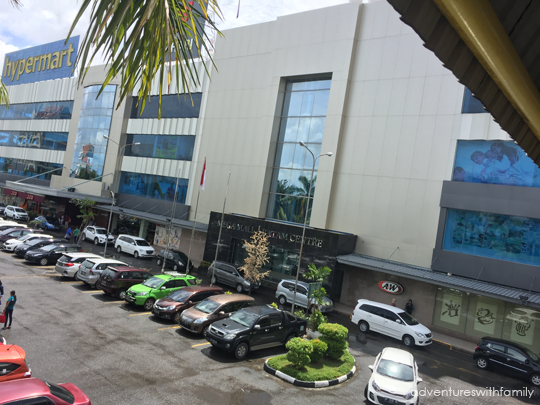 Another mall to visit is the Batam Centre Mega Mall.  It is located across the road from the Batam Centre Ferry Terminal.  There was an overhead bridge that connected the terminal to the mall, making it convenient to do some last minute shopping before heading back to Singapore.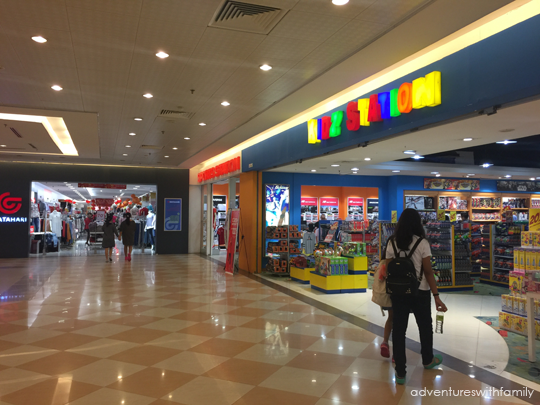 This mall was modern and had a variety of shops including a toy shop, the Matahari department store, a supermarket and several restaurants.
Buy Batam Layer Cake as souvenirs
The "kek lapis" or layered cake is one of the top souvenirs to buy from Batam.  Our driver said  that the best layered cake was from Batam Layer Cake.  True enough, their layer cakes were soft and moist and had a generous portion of ingredients like prunes, cheese and chocolate.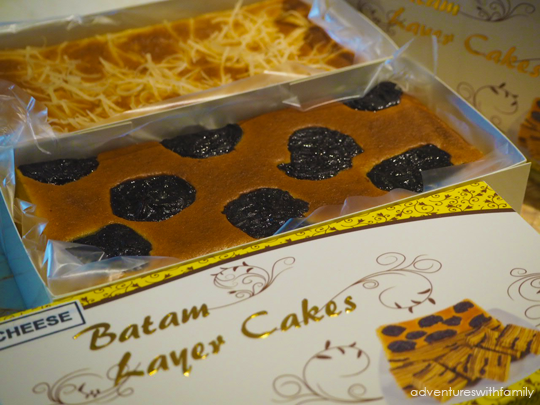 We bought the Batam Layer Cakes from the factory itself, located within the same carpark area as Golden Prawn 933 and 555 seafood restaurants.
Address: Bengkong Laut , Jalan Sumatera no.01 (Jalan Golden Prawn)
Opening hours:  7.30am to 5pm, daily
Website: www.facebook.com/BLCBatam/
Other Things to Do in Batam
Have a splashing fun at Waterpark Top 100 Batu Aji.  Batam has a waterpark that is not well known amongst tourists.  It is located behind Mall Top 100 Batu Aji and it is open from 9am to 7pm daily.
Go fast and furious at Golden City Go-Kart.
Go on a Jet Ski Safari, or try Cable Ski Park,
Getting Around Batam
The best way to get around is by renting a private car with driver.  We hired a private car with a driver to bring us around Batam.  Their website is Batam Driver. This company has a few types of transportation ranging from a 7-seater MPV to a  25-seater minibus.
Places to Stay in Batam
We enjoyed our stay at Batam Radisson Golf & Convention Center Batam (hotel details here), and would recommend it for a getaway.  Apart from Batam Radisson, other hotels to consider for the family are:
Near Batam Center Ferry Terminal and Nagoya town area
Near Nongsa Ferry Terminal
Near Sekupang Ferry Terminal
KTM Resort Batam – Budget-friendly resort with 2-bedroom villa.
Near Waterfront Ferry Terminal
Holiday Inn Batam – this was where we stayed on our first trip.  It has a 2-bedroom unit, large swimming pool, and a great spa.