Batam is the nearest Indonesian island to Singapore that is accessible by a 30-minute ferry ride from Singapore.  My family stayed at the Batam Holiday Inn Resort for a quick getaway to recharge and unwind.
We got there from a ferry at Harbourfront Singapore to the Waterfront Ferry Terminal in Batam and walked about 5-10 minutes to the hotel.  Another way is to take the ferry to Batam city centre and take a 15-20 minute cab ride to the hotel.
Batam Holiday Inn
We got a 2-bedroom suite online for a price that was many times cheaper than the resorts at nearby Bintan island. It came with a small kitchen, a living area with a good range of TV channels. Above is a picture taken from our room.
The main attraction for the kids was the swimming pool.  There were three outdoor pools and one indoor lap pool.  As this was a "do-nothing" vacation break, we did not do much sightseeing in Batam.  Most of the time, my kiddos played at the pool and chilled out at the hotel.
One thing that I liked was the body massage at the Holiday Inn's Tea Tree Spa. It was so popular even with day-trippers that I only managed to get a slot in the early evening.  It was a good thing too because I got the big couple massage room all to myself.  The Indonesian massage was good and the aromatherapy was very relaxing.  Guests who need to watch over their kids could even do the massage in the hotel room, but I guess it wouldn't have the spa atmosphere.  I would go there just for a body massage again because even with the ferry ride, it would still be cheaper than similar body massages in Singapore.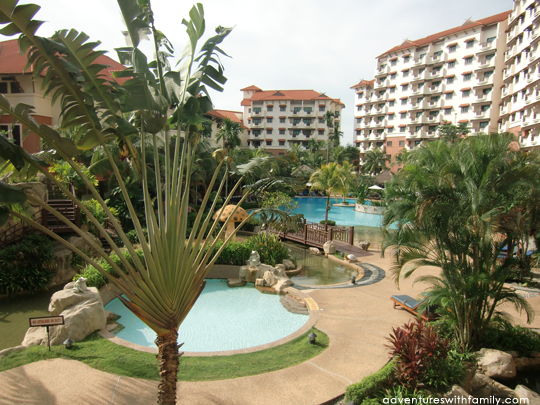 Click HERE for more details of Batam Holiday Inn Resort.
Eating out in Batam
While the hotel served a good breakfast spread and other meals, we explored other foods in Batam outside the hotel.  We found this amazingly cheap and decent local food just a short walk from our hotel.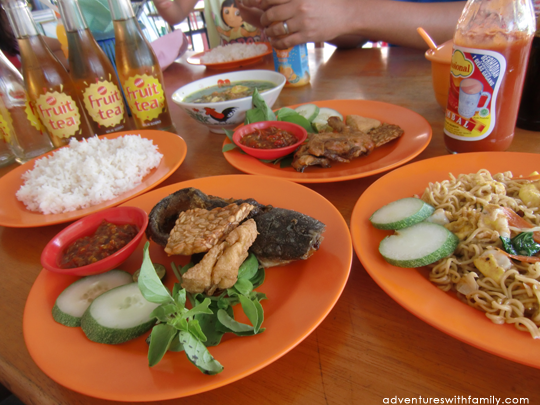 There were also Padang food at Restoran Sederhana in Batam city centre.
Padang food is a cuisine of the Minangkabau people of Sumatra.  Dishes were laid out in front of customers and they charge by what you consume.
Golden Prawn 933 Seafood Restaurant is a huge seafood restaurant that is very popular with tour groups.  It had fresh seafood at very reasonable prices.
It was a good thing that we came early before the crowd from tour buses arrived.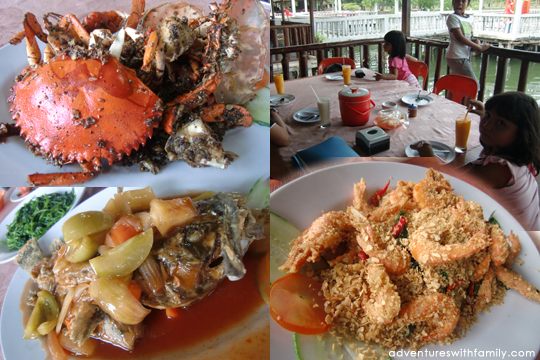 Barelang Bridge
The only thing worth sightseeing in Batam is the Barelang Bridge, which is a chain of six bridges that connects Batam with nearby islands.  Here's the view from the first bridge.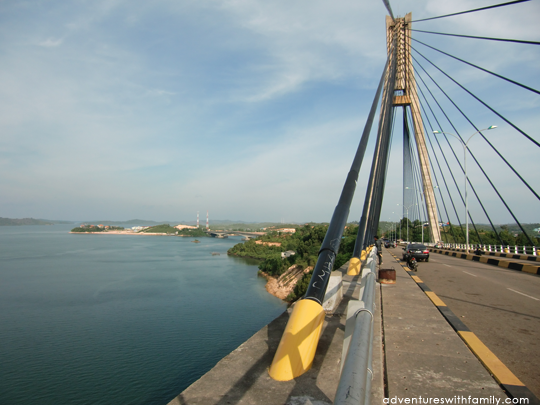 Thinking of a short getaway to Batam?
For those in Singapore, who just want to unwind somewhere out of Singapore without spending a lot for flights, or tour coaches, or worrying about driving in Malaysia, Batam is a good choice.  Plus it is much cheaper than Bintan.  I booked my hotel room from Agoda here Holiday Inn Batam.
Other hotels in Batam we considered were:
Find a full list of accommodations in Batam on Booking.com.