There are many great places for a Malaysia family getaway, but one thing that is a challenge for a family with kids is finding accommodations that could accommodate the whole family in one unit. After all, a family vacation is about spending time together. While some hotels do offer adjoining rooms, they might not guarantee it at the time of booking. We've stayed in hotels where our family was split into two rooms that were not even on the same floor!
Here are ten Malaysian getaway ideas that our family have tried and enjoyed. All are located in different parts of West Malaysia and offer different experiences for the family.
An Over-Water Villa Getaway in Sepang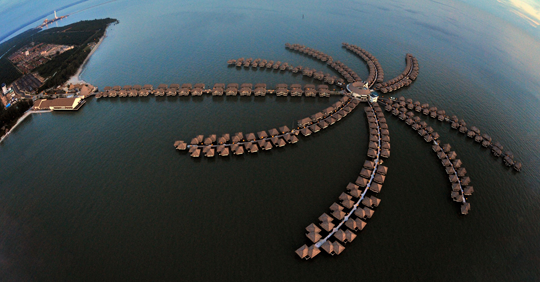 Avani Sepang Goldcoast Resort is a resort in Sepang that has fabulous two-bedroom over-water villas. We loved the romantic 4-poster bed (top picture) and the big sunken bath tub. The resort provides free use of water sports equipment and bicycles. The seafood at a nearby restaurant were also extremely fresh and yummy that we dined there two nights in a row. Read more about our stay at Avani Sepang Goldcoast Resort. Check rates for Avani Sepang Goldcoast Resort.
A Cool Getaway in Cameron Highlands
Copthorne Hotel is the highest resort on Cameron Highlands with sweeping views of the surrounding valley. We loved the fresh cool weather and the natural attractions like the Boh tea plantation, rose valley, lavender garden, vegetable, bee and butterfly farms, and the night market. We could also pick strawberries at a farm just outside the hotel. My favourite part was the stunning sunrise from Mount Brinchang. Read more about places we visited in Cameron Highlands. Check rates for Copthorne Hotel Cameron Highlands.
A French-themed Getaway in Bukit Tinggi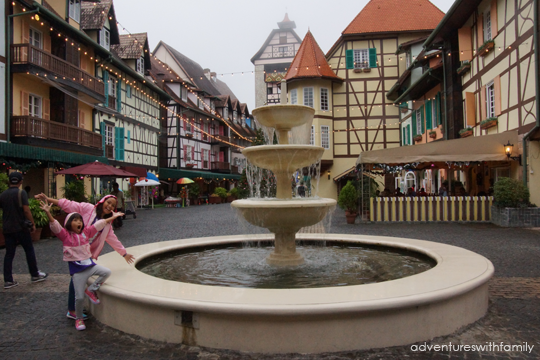 Colmar Tropicale is a resort in Bukit Tinggi modelled after a beautiful town in France. Apart from enjoying a taste of France at the resort, the kids had fun feeding the rabbits and deer at the Animal Park. My girl also had fun dressing up in a kimono at the Japanese garden. Read more about things to do with kids at Colmar Tropicale. Check rates for accommodations at Colmar Tropicale.
A Kampung Stay in Selangor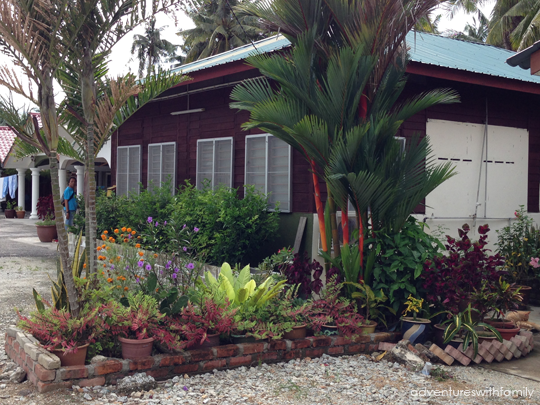 If your kids are getting too hooked on the Internet, and digital games, get them to enjoy the countryside and rural kampung life in Malaysia. There are several kampung houses that have been approved by the Malaysian Tourism office to provide authentic kampung experience. Kampung Dorani in Selangor is one of them. The kampung house that we stayed in could accommodate about 10 people! We get to wake up to the rooster's crowing, go outdoor and play with the cats, learn batik painting, go fishing, take a boat to see fireflies, explore the rice plantations, and eat delicious kampung food. It's a great way for the kids to learn and appreciate the kampung life. Read more about our Kampung Dorani Malaysian Homestay.
A Historic Peranakan House in Malacca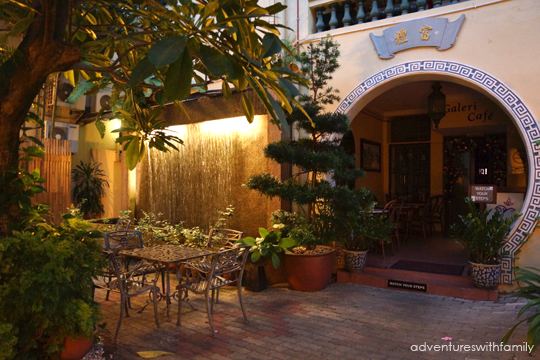 Malacca's rich history has earned its title as a UNESCO world heritage site. What better way to immerse in its history than to stay in the heart of the old city. Hotel Puri is one of the carefully restored Peranakan house that was built in the 18th century. It looks small from the exterior, but it actually has 50 rooms and a cosy courtyard. This budget-friendly hotel has family rooms and is within walking distance to many attractions and shopping. Apart from exploring the historical sites, try the Duck tour, and shop at the Dataran Pahlawan Megamall. In the evening, take the Malacca river cruise, ride on the colourful trishaw and visit the vibrant Jonker Walk Night Market. Read more about the places we explored in Malacca. Check rates for Hotel Puri Melaka.
A Private Pool Villa in Port Dickson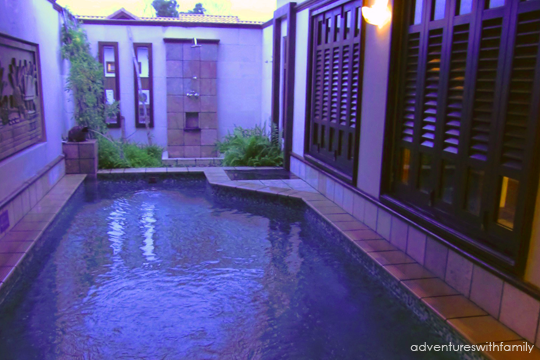 Grand Lexis Port Dickson has over-water villas that come with sheltered private pools. The kids loved having their own private pool, and I loved being able to chill out in the room and still be able to keep an eye on the kids. It's a win-win for all. Check rates for Grand Lexis Port Dickson.
Hip and Cool Resort in Penang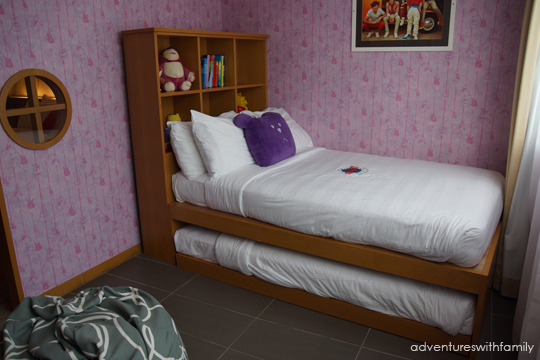 Hard Rock Hotel Penang is one of the coolest hotel in Penang with a fun pool area that kids will love. The kiddos loved the L'il Rock Suite that comes with a cosy kids' room complete with toys, books, bean bags and a separate TV with lots of shows and music for kids. When we managed to get the kids out of the hotel, we explored the historical Georgetown and its popular Penang Street Art, went up Penang Hill to enjoy a magnificent view of the city, and savoured the famous Penang hawker fare at Gurney drive. Read more about the places we explored in Penang and our stay at Hard Rock Hotel Penang.
A Beach-cum-Water Park Getaway in Desaru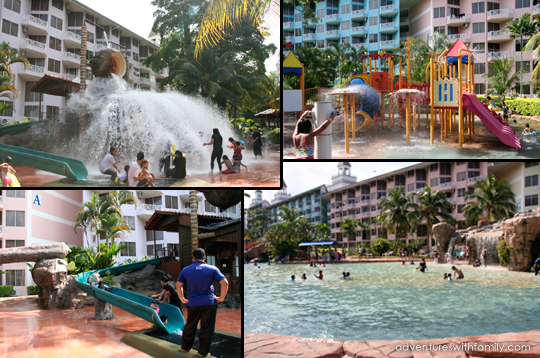 Lotus Desaru Beach Resort is my son's favourite because of its enormous waves. There are lots of beach activities and terrific seafood. The resort also features a water park and two other swimming pools. It has two-bedroom units that could accommodate a family of 4-5. Read more about our stay at Lotus Desaru Beach Resort.
A Hot Springs Getaway in Ipoh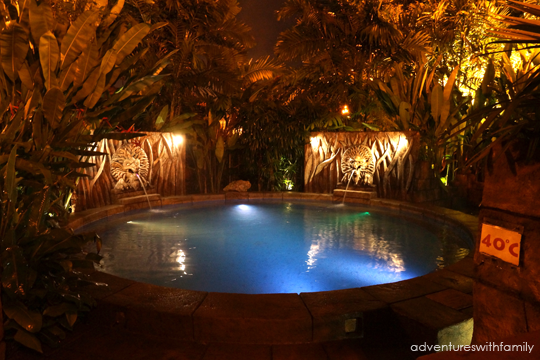 Lost World of Tambun is an adventure park in Ipoh, Perak which has a Water Park, an Amusement Park, a Tin Valley, a Swan Lake, a Tiger Valley, a Petting Zoo and a Hot Springs and Spa. There is a hotel just outside the park that offers hotel guests exclusive use of the hot springs in the evening. We visited the amusement park during the day and returned to the park in the evening to soak in the warm water of the hot springs. This is the only hotel in our list here that does not offer a family unit, but it does offer adjoining rooms. Read more about our getaway to Lost World of Tambun.
A Shopping Getaway in Kuala Lumpur
St Giles The Gardens Residences is one of the most convenient family-friendly places to stay in Kuala Lumpur for shopping and dining because it is located within the largest mall in KL, the Midvalley Megamall. It has a two-bedroom apartment for the family complete with kitchen, hall and dining area. We loved it because we didn't have to go through the hassle of traffic jams or take any transportation to access a wide variety of shops, department stores and eateries at the mall. When we did head out of the mall area, we headed to the Petronas twin towers, i-City in Shah Alam and Kidzania. Check rates for St Giles The Gardens Residences.