One of the top things to do in Japan during winter is to see one of its many amazing illumination displays.  With longer hours after dusk, you have more time to feast your eyes on some of the most dazzling illuminations in the world.  Numerous cities in Japan try to outdo each other with elaborate displays of lights.  One of the biggest and most unique illumination in Japan is at Nabana No Sato.
Getting there
Located about 40 minutes away from Nagoya station, you can easily take a bus from the Meitetsu Bus Center at Nagoya station.  If you have a JR pass, take the train from Nagoya station to Nagashima station, then take a 25 minute bus ride.  Alternatively, take a 20-minute train ride from Kintetsu Nagoya station to Kintetsu Nagashima station, then take a 10-minute ride to Nabana No Sato.  We took the direct bus from Nagoya Station and enjoyed the lovely sunset view from the bus.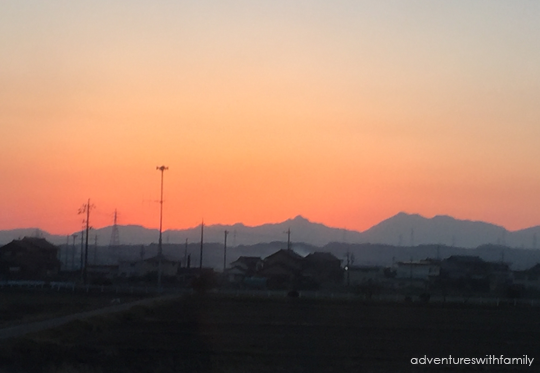 A good time to arrive at the park is when the sun is setting.  Those who plan to have dinner at one of the restaurants should come earlier.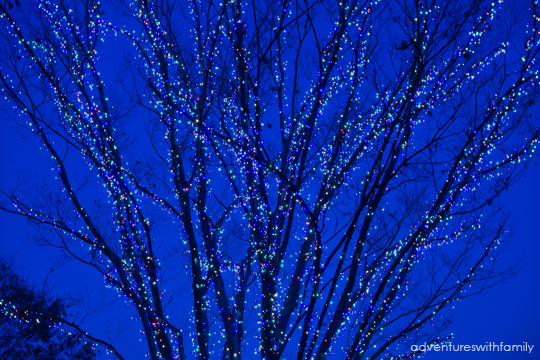 The first illumination we saw after entering the park was a sea of blue lights.
Just a short walk away was a free Foot Spa, an unexpected attraction within the park for those with tired feet.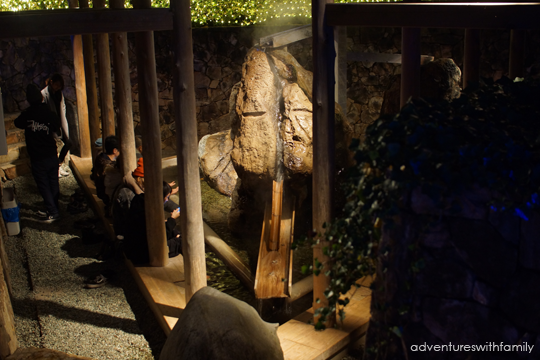 At the center of the park was a lake that was illuminated with thousands of lights. The lights were animated to look like water flowing from mini waterfalls to the lake.
The park had a flying observatory ride that soared 45 m above ground.  As it revolved, it looked almost like a space ship.  The ride was quite popular and had a very long queue.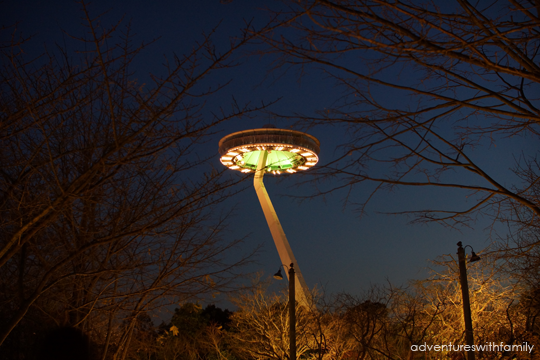 Magical Illumination
The highlight of the winter illumination at Nabana No Sato was the tunnel of lights.  Everyone who walked through it had the  look of awe staring at the sparkly lights that did not seem to end.  Hands down, it was one of the most beautiful tunnels we have had the privilege to stroll through.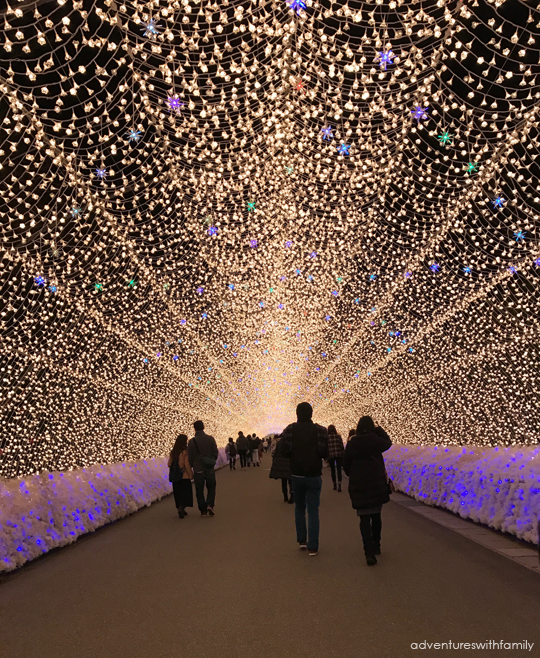 When you take a closer look at the lights, you will notice that each light was crafted into a shape of a flower.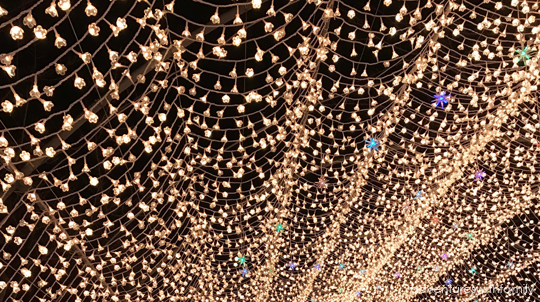 There were many photo opportunities in the tunnel. I particularly loved the photo below taken by my 8-year old girl.  From her height, she had a different perspective of things around her.  This was one of the perspectives that I thought was quite creative.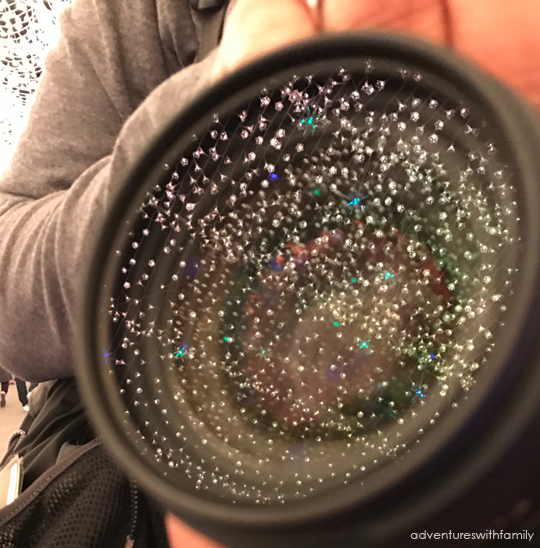 As we emerged from the light tunnel, we found ourselves surrounded by a kaleidoscope of colours at what seemed to be a garden of lights.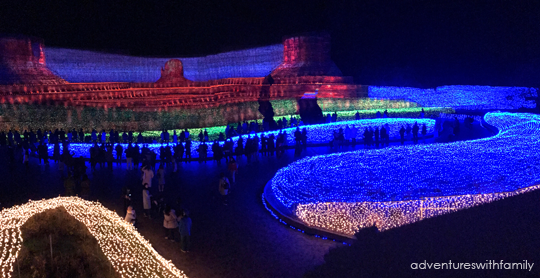 At one side of the garden was an animated illumination wall, the largest one we have ever seen.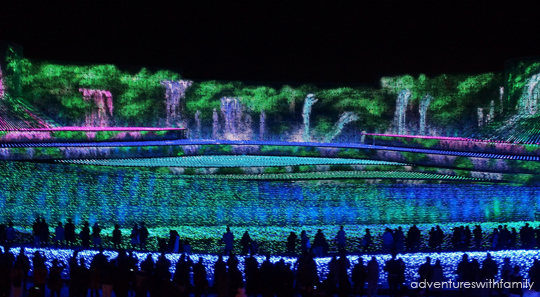 1
There was another light tunnel that was different from the first.  This light tunnel changes hues as people strolled through it.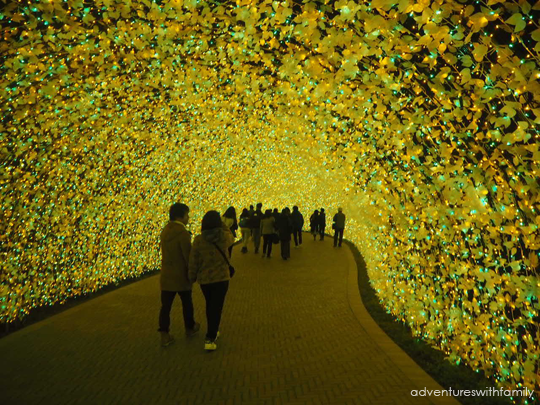 It was beautiful tunnel as well, but we liked the first one better.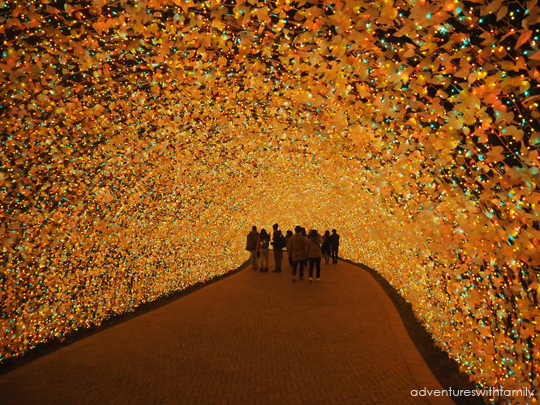 Nabana No Sato is not only known for its illumination, but also for its floral display during the warmer months.  In winter, we could still see autumn foliage and their reddish reflection from the crystal clear lakes.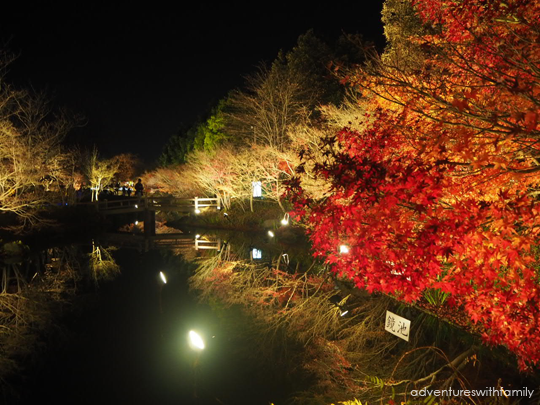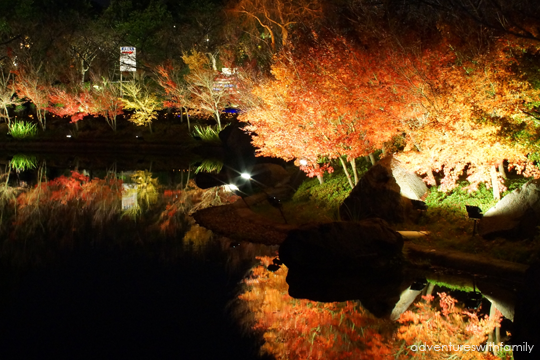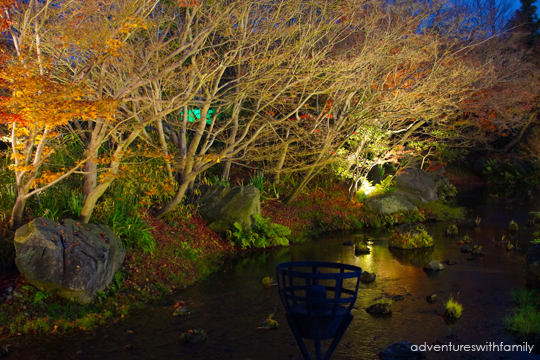 Apart from restaurants, there was also an open-air eating area where you could order less expensive food from multiple cooked food stalls.  There was even a halal kebab stall near the souvenir shop.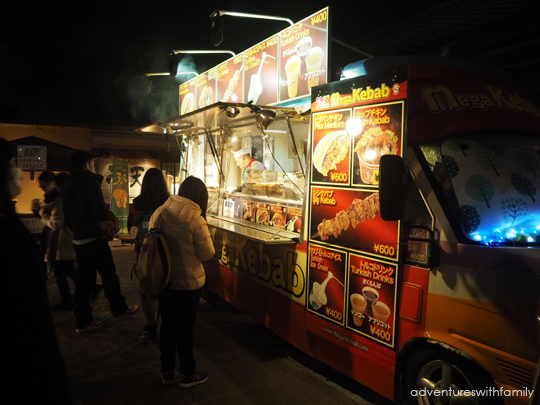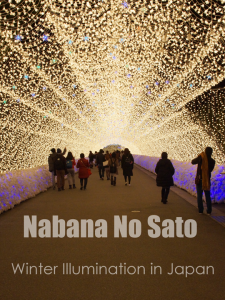 It takes 40 min from Kyoto, 55 min from Osaka, and 100 minutes from Tokyo to get to Nagoya.
Round-trip bus tickets from Nagoya station's Meitetsu Bus Center costs 890 Yen for adults, and 450 Yen for kids. Bus schedule is available here.
One-way bus tickets from Kuwana station costs 260 Yen (one-way). Bus schedule is available here.
Nabana No Sato tickets were sold at 2,000 Yen per adult or child. Each ticket included an entrance ticket and 1,000 Yen worth of vouchers.  The vouchers could be used for dining in one of the many restaurants within the park or for souvenirs.You can check out the Nabana No Sato map in English here.

If you have limited time in Japan and could only see one illumination display, then I highly recommend going to Nabana No Sato.