My family went on an 11-day free-and-easy trip to Japan covering Tokyo, Mt Fuji, Kyoto, Shirakawa-go, and the alpine route. The itinerary is suitable for families with children as it covers many aspects of Japan, including its history and culture, its stunning gardens and alpine landscapes, its ultra-modern bustling capital city and its world-famous theme parks. We get to savour a variety of Japanese cuisine and even stayed at a traditional Japanese farmhouse in one of the most scenic villages in the world,
Japan Itinerary for families
Planning for this trip
Our Japan trip was the most challenging trip I have ever planned. This was partly because many websites and maps were in Japanese. It was also because Japan was not a cheap destination, and a lot of research was required to find competitively-priced options based on the experiences and places we wanted to visit. I hope that you find the tips below useful for your planning.
Accommodation
Accommodation contributed a large part of our travel budget. In recent years, there had been an increasing number of accommodations for the budget conscious. These included apartments on AirBnB as well as Japanese-style hotels with basic amenities. Although we were initially attracted to the good rates for accommodations on AirBnB, we finally did not stay in one because we wanted to use the baggage delivery service. More about that below.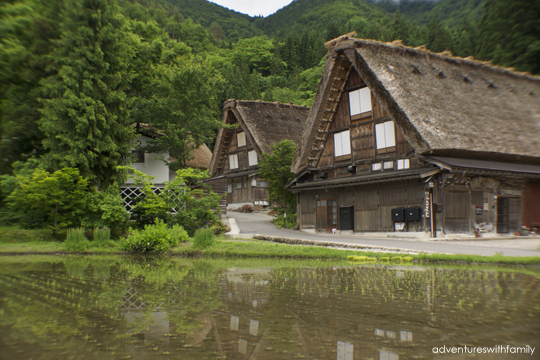 For our trip, we stayed at different types of accommodation:
The last tip is generally true for all hotels in Japan. The later you book, the higher the prices are likely to be.
Getting around with Luggage
We used this service to send our big luggage from Narita Airport to our hotel in Kyoto, and from Kyoto to Disneyland. The rest of the time, we just carried smaller cabin bags.
We also made use of lockers at train stations to store our luggage while we explore the city before moving on to our next destination.
Transportation
Japan has one of the most reliable public transport systems in the world. Public transport is the most economical way to get around in Japan.
The JR Rail pass offers unlimited train on all JR trains except for the fastest type of bullet train called the Nozomi and Mizuho Shinkansen. However, having such pass may or may not save you money. This is because it does not cover local trains like the Metro and Toei lines in Tokyo or the Kyoto local rail lines. It also comes in fixed number of days i.e. 7, 14 and 21 days. This might not align to your itinerary. To maximise the use of the pass, I grouped the days that require the pass and bullet train rides together, and hence I only needed to buy the 7-day pass even though we stayed for 11.
This was our public transportation. The ones in italics are not included in the JR pass.
Day 1: Tokyo

Narita Express from Airport to Shinjuku
JR Yamanote from Shinjuku to our hotel in Shin-Okubo
JR Yamanote to Ebisu and back to Shin-Okubo

Day 2: Tokyo – Mt Fuji – Kyoto

JR Chuo line from Shinjuku to Otsuki
JR Chuo line (same train) from Otsuki to Kawaguchiko (paid at Kawaguchiko station)
Kawaguchi Red line Sightseeing bus (pay when you exit)
Fujikyu bus from Kawaguchiko to Mishima (purchase tickets at Kawaguchiko station)
Shinkansen Hikari from Mishima to Kyoto

Day 3: Kyoto
Day 4: Kyoto

JR Kosei Line from OgotoOnsen to Kyoto
JR Sagano from Kyoto to Arashiyama
Keifuku Electric Railway from Arashiyama to Kitano Hakubaicho Station (purchased at the station)
Bus 102,204,205 from Kitano Hakubaicho station to Kinkaku-ji (using the 2-day bus pass)
JR Kosei Line from Kyoto to OgotoOnsen

Day 5: Kyoto – Takayama – Shirakawa-go

JR Kosei Line from OgotoOnsen to Kyoto
Shinkansen Hikari 462 from Kyoto (09:45) to Nagoya
Ltd Exp (Wide View) Hida 7 from Nagoya to Takayama
Nohi bus from Takayama (14:50) to Shirakawa-go (purchased at Takayama station, reserved in advance)

Day 6: Shirakawa-go – Toyama – Murodo – Tokyo

Nohi bus from Shirakawa-go (08:50) to Kanazawa Ekimae (reserved in advance)
Shinkansen Hakutaka 560 from Kanazawa (10:31) to Toyama,
Alpine rail, bus & cable car from Dentetsu Toyama to Murodo return (purchased at Dentetsu Toyama ticket office which is a 5-mins walk from Toyama station)
Shinkansen Kagayaki 514 from Toyama (19:11) to Shinjuku

Day 7: Tokyo (last day of JR pass)

JR Yamanote Line from Shinjuku to Tokyo and keep bags in the locker
Tokyo Metro from Tokyo to Tsukiji to Asakusa to Ueno (bought pass at metro station)
JR Takasaki from Ueno to Tokyo station to pick up bags
JR Keiyo Tokyo to Maihama and walk to Disney monorail
Disney monorail (bought a 3-day pass)

Day 8 & 9: Disney themeparks
Day 10: Tokyo

1-day Metro line pass (paid at station). See Tokyo Metro map. – Note that there are 3 types of day pass (1) Metro line only (2) Metro + Toei Line (3) Metro + Toei + JR. Decide your route before buying the pass.

Day 11: To airport

Airport shuttle from Tokyo Disney Resort (paid at hotel). You could also book an airport shuttle if you stay at other hotels.
You must purchase the JR pass and receive the Exchange Order before entering Japan. You can either purchase it online at www.japan-rail-pass.com with delivery charges or at authorised agents. At the airport, there is a JR pass exchange office where you can turn in the Exchange Order and show your passport to get the JR pass.
You can make seat reservations for free at the JR stations.
You can check train schedules on hyperdia.com.
Other Useful Tips
Cost saving tips

There are many great bakeries and Japanese snacks around Japan that are reasonably priced. You can find some of them at the basement level of shopping malls or at train stations.
There are many souvenir shops at Narita Airport selling Japanese snacks in nicely-wrapped boxes. You can save on taxes when buying them from the airport.
Getting connected

You may wish to consider getting a sim card to be used during your Japan trip, but you need to use it on a handset that supports 3G.
Rental of Wifi devices are also available at the airport but it is more expensive than getting just the sim card.
Communications

It is good to install an English-Japanese language translator on your smartphone in case you need to communicate with a local who might not be well-versed in English.
Electronic Products

If you have to bring electronic products like kettles or irons, get the travel ones that can be adjusted to 100V. Those that are fixed at 230V will not work properly in Japan.
Hope that you find the itinerary and tips useful.