Halal food used to be difficult to find in Tokyo and other parts of Japan, but recently, there has been a growing number of halal food in Tokyo making it easier for Muslim visitors to find food.
Here are the top picks:
1. Gyomon in Shibuya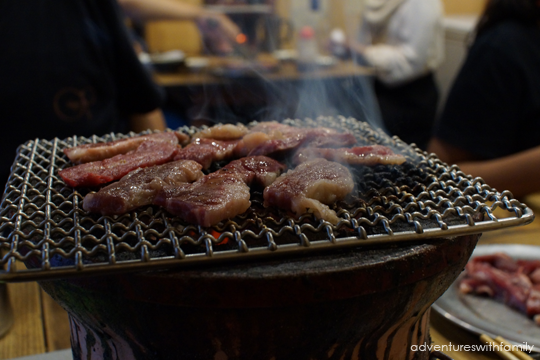 Gyumon is a small restaurant in Shibuya serving halal-certified Yakiniku. With flavourful and juicy beef, don't plan on showing up there on weekends without a reservation. It can be reached in 5 minutes from the south exit of Shibuya JR station If you face the Hikarie shopping centre from the road, head to the right along the road, cross the overhead bridge and head straight until you see the shop with a yellow banner (below).
Address: 3 Chrome-14-5 Shibuya, Shibuya-ku, Tokyo-to
Hours: 5pm-4am (Mon-Sat ); 5pm-12am (Sun, PH)
Phone: +81-3-5469-2911
2. [CLOSED] Saishoku Teppan Ippin in Ebisu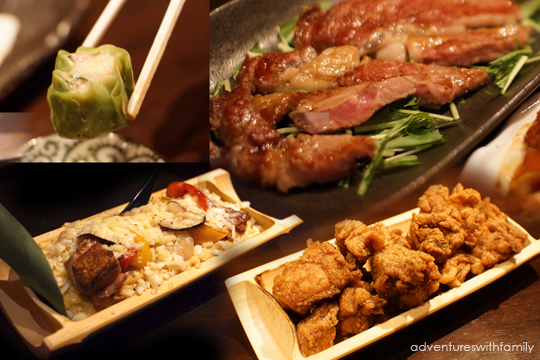 Saishoku Teppan Ippin serves a variety of halal-certified Japanese food including succulent wagyu beef, chicken karage, bamboo rice and many more. The restaurant got its name from the popular Malaysian cartoon Upin dan Ipin. It is a 10 min walk from Ebisu Station. When we visited, the staff sent someone to fetch us to the restaurant.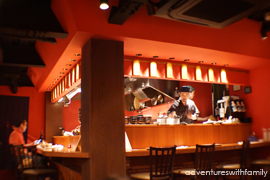 Address: 3 Chome-16-11 Nishiasakusa, Taitō-ku, Tōkyō (10 min walk from Ebisu Station)
Tel: 03-6452-5860
Hours: 11:30am – 3pm (every day), 5-11pm (Mon-Sat); 5-10:30pm (Sun, PH)
3. Asakusa Sushi-ken
When in Japan, you have to try sushi. Asakusa Sushi-ken is the first halal sushi restaurant in Tokyo. It is located near Asakusa Station.
Address: 2-11-4, Asakusa, Taito ward, Tokyo
Tel: 03-5246-6547
Hours: Mon-Sat 12-2pm, 5pm-12am, Sun,PH 11:30am-3pm, 5-10pm
4. Naritaya in Asakusa
Another restaurant in Asakusa is Naritaya, a small restaurant serving halal Japanese ramen noodles. It is also a place where you order and pay for your food through a vending machine before going to your seat. It is located in Nishisando Shotengai arcade (pictured below) which is to the left of the famous Sensoji temple in Asakusa.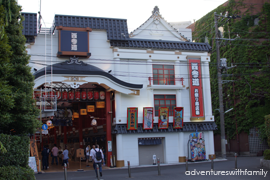 Address: 2-7-13, Asakusa, Taito-ku, Tokyo
Tel: +81-(0)3-4285-9806
Hours: 10am to 10pm (Mon-Fri), 8am to 8pm (Sat, Sun, PH)
Website
5. Yoshitomoan in Shinjuku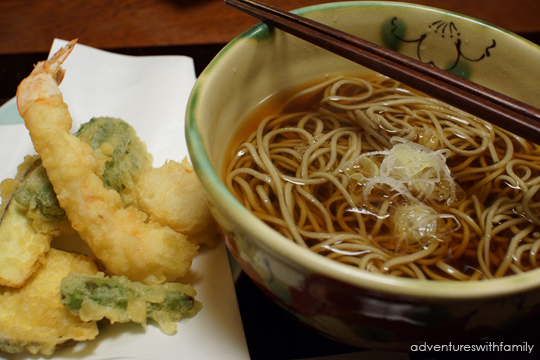 Yoshitomoan serves muslim-friendly soba near Shinjuku. To get there, go to Ushigome-kagurazaka station, turn right at exit A1, then turn left at Ushigome Kitamachi intersection and walk straight down Ushigome Chuo-dori street until you see the shop entrance (below) on your left.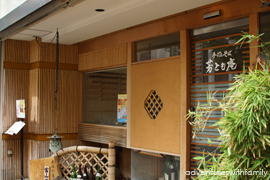 Address: 10 Nandomachi, Shinjuku-ku, Tokyo
Tel: +81-(0)3-3235-7177
Hours: 12 – 2:30pm, 6-9pm (closed Monday, and 1st and 3rd Sunday)
6. Menya Kaijin in Shinjuku
Another restaurant near Shibuya station is Menya Kaijin. It is popular amongst muslim and non-muslim locals as it serves ramen using flavourful fish-based soup.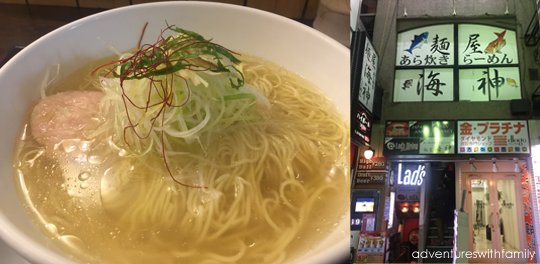 7. Kineyamugimaru Udon, Narita Airport T1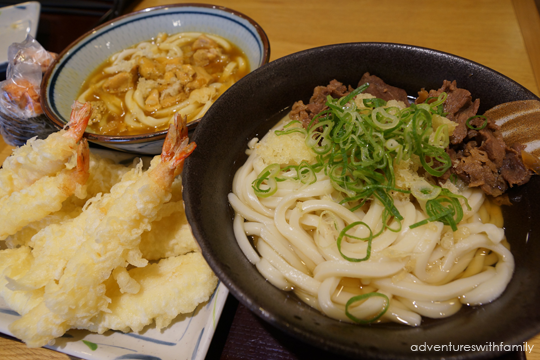 Narita Airport serves one of the nicest and most reasonably-priced halal-certified homemade udon we have ever tasted.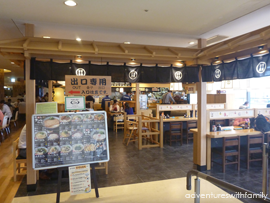 Address: Narita Airport, Terminal 1 Central Building 5th floor
Day Trips from Tokyo
8. Alladin near Mt Fuji
Most visitors usually make a day-trip from Tokyo to see the famous Mt Fuji. From the Kawaguchiko train station, most people would take the Kawaguchiko Red Line Sightseeing bus. There is a halal Indian restaurant called Alladin between bus stop 10 (Funatsu-Hama Onsen Town) and bus stop 11 (Sightseeing Boat/Ropeway Entrance). You can't miss the big orange sign as the bus turns left.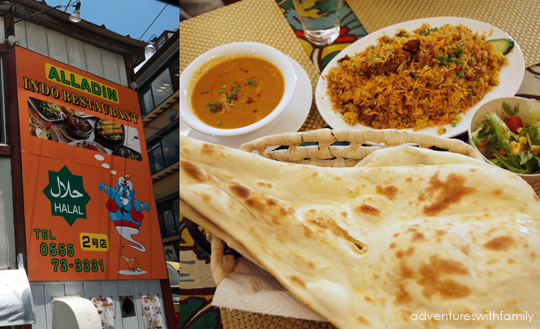 Did you know that there is a hotel located around Mt Fuji that can prepare halal food upon request? It is called Syariah Hotel Fujisan. Find out more about this hotel and its availability on Booking.com (Syariah Hotel Fujisan).
Other Halal Japanese Food in Tokyo worth trying
It is important to note that while some restaurants are 100% halal-certified, some have halal-certified kitchen or muslim-friendly menus, but may serve non-halal food in the dining area. For the latter, you are usually required to make reservations 3 days in advance.
Hanasakaji-San (Shibuya) offers Halal Washoku and shabu-shabu.
Address: Sakura Build B1F 3-22 Sakuragaoka Shibuya Tokyo 150-0031 Japan
(1 minute walk from South Exit of Shibuya station)
Sumiyakiya Nishiazabu (Roppongi) offers halal-certified Korean-style BBQ.
Address: 3-29-16, Nishiazabu, Minato-ku, Tokyo
Hours: Monday-Friday: 11:30AM-3PM (lunch); 6PM-11:30 (dinner); Saturday: 6PM-11:30PM; Closed Sundays and national holidays
Shinjuku Ramen Ouka (Shinjuku Gyoen) offers halal ramen
Address: 1-11-7 Sansa-radai5gyoen Bld., Shinjuku, Shinjuku-ku, Tokyo, 160-0022, Japan (2 minute walk from Shinjuku Gyoen Mae station)
Hours: Mon-Thu 12:30 am to 3:00 pm, 6:00 pm to 10:00 pm. Sat, Sun, Public Holiday 12:30 am to 10:00 pm. Closed on Fridays.
Tel: +81-3-5925-8426
Kappou Yama (Saitama)
Address: 3-15-1 Uemine, Chuo-ku, Saitama-shi, Saitama (11 minute walk from Yono-hon-machi Station of JR Saikyo Line (West Exit))
Takaraya (Chiba)
Address: 2-3-4, Chuo, Kisarazu-city, Chiba (8 minute walk from Kisazaru Station)
Hours: 11:30 – 14:00, 17:00 – 22:00 (Mon-Sat),11:30 – 14:30, 17:00 – 21:00 (Sun, PH)*Closed every first and third Wednesday of the month
Tentei (Narita Airport Terminal 2, 4th floor) offers various Japanese food like tempura, sashimi
La Toque (Narita Airport Terminal 2, 4th floor) serves Japanese curry
Halal Bento (JR Tokyo station) serves halal bento sets for take-away.
Yoshiya restaurant (JR Tokyo station) has a halal menu including a bento set and tempura soba.
Halal-Deli.com delivers halal bento sets
Hotels serving halal food or near halal restaurants
Tips
DisneySea and Disneyland Most visitors would try to visit one or two Disney theme parks during their trip to Tokyo. Although there were no halal-certified food in DisneySea or Disneyland, the Sakura Restaurant at DisneySea offered muslim-friendly tempura set, Disneyland's East Side Cafe offered vegetarian spaghetti, and Disneyland's Casbah's food court offered prawn curry with naan.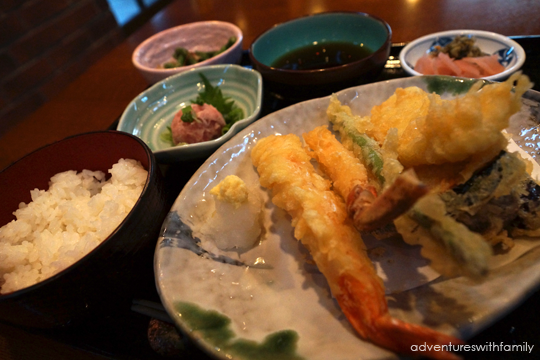 The popular Mickey-shaped waffle is also something you can try at Disneyland's Great American Waffle Company.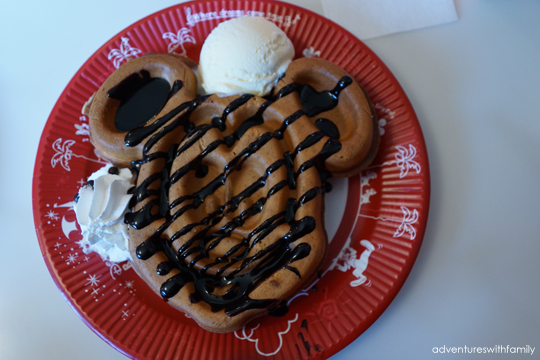 Tsukiji Market – There are a number of places selling fresh seafood like sashimi and oysters. If uncooked food is not your thing, then head to Luna Hala, a halal-certified cafe in Tsukiji Hotel BAN, 1F 3 Chome-17-10, Tsukiji, Chuo-ku, Tokyo
For those who wish to have halal food to be conveniently delivered to your hotel in Tokyo, try Halal Bento Tokyo.
The popular tourist areas like Shinjuku, Shibuya and Shin-Okubo have a number of non-Japanese halal food options, especially middle-eastern cuisine. For the list from Japan Tourist Office, go to its website at www.jnto.org.sg.
If you want to be within walking distance of several halal restaurants and grocery shops, try staying at the Shin-okubo area. It is just one train stop away from Shinjuku train station. We stayed at a simple, budget-friendly Japanese-style hotel in Shin-Okubo called Hanabi Hotel that was just 5-minutes away on foot from JR Shin-Okubo station. It had different room sizes for the family. The hotel even had rooms that could accommodate up to 12 people! We got the best rates at Booking.com (Hanabi Hotel). We also tried two other hotels with family rooms in the area – Haru Hotel and Hotel Empire in Shinjuku.