Kidzania Singapore is one of my two girls' favourite attractions in Singapore. For those who have not been to Kidzania before, Kidzania is different from most theme parks. It has no rides, no parades, and no performances. Instead, kids get to role-play various professions like a police officer, a surgeon, and a pilot.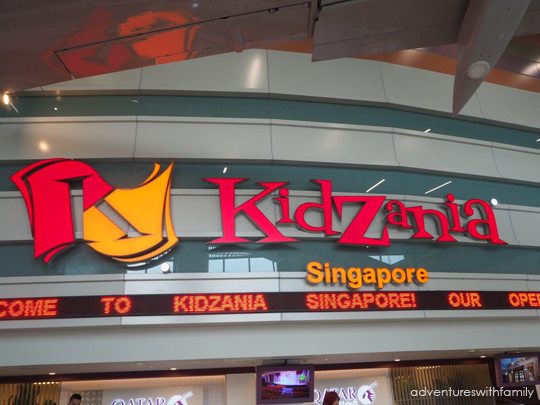 They get paid for "working" and they get to spend their hard-earned money on food, fun activities, education and shopping.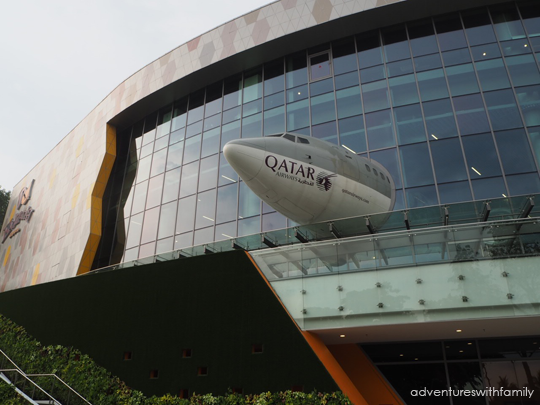 Kidzania Singapore is located right next to Sentosa's Beach monorail station. You can get on the Sentosa monorail from Vivocity above the Harbourfront MRT station. It is hard to miss a building that has the nose of an airplane sticking out its glass facade.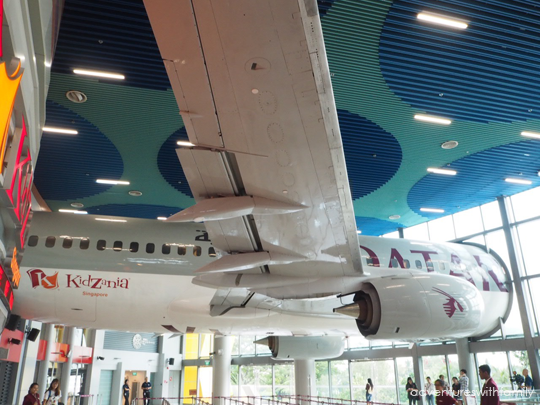 To avoid the long queue at the ticket counter, it is highly recommended to buy the tickets online prior to the visit. Look for discounts at Govoyagin – Kidzania.
At check-in, each kid will receive 20 Kidzo dollars, a bank card that has a value of 30 Kidzo dollars and a security bracelet.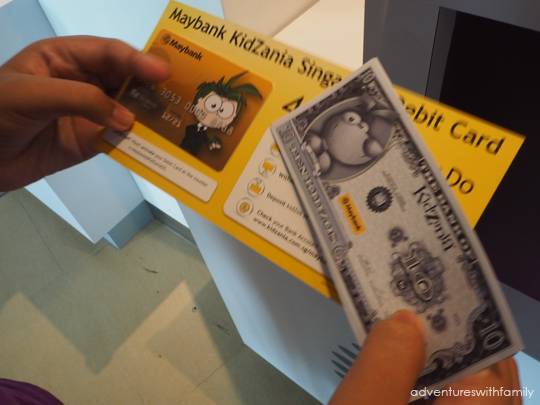 The parent has a matching security bracelet which will be used at check-out to ensure that only the right parent can take the kid out of the park. It is also used to tag photos taken by the Kidzania photographers.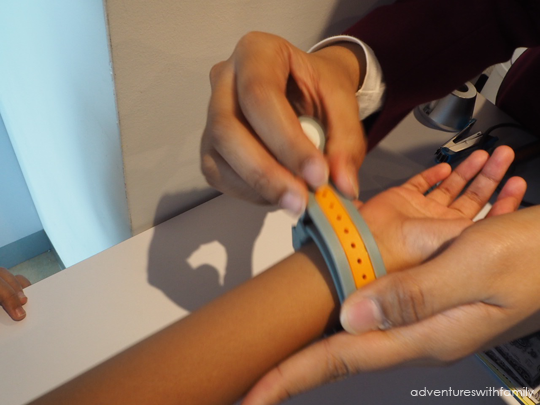 The girls' first stop was the bank as they wanted to deposit the 20 Kidzo dollars. They were able to check their balances at ATM-like iKiosks using their bank card.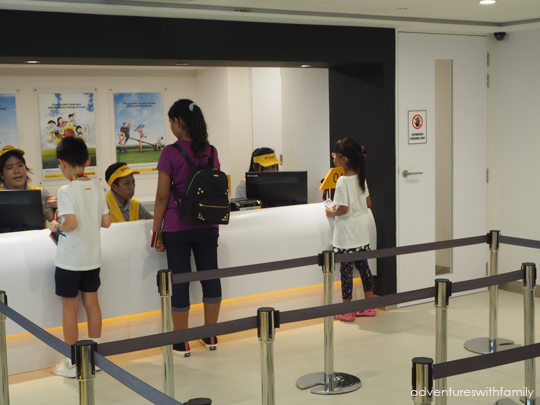 The girls' first stop was at the Optical shop. They learned about Optometry when they role-played as an Optometry Consultant. They learned about short-sightedness, astigmatism and how to conduct an eye test.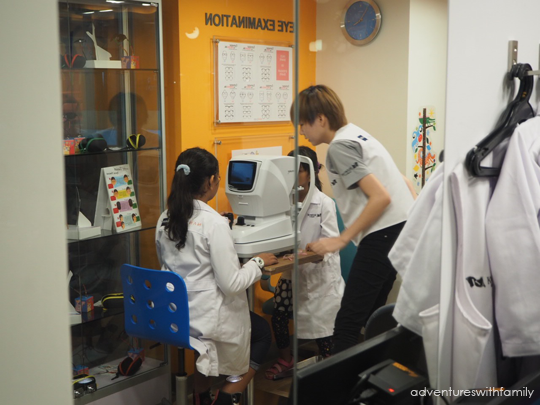 At the hospital, kids can try out role-playing as a surgeon, a radiologist, a paramedic and a baby expert.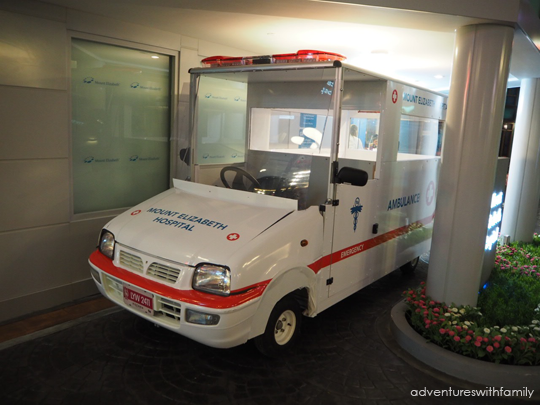 My girl enjoyed learning how to care for an infant as a baby expert. However, this activity takes place on the second floor of the hospital, so you can't get to see the kids in action.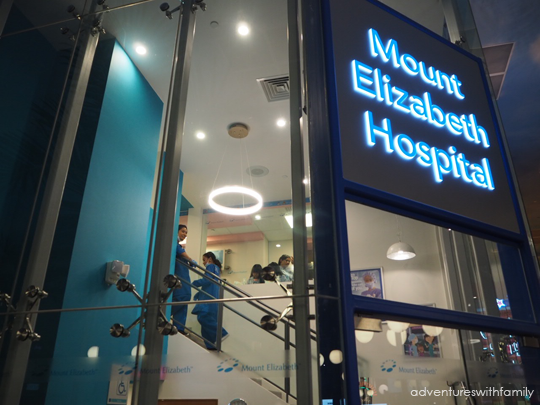 My girl also volunteered as a patient for the paramedic team who took her blood pressure, bandaged her arm and brought her back to the hospital.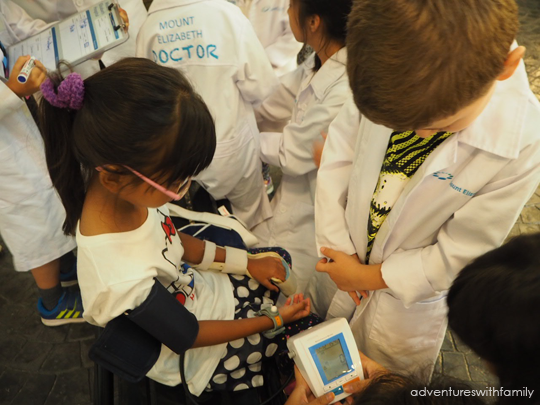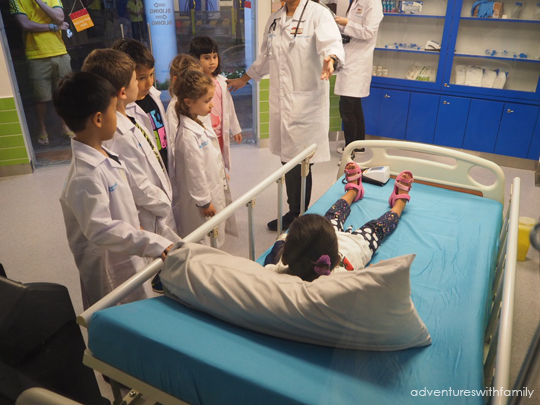 Tip: If your kids want to earn extra Kidzo dollars, attend a "University" course at The Learning Lab first. You will get 2 extra Kidzo dollars for several professions.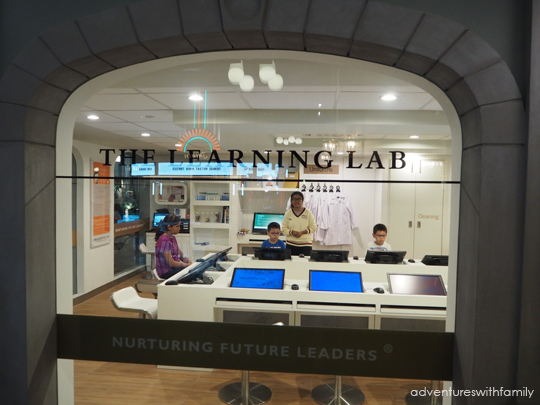 In the financial sector, the kiddos role-played as Cash Officers at Maybank's Vault where they had to deliver packages to customers.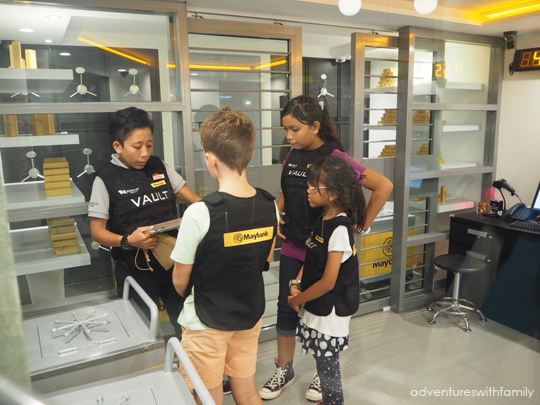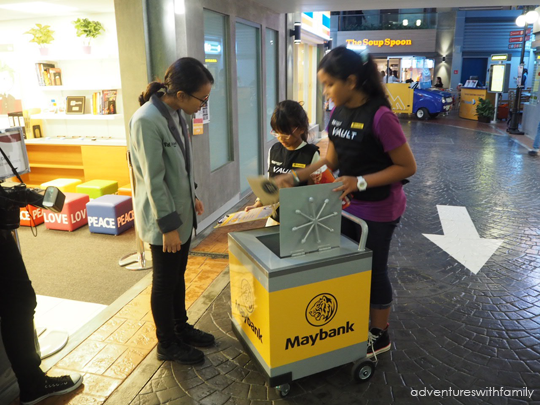 The big sister also tried role-playing as a Financial Services Consultant trying to convince people to sign up for insurance. Unfortunately, no one wanted to buy from her.
In the Media industry, kids can try out working in the newsroom as a Journalist.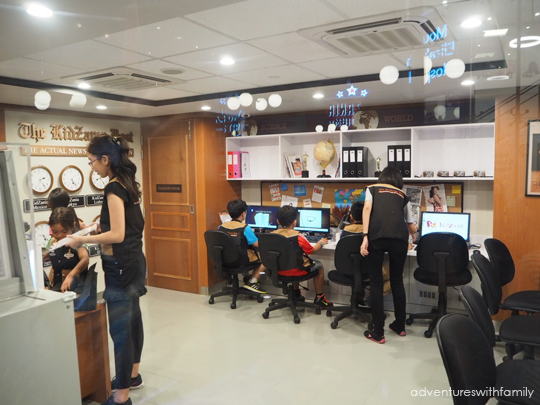 They can also try out as a Host and a Video Editor.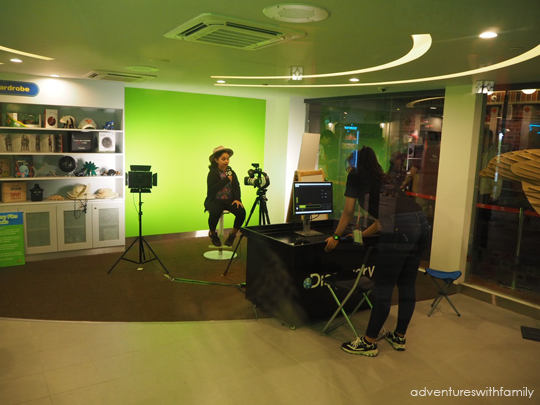 Older kids were seen having fun as Radio Presenters at Kiss 92 FM radio station.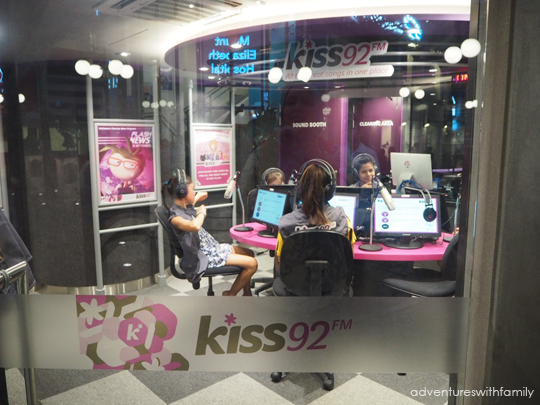 My gal tried out role-playing as a Photojournalist. She was taught basic skills in using a DSLR camera.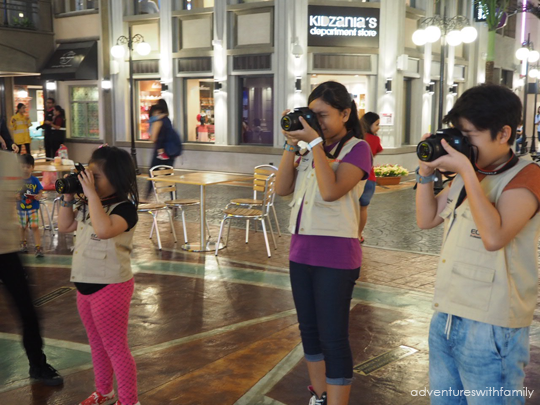 More activities were available at the Mezzanine floor. Expect a long queue for the pilot and cabin crew activities. The body of an actual plane was used as the location of these activities.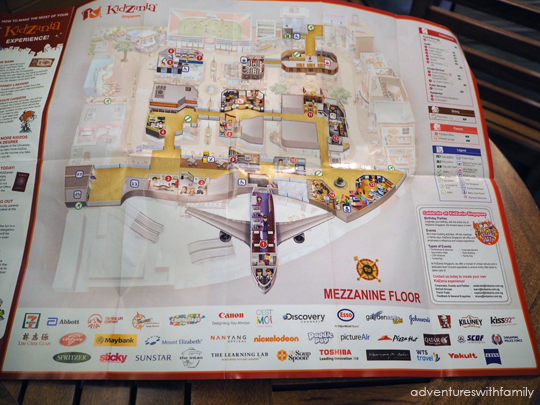 The girls had a taste of being a Junior Scientist at Yakult's Science Laboratory. They learned about bacteria and get to use the microscope and even present their findings.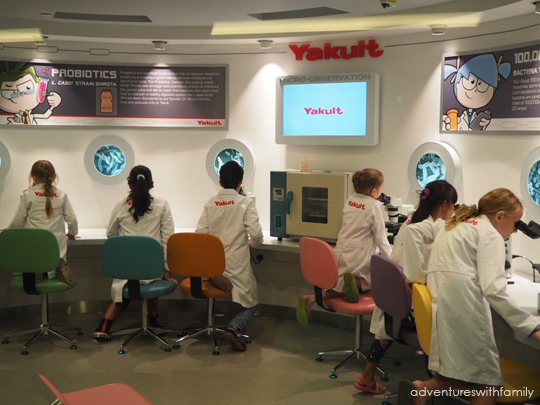 Role-playing as a Fire Fighter is a popular activity, especially amongst boys.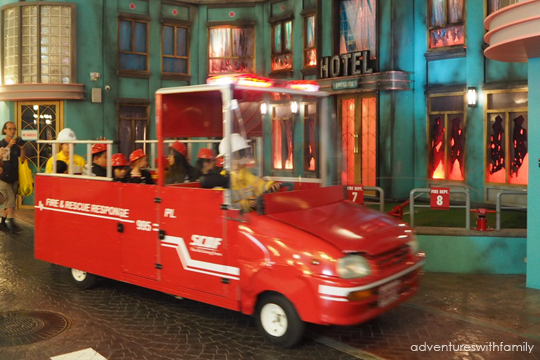 They get to drive around in a fire truck with the sirens on and put out a big fire at a hotel.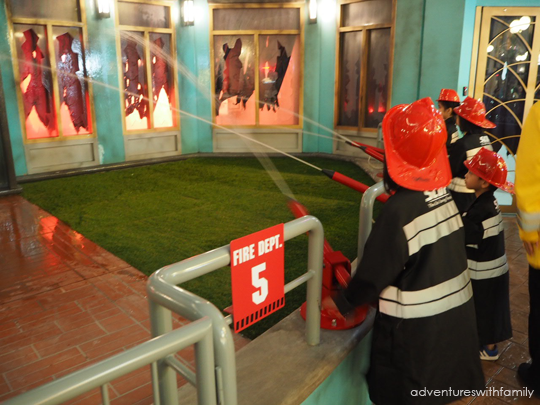 Little girls might enjoy dressing up as little nyonyas as a Museum Curator at the Peranakan Museum.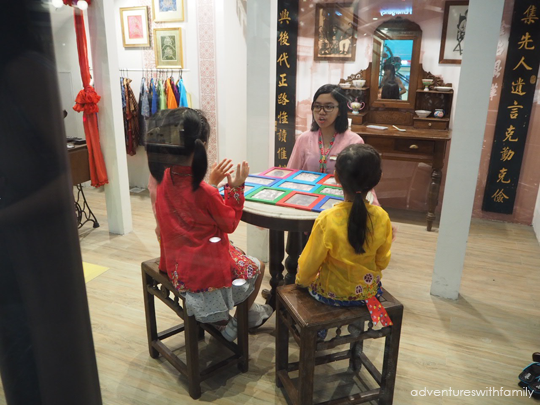 Sports-loving kids would probably enjoy the Stadium where they get to be soccer players. You can only play in the professional league and earn money after completing the soccer training. Kids can also try out as cheerleaders at the Stadium.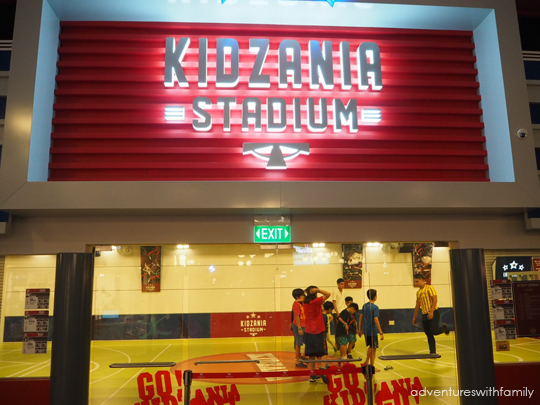 The highlight of the day for my gal was being a Runway Model. She was taught how to do the catwalk and pose like a model.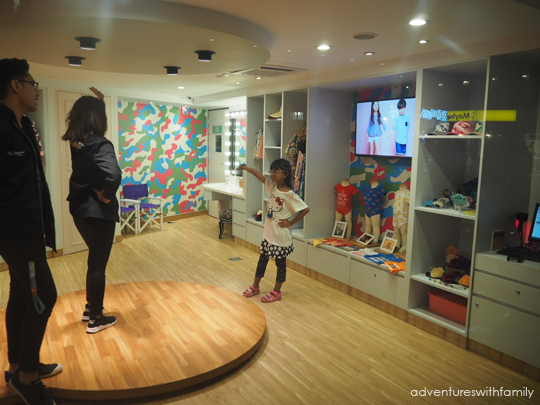 After make-up and a change of clothes, she did a catwalk in front of a bunch of parents. As a bonus for completing the catwalk, she received a 10% discount card that can be used at Camouflage stores in Singapore.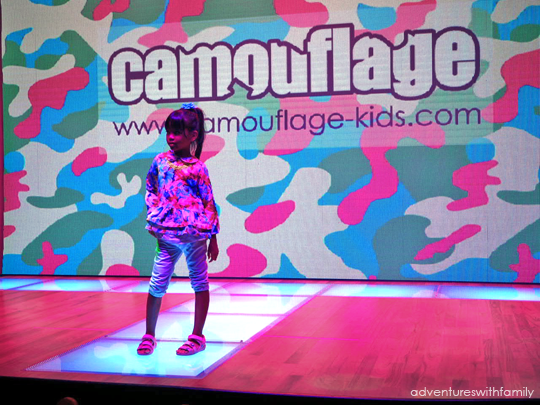 Those interested in acting can learn this skill at the Nickelodeon Acting Academy.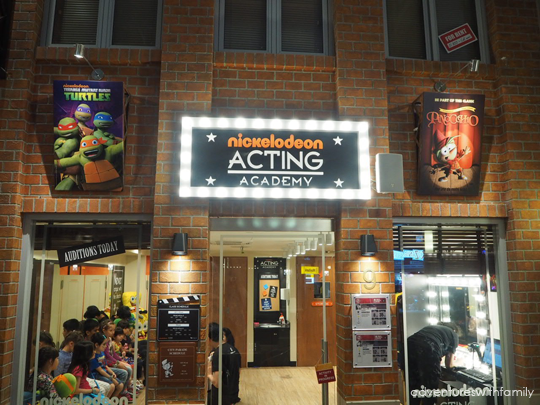 Girls can also do a makeover at Makeup Atelier.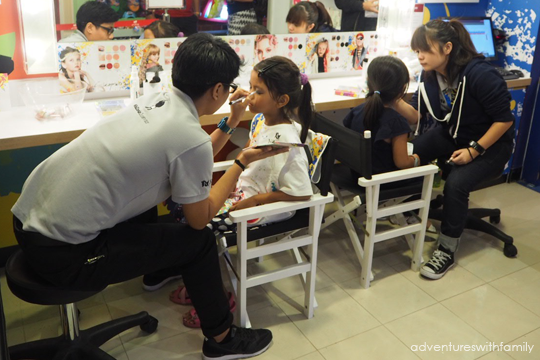 One of the hottest activity is pizza-making at Pizza Hut. Each kid get to take away a piping hot personal pan pizza that they prepared. Parents could also buy ready-made pizza slices.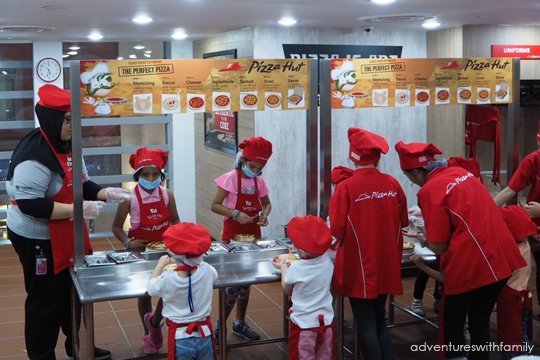 The kiddos decided to role-play as chefs and assemble their very own finger-lickin' good KFC chicken burger.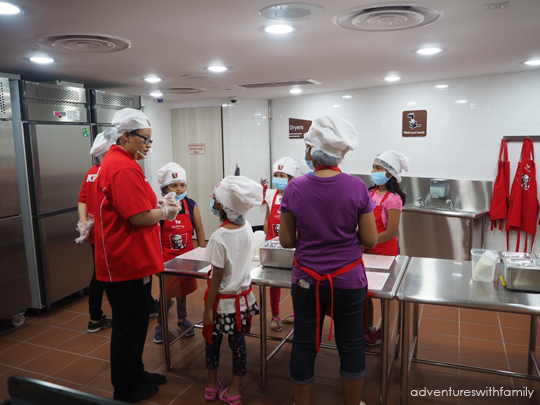 Bored parents could join a tour of Kidzania. This city tour is probably the only activity that both parent and child can enjoy together.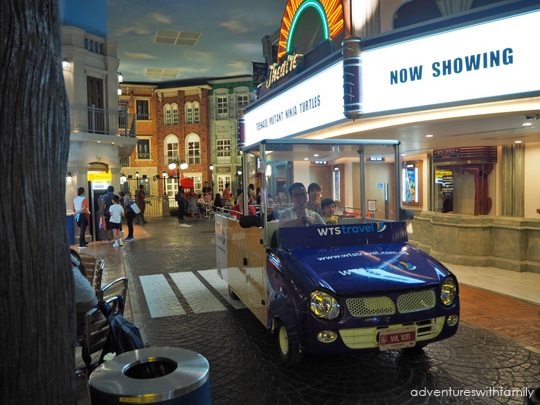 At the end of the day, the money they had left can be used to purchase items at the Kidzania Department Store. This is the only store that accepts the Kidzo dollars and is out of bounds to parents. My daughter bought a pair of glittery hair clips for 60 Kidzo dollars.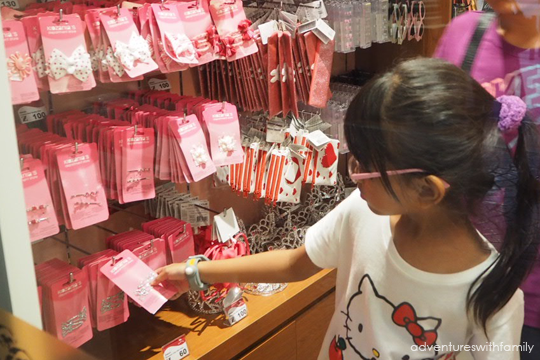 Tips for visiting Kidzania Singapore
If you are thinking of going with the kids, here are some tips:
Buy tickets online. Look for discounts on Govoyagin – Kidzania.
Each activity takes around an average of 20 minutes, and has a limit to the number of participants.
Role-playing as a pilot is probably the most popular activity in Kidzania. If your kid is interested in flying a plane in a simulator, try to get there early and be the first few in line.
To avoid the crowds on Saturdays and Sundays, try going on a weekday instead. Kidzania opens at 10am to 5pm on Sundays to Thursdays, and 10am to 8pm on Fridays, Saturdays, public holidays and the eve of public holidays. During the school holidays, Kidzania opens from 9am to 7pm.
There is a play area for kids below 3 years old.
There is a Parent's lounge for parents to hang out. This lounge is out of bounds to kids.
There are several areas within Kidzania that did not have a good phone reception. If you are expecting phone calls, check the phone reception and move to a location with a better reception.