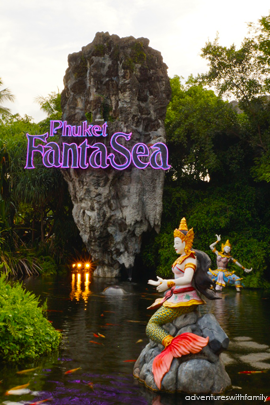 Phuket FantaSea is a nighttime park that features many attractions carrying the Thai cultural theme.  Visitors come in bus loads from various hotels around Phuket to enjoy the park and watch the very popular Thai cultural show.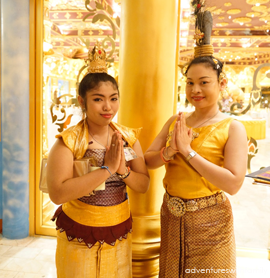 The largest buffet in Asia
You can't say that you have been to the largest buffet in Asia until you been to the Golden Kinnaree Buffet restaurant at Phuket FantaSea.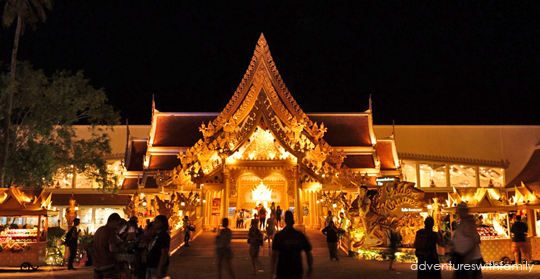 This enormous restaurant has a 4,000 seating capacity, and can cater up to 10,000 standing guests!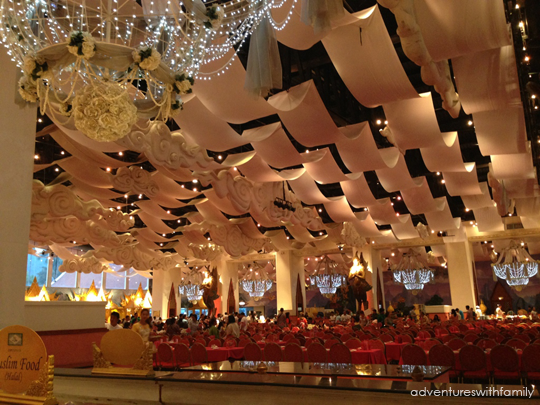 The buffet spread includes not only Thai cuisine but also a wide range of International cuisine.  It also has a separate buffet section that serves halal food, as well as special meals for vegetarians and vegans.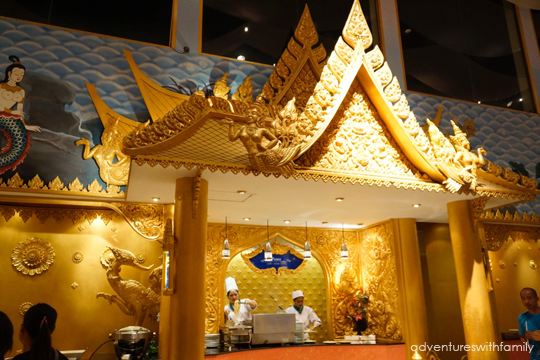 There was also an option for visitors to upgrade to a 5-star gourmet seafood buffet at Suriyamas Seafood Buffet restaurant.  The restaurant's golden decor will make you feel like you are dining in a palace.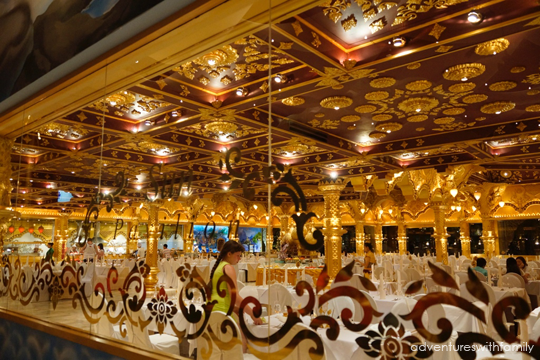 Thai Dance Performance
After dinner, guests can catch an outdoor traditional Thai dance by the local ladies.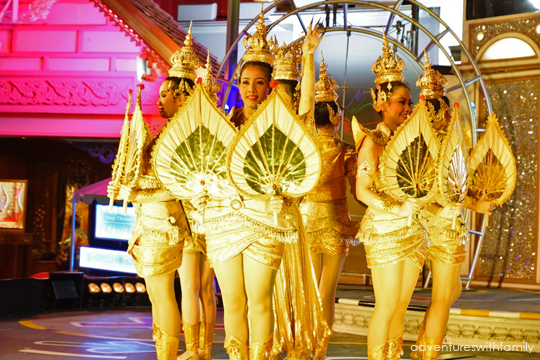 The Thai dancers mesmerised the audience with their beauty and grace.  As photography was not allowed within the indoor theatre, we were glad that we could take pictures of the Thai dances at the outdoor show.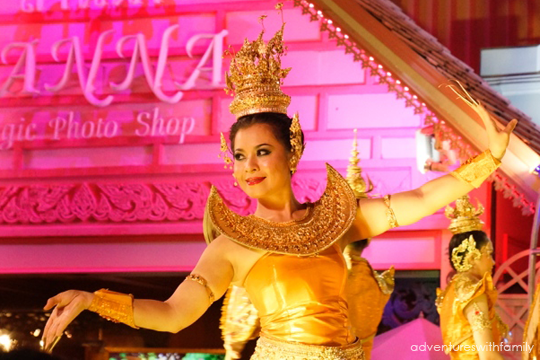 Gold and Glitter
While waiting for the show to start, we explored the theme park and all of its extravagantly decorated shops. One of the shops was in an Arabian Nights theme which was shimmering in gold.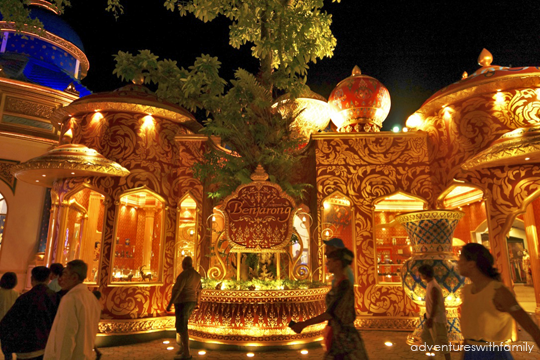 Another shop had been lavishly decorated with anything that glitters.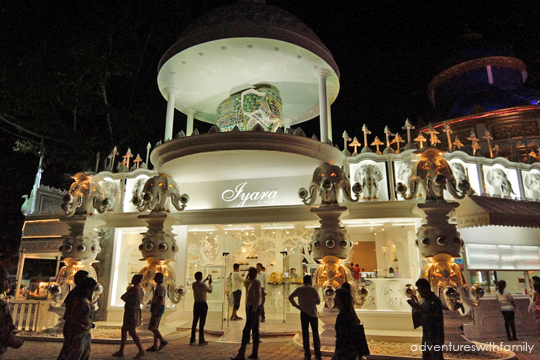 The kiddos favourite one was the toy shop with bright and colourful stars on its ceiling.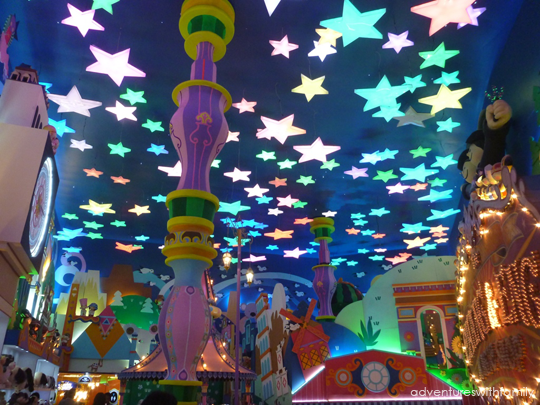 The shop was like a mini indoor wonderland for kids.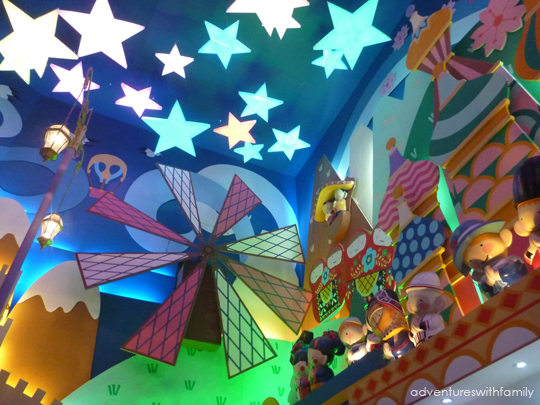 Which kid could resist going in to a glow-in-the-dark room?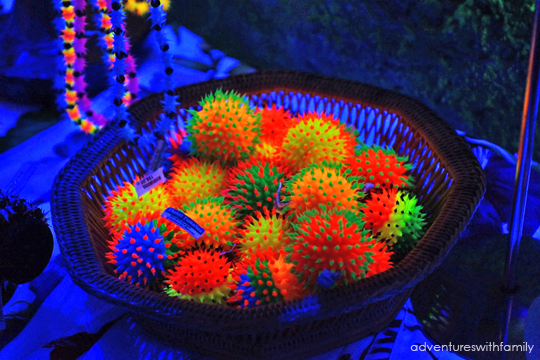 The kiddos liked being able to try out some of the cool toys within the shop.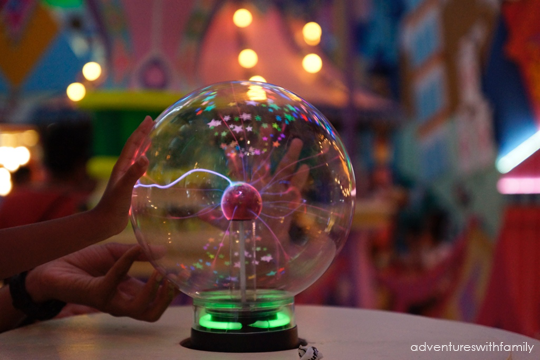 The Grand Show
The main attraction of Phuket Fantasea is a Las Vegas-style theatrical show at the Palace of the Elephants Theatre.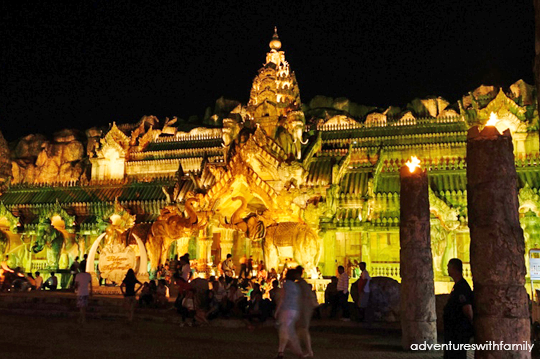 The hour-long show is filled with songs and dances from different regions of Thailand while telling the story of the Kingdom of Kamala.  Thai's rich and exotic heritage was showcased through hundreds of performers, and numerous animals.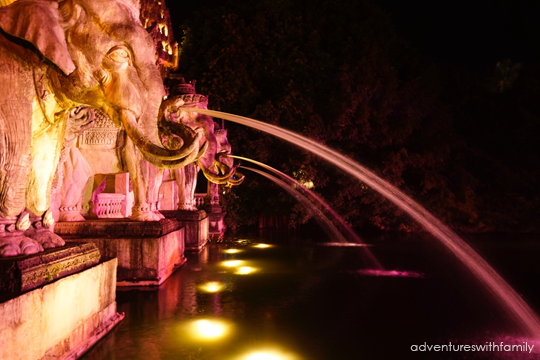 Combined with state-of-the-art technology, pyrotechnics, and acrobatics, the show did not disappoint.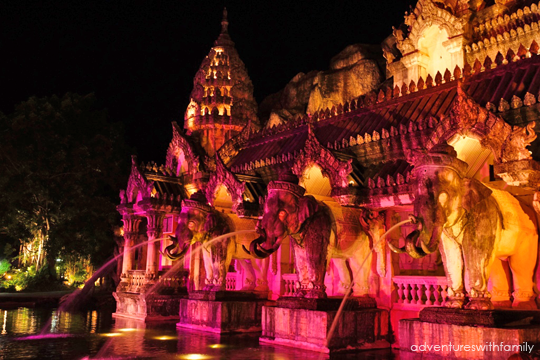 As we are not allowed to take any photos during the show, here's the video from Phuket Fantasea.
Tips
You can book tickets through their official website www.phuket-fantasea.com.
Tickets for Show with Buffet Dinner cost THB 2,200 per adult, and THB 2,000 per child. Tickets for Show only costs THB 1,800 per adult and THB 1,800 per child. (Entrance for infant under 4 years old is free-of-charge but the infant will not be provided with theatre seats)
You can arrange for two-way transportation when you book online.  The buses will pick you up from hotels around Phuket.
There are two shows per night.  One is at 7.30pm and the other is at 9pm.  It is good to arrive around 6.30pm and have dinner first.
Where to Stay
The most popular place to stay is around Patong beach, the heart of Phuket.  Most transportation or tours do not charge you extra if they pick you up from Patong.  Find hotels around Patong Beach, Phuket.
For other hotels, find Phuket Hotels.
If you are planning to visit during the peak season, and want a family room, book as early as possible.  Family rooms tend to get more expensive the later you book.